22 to 29 June, 2013 - Barga, Borgo a Mozzano, Pieve Fosciana, Castelveccio, Castiglione di Garfagnana, Sommocolonia, Lucca - (Italy)
So, in Pisa, we bid farewell to the Ruchtis, and less than an hour later we had picked up our friend, Leanne, from the airport. And only a short time later, Alister and Anahi. Jo's birthday had only just begun in Cinque Terre, now it was time for the week of celebrating, Tuscan style.
We arrived quite late on the Saturday night at Casa Cordati, Barga. By the time we had accomplished the Pisa airport pick ups and taken a wrong turn trying to find Lucca and Barga, we could only admire our lodgings in the dark. Even then, though, we were impressed with the Villa. Even in the dark, we could sense the views were going to be magical and "typical". The villa was organised by Peter (still to come). It is a great art exhibition in the former home of Bargan artist, Bruno Cordati, and has a few rooms for rent.
Over the course of the week, the group varied. The five grew to six when Adam (Los Angeles) joined us. And then there were comings and goings with Peter (Melbourne) and some of his friends adding to the group. Now our friends, too, Lisa (Sydney), Mike (Adelaide), and Louise (Dublin) all met Peter in Argentina, last year. At its biggest, the group was eight. There was much eating, a little imbibing, and loads and loads of laughs and good times. The perfect week long party in the perfect villa in Tuscany.
And it turned out to be Mike's birthday, too, that week. So it became a double birthday towards the end. The night we celebrated for him, the karaoke came out. Much of the footage has been suppressed by a court order, but highlights included Peter singing "In The Navy", Jo's rendition of "I Will Survive", and Lisa and I performing a sort of duet of "I Want To Break Free".
---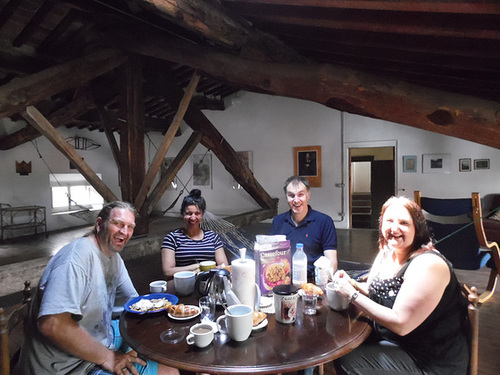 First Breakfast
I say breakfast, but it was such a late brunch that we really should be honest and call it lunch. Dining in the fantastic open roof space of Casa Cordati.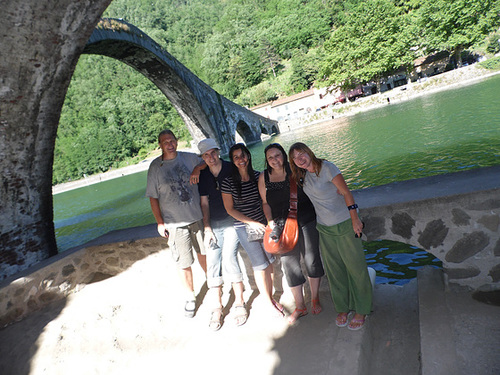 Five Visit a Bridge
So, for the first couple of days, we were five. The two of us, Leanne (from church in Melbourne, living in Paris), and Alister and Anahi (I used to work with Al, and he and his Argentinian wife, Ani, are living in London). This bridge from the Middle Ages is not far from Barga, and since we had a hire car and could all fit in at this point, we decided to visit some little local villages for the day.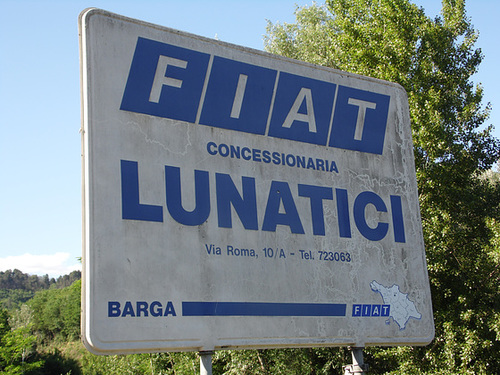 Lunatics?
Just Fiat drivers? No. Almost all Italians on the road. It was not far from this sign that an oncoming car overtook on double lines assuming we would make space for him. Admittedly, there was enough space - just. However, the people who painted the lines on the road, myself, and my four passengers were all in agreement. Only two cars wide!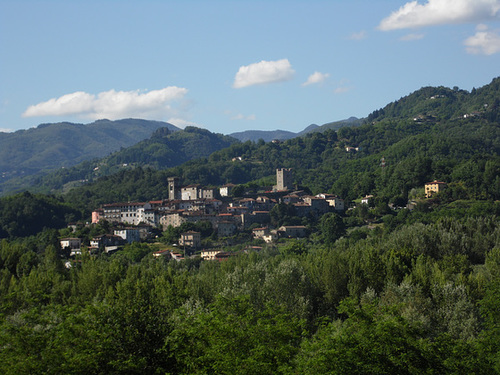 Ghivizzano
From memory, I think this was Ghivizzano. Nothing outstanding, but so beautiful because it is just so typical. A little bonus was seeing the bride and groom come out of the church while the bells rang.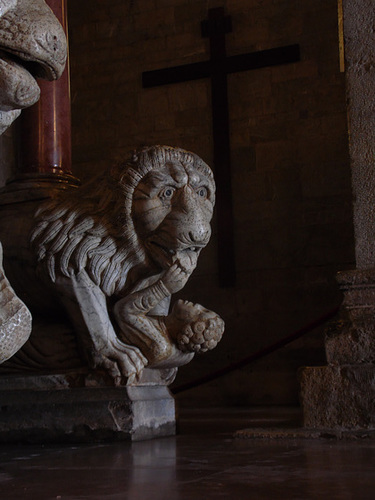 Devouring or Licking?
Not sure what this lion is doing to the person between his paws, but it was an interesting theme in the main church of Barga. A theme repeated a few times here, and regionally, too. We saw variations in churches in Lucca, and other villages we visited. Predominantly gracing the church exteriors, but even as part of the altar or pulpit (as in this case).



Two Minutes Past Four, Local Time
As midnight Melbourne time passed, the waiter brought out a piece of tiramisu for Jo's "actual day" of celebration to begin, still eight hours ahead of local celebration time, but well within the week of partying. All confusing, but it helped break the week long birthday party into more discernible blocks. The whole restaurant sang "Happy Birthday".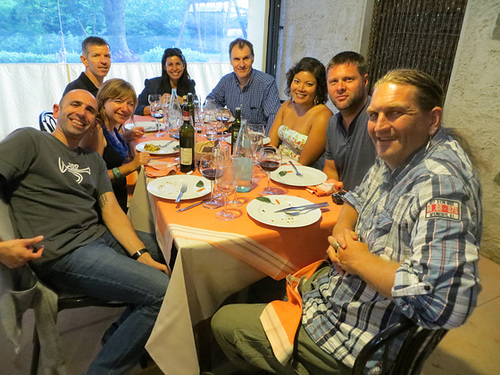 Tuscan Birthday Feast
So the group morphed a bit, collecting a few more people, but having to say farewell to one, too. The food just kept on coming, and the wine, prosseco, and muscat flowed. It's always great when the food's this good, but all the better with a birthday as an excuse.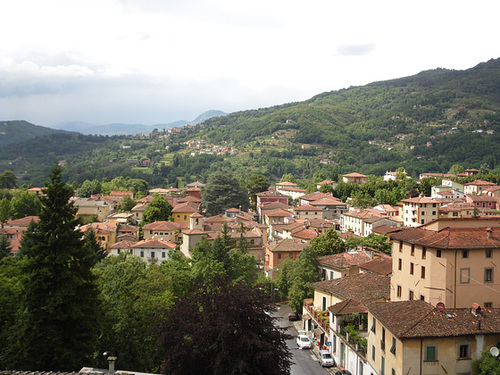 Casa Cordati, Outlook 1
A view from our window at Casa Cordati.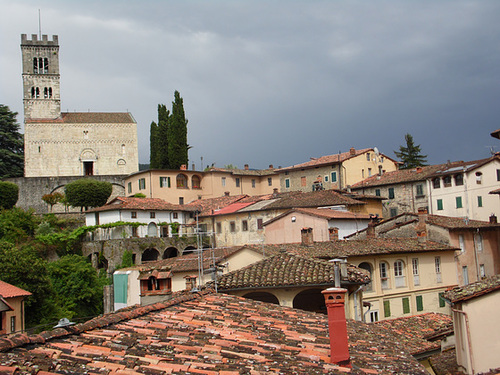 Casa Cordati, Outlook 2
A view from our window at Casa Cordati.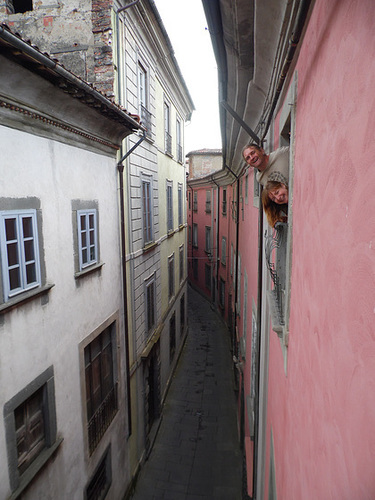 Casa Cordati, Outlook 3
A view from our window at Casa Cordati.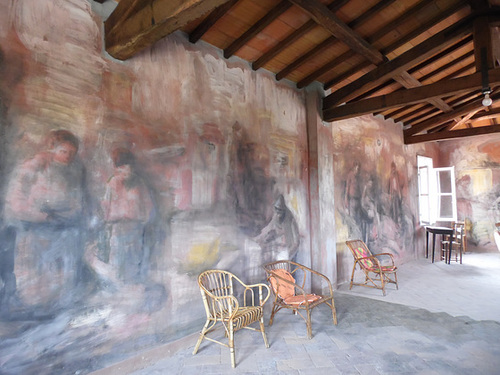 The Upper Room, Casa Cordati
The beautiful mural covered upper room. This is where Bruno Cordati apparently loved to paint the most.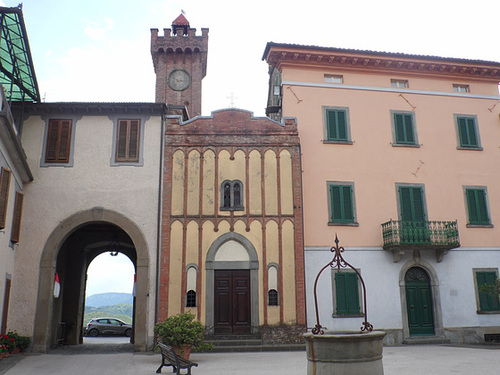 Castiglione di Garfagnana
Main gate of a local village.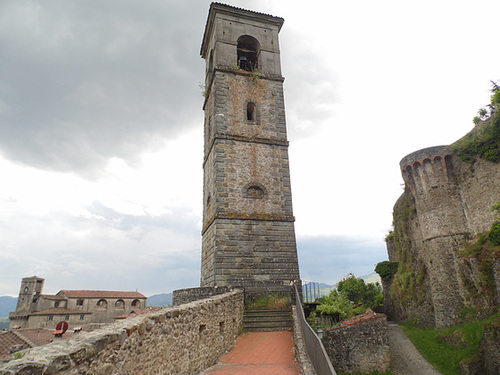 Castiglione di Garfagnana
Defences of Castiglione di Garfagnana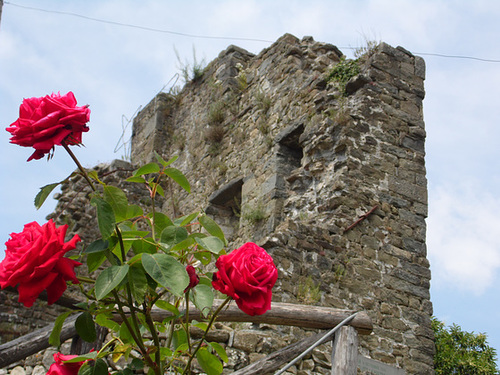 Ruined Tower, Sommocolonia
Sommocolonia is a pleasant morning's walk from Barga. The tower here was ruined by a bombardment during the World War II, when the front line passed through the village and heavy fighting was taking place. An American officer, Lieutenant Fox, sacrificed his own life by calling in his location and asking that it be shelled, taking out a significant enemy foothold in the process.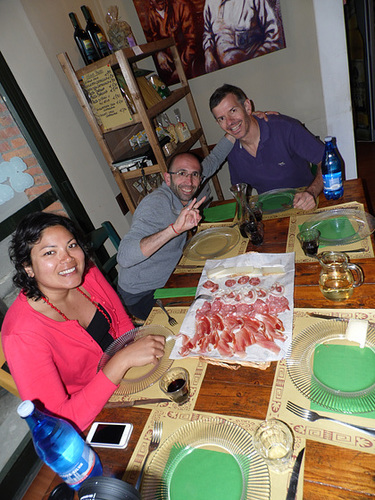 Antipasti for Another Birthday Feast
Later in the week, it was Mike's birthday. Our gastronomic desires were once again fulfilled with another Tuscan feast, plus karaoke.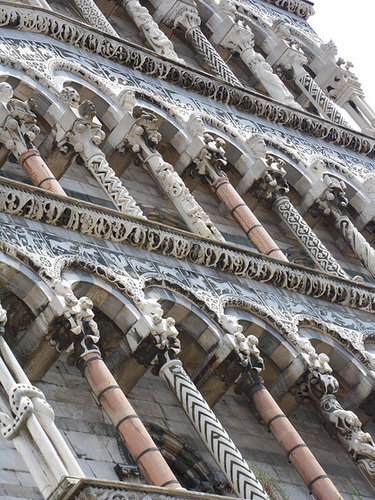 The Intricate and Varied Facade of Chiesa di San Michele, Lucca
There are hundreds of details that go unnoticed. Every time we looked, we noticed something else. Every column is different. Every face or image unique.




Lucca Piazza With San Michele
A panorama of Lucca.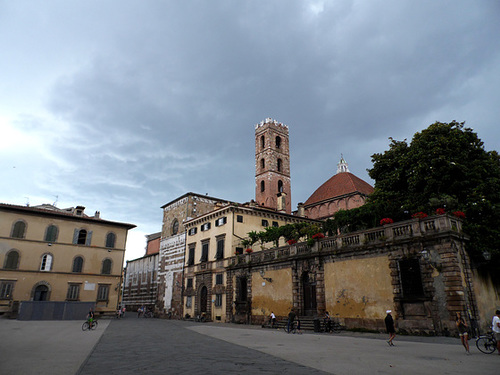 Storm Clouds Over Lucca
Coming out of the cathedral, the weather was changing.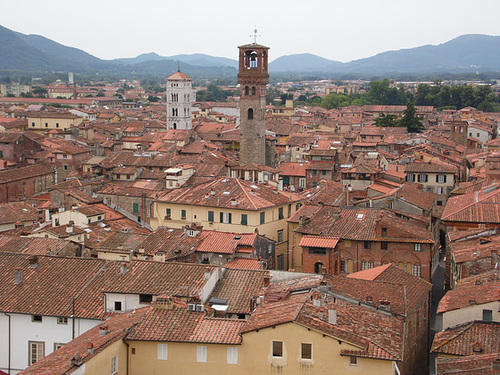 Lucca Rooftops
Looking over Lucca from the top of a tower.

---
One afternoon in Barga, we headed out to see the town and take some photos. There was a great double door with two faces and the doorknobs in the mouths of those faces. Al and I decided to mimic the doorknobs for a photo, and just as we got ourselves in to position, the door opened. Red-faced, we quickly tried to pretend we were doing something perfectly normal, but I don't think we fooled anyone!