29 June to 6 July, 2013 - Capo Testa, Alghero, Capo Caccia, Bosa, Orgosolo, Santa Maria Navarrese, Altopiano di Golgo, Gola Su Gorropu - (Italy)
It was supposed to be a week long visit to Corsica, but due to a couple of car hire considerations, it ended up being Sardinia instead. We understand that we will get little sympathy from anyone at home because we had to substitute Sardinia for Corsica. Especially after we ended up having such a fantastic time and finished on such an incredible high.
Andrea and Hermann helped us out by purchasing a cheap tent in Germany so we could camp. This made it quite a different type of travel to the entire rest of our holiday. We had a car, our tent, and just camped our way around the island for 6 nights. We had no idea that Sardinia had so much to offer, and in the end, there is absolutely no feeling of regret that we ended up here instead of Corsica.
And, for your information, John, children in Sardinia are not called Sardines. :)
---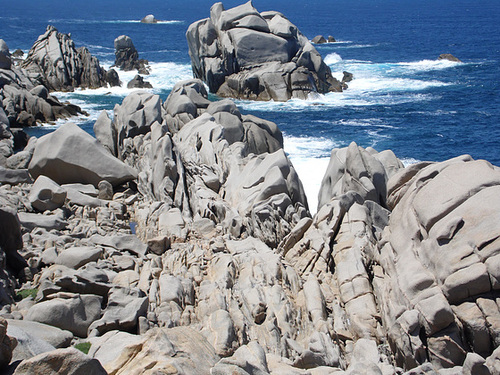 The Rocks of Capo Testa
This is the northeastern cape of Sardinia. The wind and waves have weathered the rocks in to some great formations.
"Capo Testa", rocks, "weathered rocks"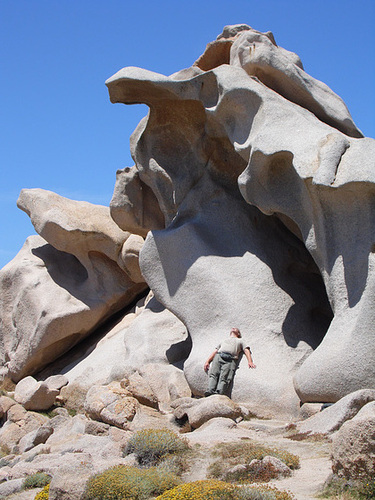 Weathered Rocks
Some extreme weather must pass through here at times, which these wind-eroded sand-blasted rocks attest to.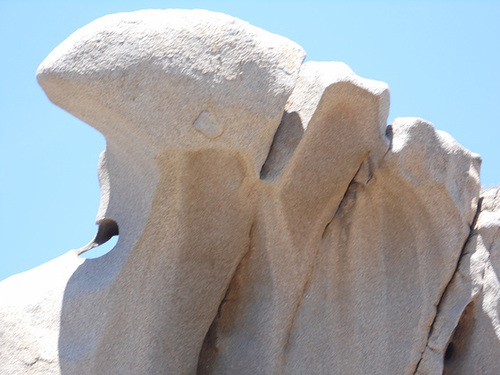 A Leunig Face
Resembling a cartoon drawn by Leunig, this face has been formed by centuries of weathering.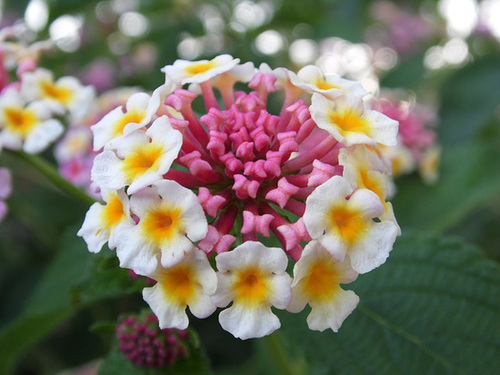 Some Eye-catching Flowers
Flowers by the path, Capo Caccia, Sardinia.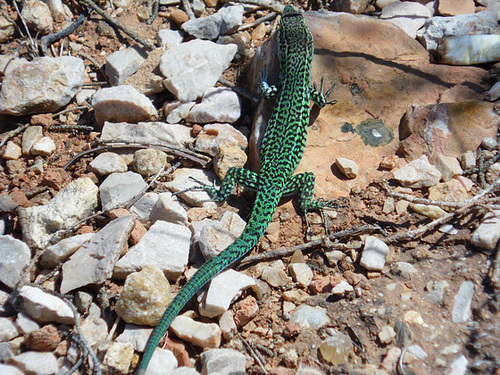 Hey, I'm Green
A lizard who is not ashamed of his colouring.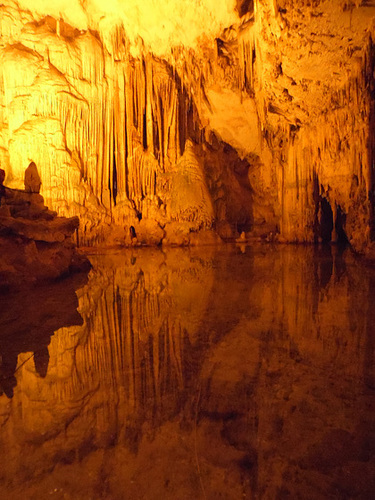 King Neptune's Cave
The beautiful grotto beneath Capo Caccia, over 600 steps down from the road. Full of great formations, and a salt lake syphoned from the sea, it was named after the king of the sea when discovered by fishermen in the 15th century.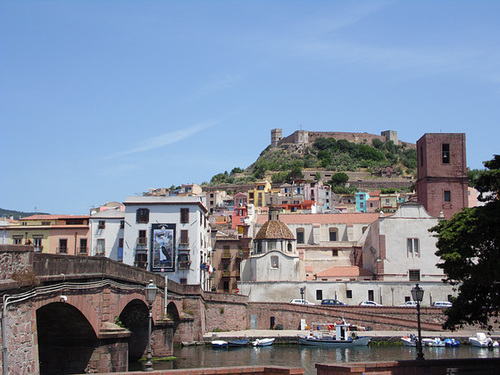 Bosa
The coloured houses of Bosa's old town fill the hillside below its castle.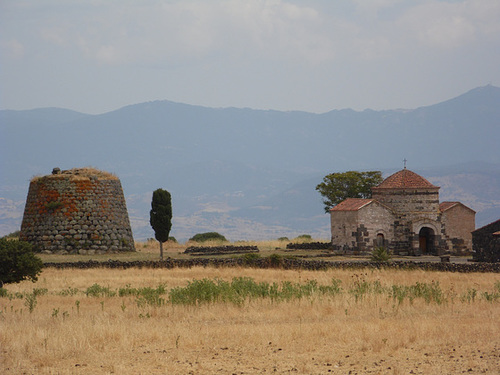 Santa Sabina
We encountered this great pair of buildings while driving. The church is old (centuries) but the tower much older (over 2,000 years). It is a nuraghic site. Nuraghic people inhabited Sardinia from around 3,000 BC through to around 850 BC. It makes the church quite new!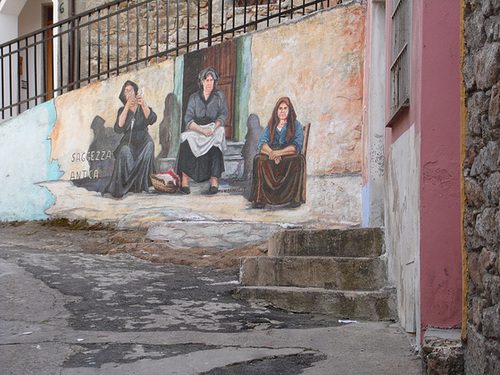 Mural at Orgosolo
One of the many dozens of murals that decorate buildings in the Sardinian village of Orgosolo.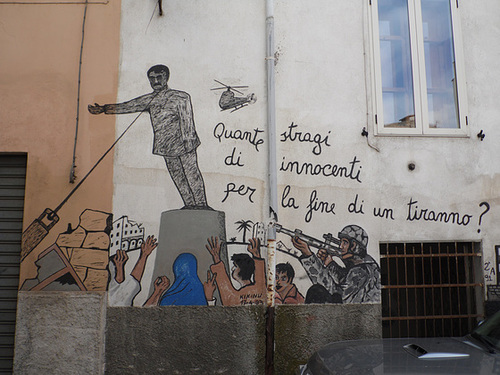 Defeat of a Tyrant, Saddam Hussein
Many of the murals in Orgosolo have a political angle. Events that we saw depicted, in addition to this toppling of a Saddam Hussein statue, include the towers coming down in New York, the siege of Sarajevo, the shooting of a 12 year old Palestinian boy, US involvement in El Salvador, and reminders of major wars, particularly the World Wars.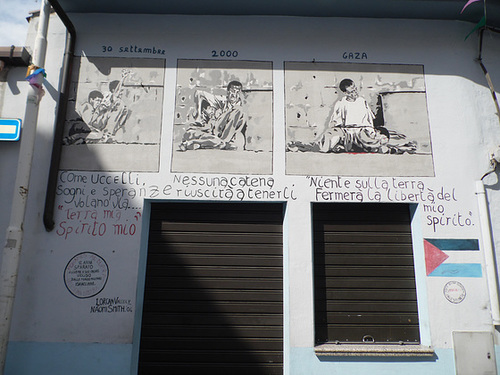 Very Moving
A mural in Orgosolo illustrating the death of Mohammed el Dura, a 12 year old Palestinian boy, killed during a shoot-out in Gaza while hiding behind his father.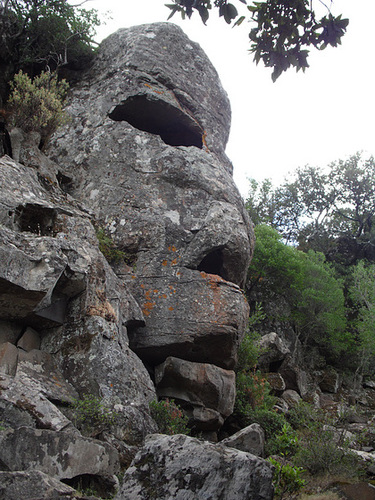 Face in a Rock
On the Altopiano di Golgo, amongst the sights, we love this face. All we know is that it is very old. Probably nuraghic.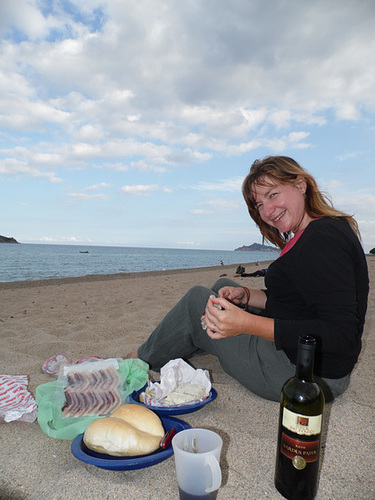 Picnic Dinner on the Beach
One of the great joys of driving and camping is the self catering meals in great locations. A bottle of red, prosciutto, salami, gorgonzola. What more could you want for? Oh, dessert of muscat and biscotti.



Looking Up
Nicknamed the Grand Canyon of Europe, the spectacular gorge of Gola Su Gorropu was well worth the effort. To get here, we walked down from the nearest road for an hour and a half (nearly two to go back), about 650 metres descent. Then we walked through the accessible parts of the canyon, stopping every now and then to pick up our jaws. The walls are up to 400 metres high, and the gorge is under five metres wide at its narrowest point.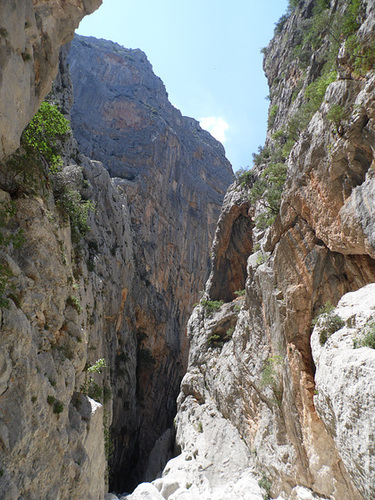 A Glimpse Down the Canyon
Looking along the Gola Su Gorropu.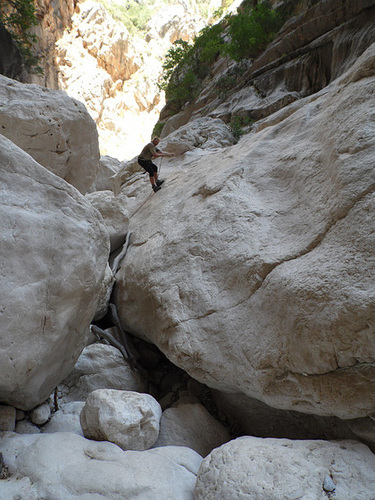 Getting Through
Most of the climb through the canyon was very straightforward, however, a bit of extra effort was required for a few bits.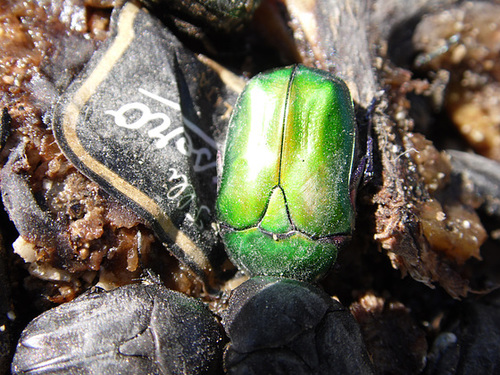 Beetle
This fantastic bright beetle was gorging itself on a discarded rotting banana.

---
I caused a bit of a stir on the ferry crossing, but it was not really my fault. There were two bar areas, and we decided to have a piece of cake and a couple of macchiati. Bar area one had some strange looking cream cake, while bar area two had some fantastic chocolate torte. We had already ascertained that procedure dictates paying for desired purchase with cashier, and taking receipt to bar for picking up desired products. Cashier in bar area two had disappeared, and a queue was forming. The barman told me to go to the other cashier, in bar area one. I did this, and came back with my receipt. They were trying to be helpful, but they then told me that I could not use that receipt for that bar, but had to use it at the other bar. And why should I care which bar I got my coffee and cake at? I explained through charades and gestures that my desire was to have a piece of the chocolate torte, not the strange cream cake. Although convinced the other bar was stocked with the same products, one of the waiters came with me, maybe just to make a point of highlighting the contentious sweet. But I was correct - no chocolate torte. So, he escorted me back, and forth while we took one piece from one bar and swapped it with a piece from the other bar. Then, my order was fulfilled. We could imagine the shaking of heads and discussions about difficult foreigners, but I'm sure you'll agree it was not really my fault.