17 to 20 June, 2013 – Kos, Nisiros – (Greece)
Hello. When you prepared for the trip, did you forget to pack your dignity? Please, if you do not have children with you, there is little excuse to be taking a "tourist train". I am referring to those tractors with painted panels which shunt around town ringing a bell and pulling three or four mostly empty carriages. At least sit close to the families that are on there so that on-lookers will think the kids are with you!
---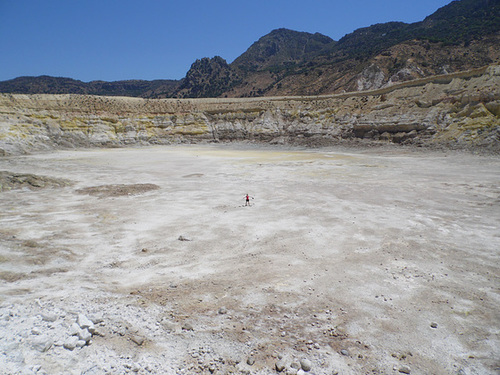 Jo and the Volcano
That's Jo down there.  In the crater.  This is not an extinct volcano, but not too active.  Dormant.  Stinking sulphurous gasses hiss out of various vents around, mainly near the rim.  Is it guaranteed not to erupt?  Nothing is guaranteed when it comes to things like volcanoes.  Just unlikely... Island of Nisyros, not far from Kos, Greece.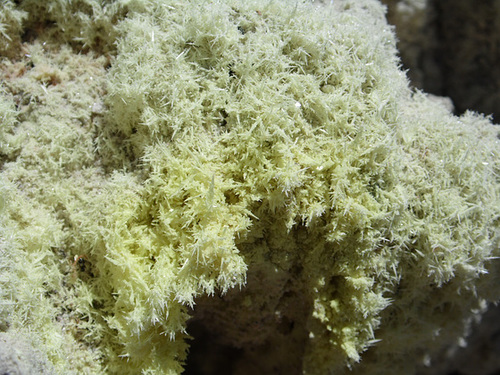 Crystals of Sulphur
Where the smelly steam escapes from the ground, condensation and evaporation leaves behind fantastic crystal formations of sulphur. Primarily yellow, but at times tending towards green, depending on the minerals in the rocks where they form, I guess.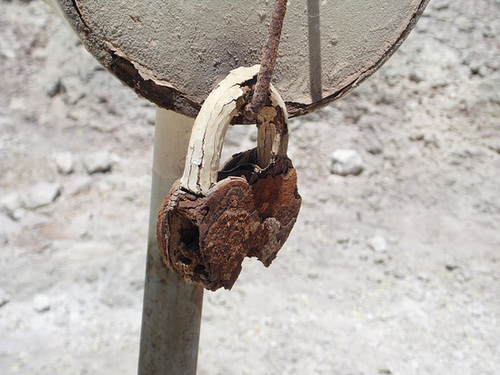 Corrosion
I guess this lock was put on some time ago and has not been opened for a while. Volcanic mineral laden steam at work.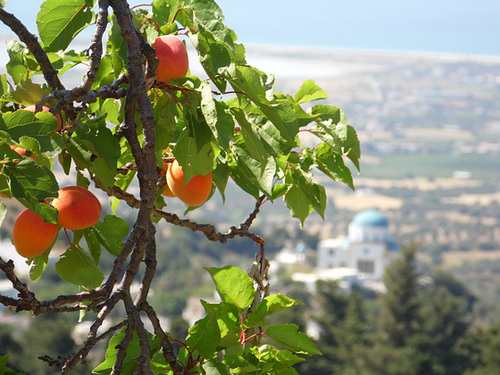 Zia
View from Zia, Kos.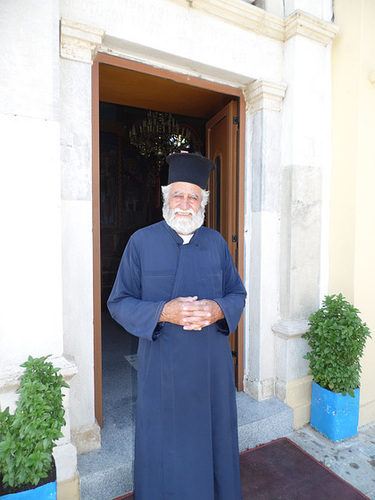 The Local Priest
In a village near Zia.  A delightful man to chat with.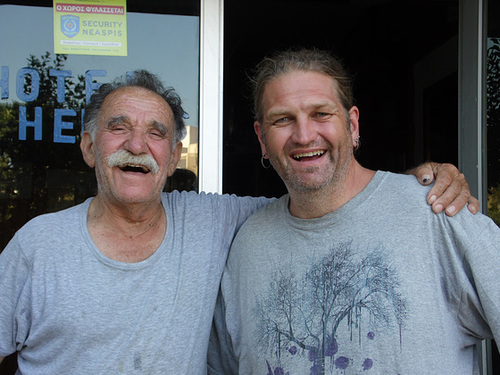 Me and a Greek Stereotype
Babi, owner of Hotel Hellas in Kos. He was so Greek that talking to him was like talking to a person who was sending Greeks up. "Good morning", he boomed when we came down in the morning, after which we would talk politics, and all about his extended family in Adelaide.

---
So, one of the things we went to on Kos was the "thermal beach". Volcanic gasses heat the water here, and where it mixes with cold sea water, it is a very pleasant place to swim. A "pool" is made with some really large rocks dropped in the sea to keep it all a bit contained as well as providing something to sit on in the water. It was not too crowded when we went, but there were enough people that we tried to pick a spot where we had some space around us and didn't feel too overwhelmed. It was fine, for an hour or so. However, one of the hairiest men I have ever seen got in the water, and decided to sit directly in front of us. We suddenly found our field of vision field with a huge, hairy back. Aaaargh. Oh well, time to get out, any way.
Leaving Kos, on our flight to Pisa was with Ryanair. Hmmm, Greek check-in staff, Italian passengers, Ryanair flight restrictions. It got heated in the queue on more than one occasion. Most people seemed to make it on the flight, but it seemed that a few were going to miss.