11 to 21 January, 2013 – Mymensingh, Muktagacha, Srimangal, Chittagaong, Cox's Bazar, Dhaka - (Bangladesh)
Across the north of Bangladesh, to the eastern side. The landscape changed, and finally the vast flatness gave way to some gentle rolling hills. Tea plantations, and national parks with monkeys were the highlights in this area.
---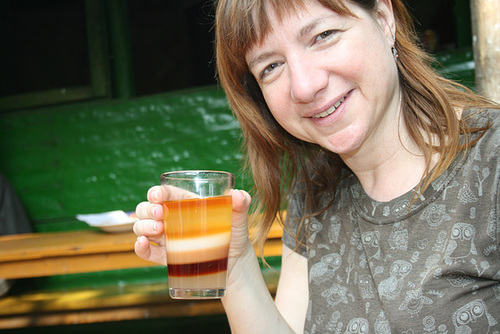 Seven Layer Tea
Jo with a glass of Srimangal's famous seven layer tea.  Yes, it was possible to taste the distinct layers, and they remained separated until we finished drinking.  Just don't ask us what each layer was any more.  Lemon, ginger, green, milk, I think, and some others.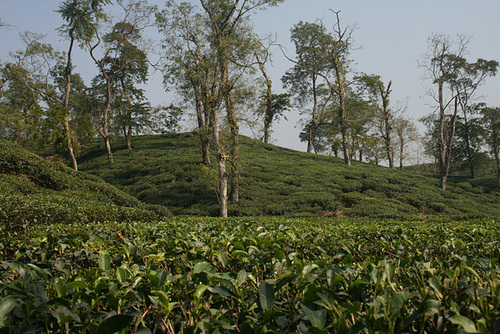 Tea Plantations
Srimangal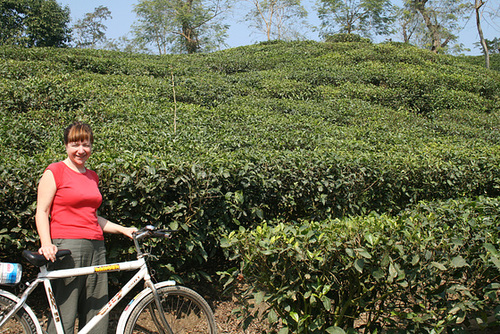 Cycling - Srimangal
Through the tea plantations.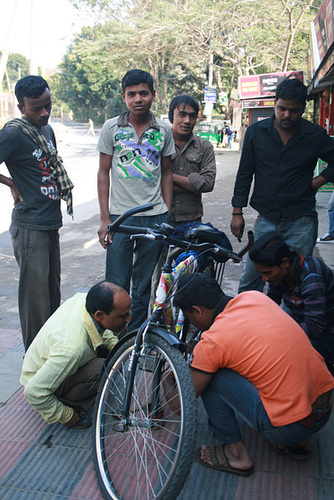 Roadside Assistance
So, on our way back from our ride, my chain broke.  Three kilometres from town, and the nearest qualified place to make such a repair, I was not looking forward to walking back.  At a little village, these guys noticed my predicament and quickly retrieved some pliers and a hammer. Jo was offered a chair to sit on while she waited, and a coffee was offered (or tea, I'm sure, if she had preferred). Ten minutes later, we had a makeshift repair, two less links, and we were on our way.  No expectations.  This was a great example of Bangla warmth and hospitality.

---
As is all far too common in developing nations, we struggle to hold our tongues when we witness what can only be described as a "casual" attitude to rubbish disposal. Dropped, discarded, thrown. Never a thought for where they are. But, the problem would be so much worse if the nation had embraced plastic bags. Thankfully, they are almost non-existent. Somebody said they are virtually illegal. Hooray for that fantastic decision. Buying fruit, they usually end up giving us a paper bag. Not a mass produced plain bag, but somebody's old homework or a photocopy from a text book, folded and glued to make a bag. Or, if buying a few items, a small net bag is provided (although these are possibly problematic if they end up in the sea - better or worse, I don't know). Or finally, with a large purchase, a reusable cloth bag.
And, taking this a step further, rare provision of disposable plates or cups. Order a plate of food from a street vendor, and he will give it to you on one of his plates, and you need to eat it there. For take-away, a cardboard box tied with string. If the man on the train offers you a cup of tea, he gives it in a china cup, often with a saucer, and ten minutes later he returns to collect it from you. These are all great things which help reduce the amount of waste that 154,000,000 people in high concentration could produce.
---

Did NASA Design This Mosque?
Mymensingh.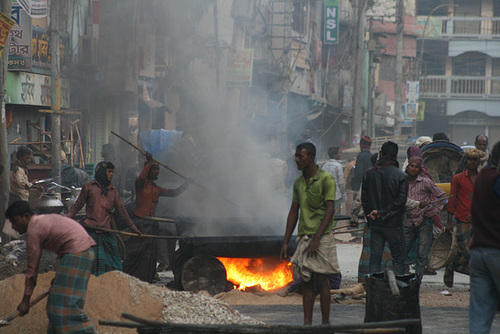 Roadworks, Bangladesh
Tar being created, by the road on which it is being laid.  Carried on shoulders in large metal buckets, and poured by hand, it certainly is hot and dirty work.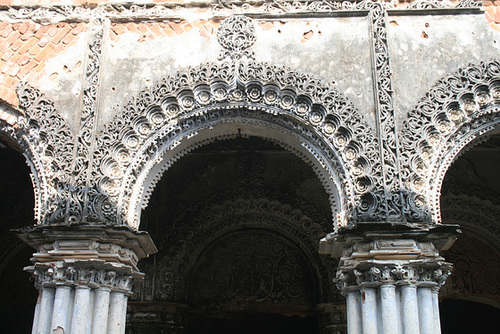 Arch Details in a Ruined Rajbari
Lots of crumbling walls, but heaps of atmosphere, and a handful of fine details for the keen eye.  Muktagacha Rajbari.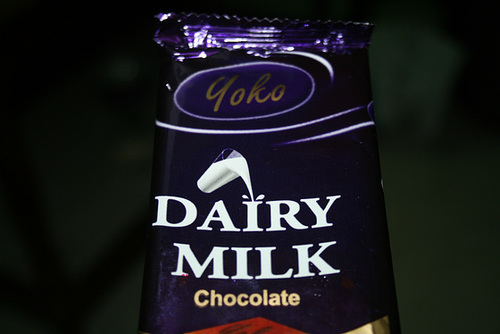 2/3 Cadburys - A Glass, Not a Glass and a Half!
Yes, at first we thought it was Cadburys.  The flaw in the logo, though, was the first indication of a problem, then we noticed the brand is nothing like Cadbury's.

---
Our plan had been to skip Chittagong and Cox's Bazar, and go to beaches further afield, but fear of being isolated a long way away from Dhaka with a hartel (strike), combined with a knowledge of how physically abused one feels after such long transport hauls, had us deciding to spend our last few days at the beach in Cox's Bazar.
Cox's Bazar has a claim to fame. It is the longest beach in the world (over 120 kilometres, I think). Pleasant enough, but far from images associated with tropical beaches. No palms, lots of tall hotels with unhindered development. But very wide, and surprisingly clean. The water was freezing - it is winter, after all. This did not stop a handful of the many Bangla tourists going for a swim. Nobody wore bathers of any description. No, they did not swim naked! I can't even believe you thought that was what I meant. No, to the contrary. They all swam fully clothed. Men and women. Even the children.
What did we do? Nothing. Well, not literally nothing. We slept in. We went and sat on the beach on a sun lounge for a few hours. We ate lunch over a period of a few hours, ending with us sliding in to two of the cafe's lounges to enjoy sunset. Walked the beach. Ate fantastic skewered barbecued seafood from street stalls for dinner. Watched cable movies back in our room till late. Although that really was one day, the rest of our time mimicked that to some degree. We did go and visit a very old Buddhist monastery for a bit, but really, nothing too strenuous.
I should mention that this entry's title was inspired by that multi-hour lunch. Bryan Adams was played. Many times. "Please Forgive Me" was played six or seven times, including one stretch where we got it four times in a row. Back to back. Uninterrupted. No breaks. Just that same, moany, whiney song over and over...
At Cox's Bazar, being Brangelina has escalated to new levels. Meet Roanne. We feel we must be famous and important enough by now that we deserve our own combo-name. Although, if the young guys have their way, they prefer to be photographed just with Jo. I wonder how many times she has been tagged as somebody's new girlfriend...
---

Our Tailor
I tore my trousers stepping from a very high train platform.  Faced with a choice of hunting for a pair of trousers suitable for a man like me in a country which has few men my size, or having them repaired, I opted to pay this gentleman 50 cents to make a fantastic repair.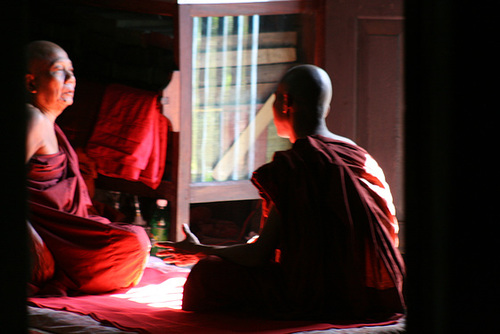 Monks in the Sun
---
Our fears of strike action affecting us turned out to be well founded. We had decided to space our return to Dhaka in two steps, and give us a little bit of lee-way for unknowns. Well, when we turned up for our morning bus to find none going until that night, and no prospect of catching our connection in Chittagong, we were thankful for our foresight. Two options remained. To travel to Dhaka in one horrendous overnight bus trip on what is touted as the most dangerous (i.e. accidents) road in Bangladesh (which already has one of the highest road-fatality rates in the world), or to fly. We chose to fly. Not super cheap, but certainly not expensive. This is an advantage for travellers like us. We save money where we can and where it doesn't matter, but our budget allows for contingencies such as this.
So, we rock up nice and early for our flight from Cox's Bazar. The airport was closed. Two armed soldiers waved us through the gates to the terminal, not much more than a shed, where we waited outside the locked doors for 15 minutes with three or four staff. Eventually, somebody turned up with a key, and let us in. Security involved a man waving a metal detector about us. I am not sure if it was turned on or not. Realising we were not going to get a meal on the flight (50 minutes, small turbo-prop plane), Jo said she would duck out of the airport and grab us something to eat from a street vendor. When she got to the gate, the soldiers had a discussion between themselves. Jo soon ascertained they were not discussing whether she should be allowed out, but were deciding which of them would be the lucky one to escort her. It was the first time she ever had an armed escort to buy some roti and fried eggs.
Overall, we have rated Bangla mosquitoes as quite prolific and fairly annoying. However, Dhaka mosquitoes make the rest appear pleasurable and sparse. In fact, I think the highest concentration of mosquitoes we have ever encountered was waiting for our flight in Dhaka airport's departure lounge. We were smacking them left, right, and centre. Frequently resulting in a mosquito escape and you hitting yourself in the arm or face. Often resulting in a dead mosquito on the floor. Sometimes resulting in a squashed mess on your hand with a bit of someone's blood. Once resulting in an artistic blood splatter up the inside of my ring finger. It is all rather revolting.
Oh, and a number of them have followed us in to the plane and are flying about our faces as I write this at 10,000 metres altitude.