23 January to 4 February, 2013 – Nairobi, Masai Mara, Naivasha, Nakuru, Kisumu - (Kenya)
Coming to Nairobi airport, our final approach came over Nairobi National Park. I had read how people in the park can be looking at animals while the planes pass overhead. So, we scanned the ground in the hope that we may glimpse a zebra or even a herd of gazelles. No, from the air we could see nothing.
We were met at the airport by Walter and his friend, Florentine. Walter is Dawn Othieono's (formerly Merrett) brother-in-law. It was his second day at the airport. We had emailed him the wrong day and he had stood at arrivals the day before waiting for us! (So, so, so incredibly sorry, Walter).
As we drove away from the airport, I caused great mirth in the car when I spotted some animals beyond the fence in what I thought was the National Park. It turned out to be cows. We have them in Australia.
Walter was a great host, driving us around and picking us up from town.
---

Four Carnivores at Carnivore
With Walter and Florentine.  At Carnivore, it is all about the meat.  Not just regular beef and chook, but buffalo, ostrich, and crocodile.  Meat, meat, meat.

---
Finally, two days later, we made our first National Park visit, to the aforementioned Nairobi National Park. Walter drove us through. And, the first animal we saw was a lion! I think that is an impressive first wild animal to encounter.
The park was a great introduction to the wildlife of Kenya. Here are a few sample pics.
---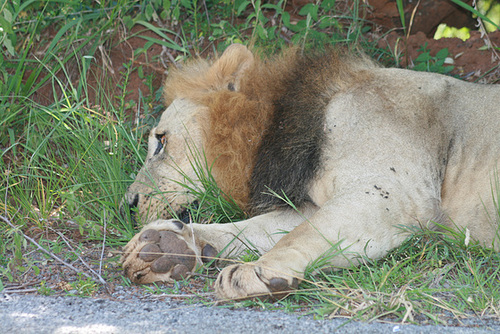 Lion Snoozing in a Ditch
Our first wild animal sighting in Kenya.  Before all the regular animals.  A lion, snoozing, during the heat of the day, in a ditch, right next to the road.  We drove right up next to him.  If we had not been careful, we could have run over his paws.  Extremely non-fussed about us.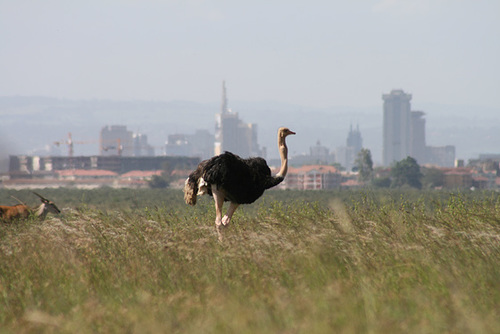 An Ostrich with Nairobi in the Background
Nairobi National Park is considered an urban park.  The planes landing at the international airport pass close by overhead, and meanwhile below, we were viewing ostriches, giraffes, antelopes, impalas, gazelles, lions, buffaloes, warthogs, and more.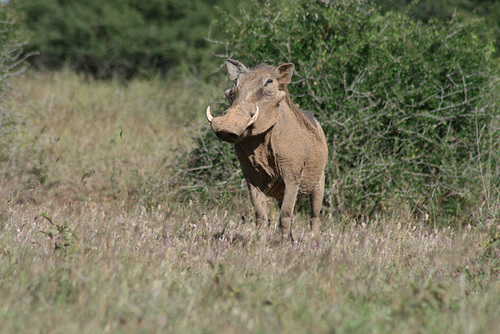 A Warthog with Attitude
He looks ready to take on anyone and anything, but I believe deep down they are big softies.



An Inquisitive Giraffe
Just checking us out.  We've seen a few, and starting to learn how to identify them.  This is a Maasai Giraffe, if I am not mistaken...  Quite the expert, now, hey.

---
One surprising thing we soon discovered while in Nairobi, and it was confirmed when we continued our travels through Kenya, is that a lot of locals like to watch Mexican and Brazilian soap operas. They are dubbed in English, and sound very stilted, but after watching a single episode of one I found myself wondering "How will this turn out? He wants custody of his son, Alex, but Alex's mother wont give him access as she knows he really is in love with her sister. Will he blackmail her with the fact he knows she hit and killed an old lady (and drove off), but then she will let authorities know that he killed a ranch hand ten years ago (albeit in self defence, because that ranch hand had been sent to kill him by her mother). But his father says he should pursue custody of Alex, and since his father seems to be very friendly with the grandmother (Alex's great grandmother), they think it will be alright. But Alex's grandfather could also be in strife if it all comes out in court so the mother is blackmailing her father to let them stay there in the mean time."
That was what I was wondering. I may never know.
=================================================
=================================================
We have been travelling primarily by matatu. These minivans with seats for 14 passengers are often carrying 20 or more people. Yes, it gets squeezy. Funny thing is, though, to contrast this with what we experienced just a few weeks ago in Bangladesh. Locals in Ban are generally considerably shorter than I, and would not find cramped travel as uncomfortable as we do. Here in Kenya, though, many are similarly built to myself, so we are all in the same boat. I don't know how they do it.
Our last few days in Kenya (for this pass) were spent in Kisumu, with "Mama Judy" and "Baba Judy", Dawn's parents-in-law. We met them (and Walter) last year at Dawn's wedding in Canada. Again, it is fantastic to be hosted by such lovely people. Since we plan to re-visit them on our way back, more to come.