4 to 10 January, 2013 – Kushtia, Rajshahi, Puthia, Sona Masjid, Bogra, Paharpur - (Bangladesh)
We have experienced staring before, but maybe not to the extent we are experiencing here. And, elsewhere, if someone stares, then they turn away if you happen to catch their eye. But not here. Undeterred, the staring continues. It really doesn't matter what we are doing. In fact, the less we are doing, the more likely we are to have a crowd gather. Just gather, and watch. Sometimes, there are the sneaky photos being taken. And when someone is bold enough to eventually ask if we mind being photographed, with or without them in it, then that signals to the rest of the crowd that it is time to pull out their phones and cameras and snap away. Jo, turned to me at one time and said it was like being Brangelina.
Then there are the awkward conversations. Yes, the Bengalis are friendly, welcoming, and try to help. But when the English is limited, the typical conversation is as follows.
"Hello. What is your country?" (Or "Where from?", "Your place?", "Motherland?", "What desh?", "Your homeland?", etc).
"Australia."
"Ricky Ponting."
What do you say to that? It's not a question. It's not even a statement or a phrase. Just a name. Anyway, you don't need to say anything to that, because by now they have continued walking or doing whatever they were doing.
Sometimes a few other exchanges are included, such as names, and how long we are travelling. And, when the English is better, the conversations can be very interesting and extended.
One other very popular theme of conversation is our relationship. The question is usually just pointing at us and a single word, like "Married?" or "Friend?" Though, our favourite two variations so far are "Why is she?" and "What is that?", both accompanied with a gesture indicating Jo.
The other day, we were on a bus that we thought was taking us all the way to the town we were wanting to go to, but we were mistaken. Well, I think everyone was mistaken. We were about two thirds of the way, in a small village, when the bus stopped, and we were all gestured off. There was yelling and pointing and gestures indicating that we should hop on one of the other buses. Two bus companies started fighting over us, each trying to indicate we should hop on their bus. But when one of our packs started moving through the crowd being carried by two men, I figured the choice has been made for us and we had little option but to grab the rest of our stuff and follow it.
Maybe we should have gone the other way. The bus we ended up on, while equally as crowded and bumpy as all the others we have taken, was extremely cold due to a large number of missing window panes. It had great suspension, but no shock absorbers to talk of. And finally, the driver was maniacal. Well, even more-so than the others. Oncoming traffic was practically driven off the road. Rickshaw riders cleared out of the way, almost careering in to the ditches along the highway. There were a number of close-your-eyes moments.
And here are some photos from the west part of Bangladesh.
---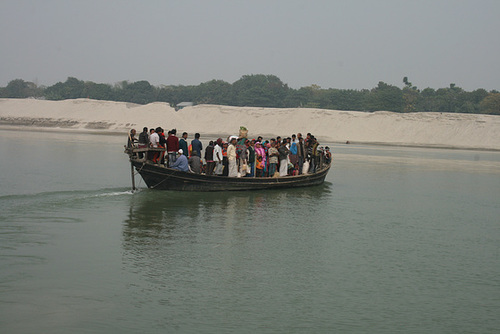 Local Ferry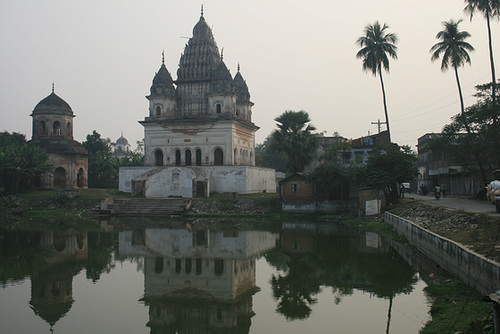 Shiva Temple
Puthia.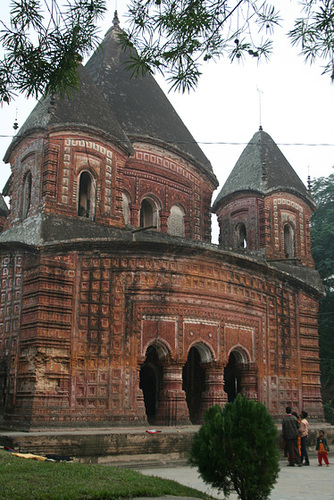 Govinda Temple
Puthia



Teracotta Details
Govinda temple in Puthia.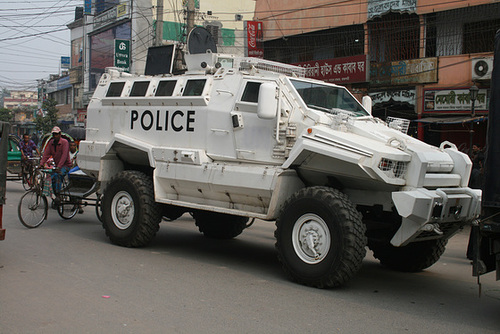 One Serious Police Vehicle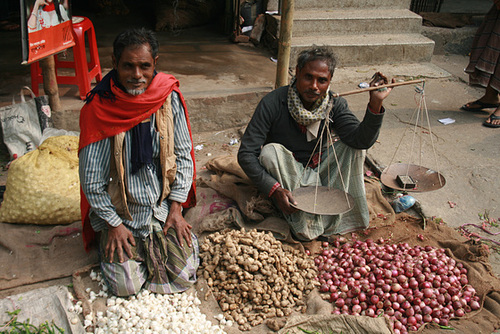 Market - Rajshahi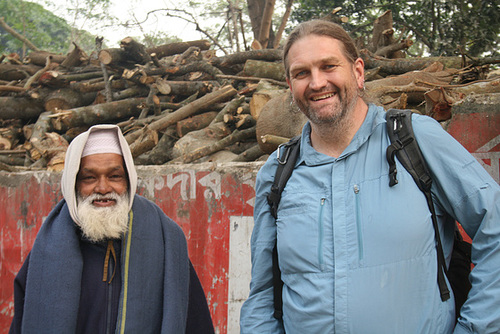 Richard and a Character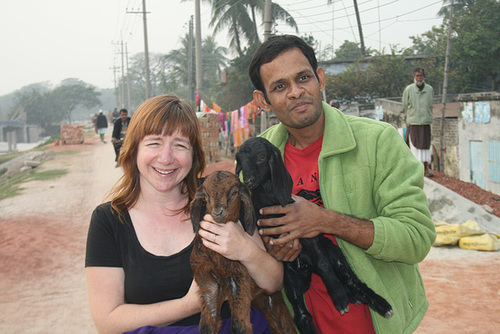 Jo with Some New Friends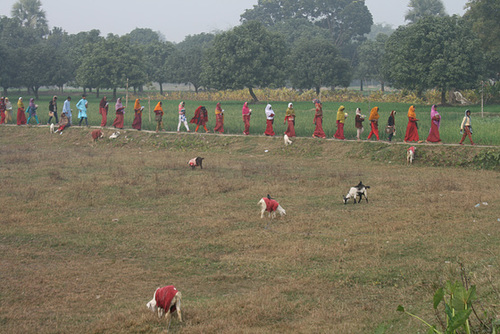 School's Out
Children file between the fields. The goats are wearing old shirts.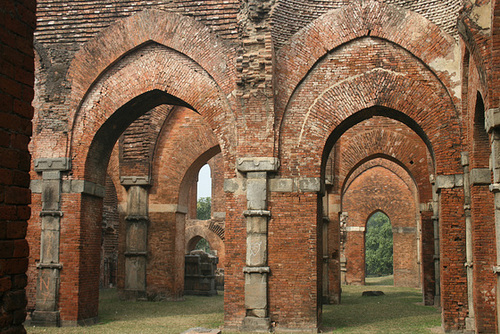 Arches from a Ruined Mosque
Remains of the 1470 Darasbari Mosque, Gaud (Sona Masjid).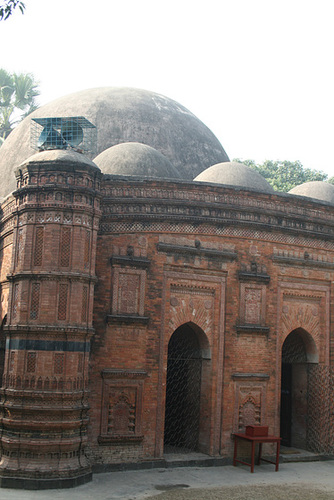 Khania Dighi Mosque
Built in 1490. Part of the historical site of Gaud (Sona Masjid).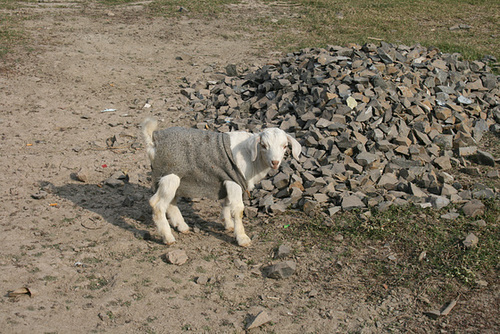 A Tee-shirt Clad Goat
Many of the goats wandering about are clothed in rags and old shirts. Must be cold when the livestock needs to be kept warm.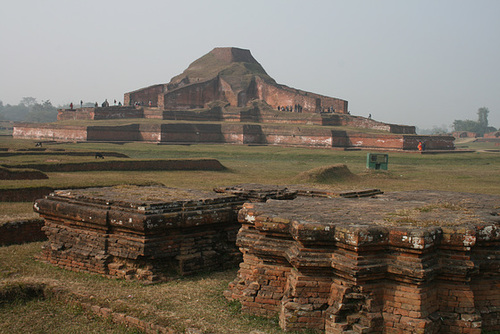 Somapuri Vihara
The view over the 8th century remains of Somapuri Vihara



Decorative Figures
From the stupa base at Paharapur.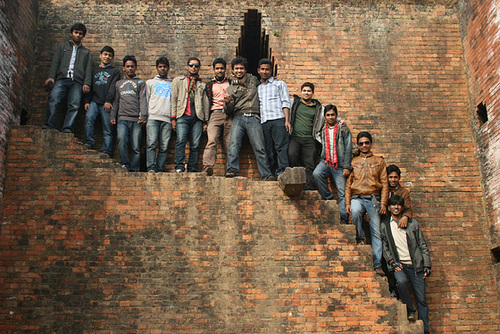 Group Photo!
Some Chemistry students from a nearby university. A couple of them spoke excellent English, and chatted with us for over half an hour as we explored the archealogical site.



Embrace
This guy got off the ferry and was greeted enthusiastically.

---
Might put in a p.s. here. We have been dry for the whole time. Alcohol is just not available, well not in the smaller towns in any obvious place. So, when we walked past a supermarket with a fridge full of imported beers, we stood for a few minutes drooling while trying to choose. And then we realised, they were all alcohol free. Lots of "0.0%" on the cans, or "alcohol free" labels...