14 to 16 December, 2010 – Vishakhapatnam, India
Tuesday morning, we arrived nice and early at the airport for our flight to Vizag, very appreciative of the fact that Vizag is a common and accepted abbreviation of the far less pronounceable Vishakhapatnam. Our early arrival was partly because of an alarm clock which was inexplicably on the wrong time (by 40 minutes), but thankfully it was wrong in favour of us making the flight rather than missing it. A hitched lift to the airport with an ex-pat English engineer, and short queues had us at the Jet-Lite counter almost two hours before our flight. The puzzled look by the lady at the counter was soon converted in to words. Our flight had been cancelled. They had left a voice message on our phone. Yes, that phone back in Australia which we had not brought with us. There seemed little point in querying why they had not attempted an email, as she was actually apologetic and had already begun looking in to options. We soon worked out that this airline no longer flies to Vizag. We don't know how long ago they knew it was cancelled, and what that actually meant (was there supposed to be a refund, and we had to go looking for other options?). Anyway, we were there, in their faces, and she was fantastic because she was not trying to get rid of us. Soon, we were on a flight with another airline. Flying direct rather than stopping, we arrived about the same time. We are thankful that we did not know it was cancelled, or we may have spent hours (not to mention more money) trying to get another flight, and maybe not getting one – the one we were on was chockers! So, not knowing worked for us... God is good.
We were greeted at Vizag airport by Surya, a host we connected with via couchsurfing. He took us to town where we had our first "thali" - an all-in-one plate with a number of different dishes to be had. Then, we headed to his beach house, a few kilometres out of town. He generously lets guests use this property, which is set up with all the basics for a comfortable stay.
---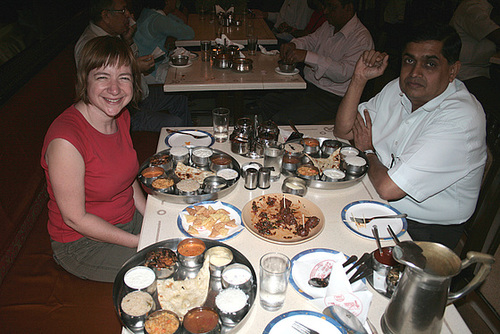 Surya Introduces Us To Thalis
A Thali is an all-in-one plate for lunch. They can be basic (with just rice, dhal, and some vegetables) or quite fancy and extravagant, like these..
---
The next morning, he came with his driver and took us to see the sights close by. Bheemli beach, the dolphin's nose, and a number of viewpoints. We also visited his country property (where he and his wonderful wife, Syamala) plan to retire. What a fantastic place for a family get together, with a small waterfall, minigolf, cricket nets, and so much more. Accommodating more than 20 (two bungalows for 5 children each), we need to come back with a handful of friends!
---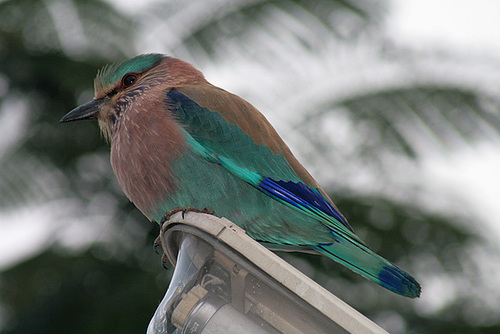 A "Yet-To-Be-Identified" BirdQuite a few were about, and extremely shy. But one solitary bird happily sat on a lamp while we snapped a few pics.

---
We finished the day with a lovely dinner at an exclusive Vizag club, before being driven back to the beach house. So looked after!