11 to 14 December, 2010 – Mumbai, India
Flying. You can get all philosophical and romantic, but in the end, it's just a long boring sit in a plane between destinations. Oh, things aren't so bad with modern entertainment options ­ I personally caught up with five movies (including finally seeing Inception) and a few episodes of Modern Family, and Jo managed a couple of hours sleep. The meals and snacks were pretty good, providing short and appreciated interruptions to the dreariness.
But, my goodness. What an amazing sunset. At first, we were wedged between two layers of clouds, with a pink hole in the distance. Soon thereafter, the bottom layer thinned, and as the sun got lower, it illuminated the breaking sheet from below. Far lower again, the coast of northern Western Australia provided a subtle backdrop.
---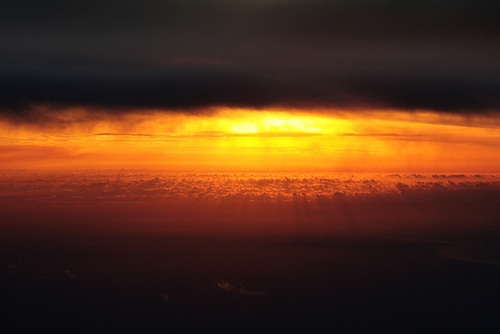 Sunset, as Viewed From QF004 to Singapore
Sun setting between two layers of clouds.



Sunset Beneath a Sheet of Clouds
Minutes later, the sun goes below the lower clouds.
---
By the time we arrived in Mumbai, in the middle of the night, it was well over 24 hours with almost no sleep. Despite this, we only slept about five hours and got up at breakfast time. This is the best possible way to beat jet-lag ­ get in to the local timezone as quickly as possible. In the light of day, we finally had a chance to meet Heléne properly, our couchsurfing host from France now living in Mumbai. Our brief encounter in the middle of the night had only consisted of brief introductions and directions to the bed and bathroom.
---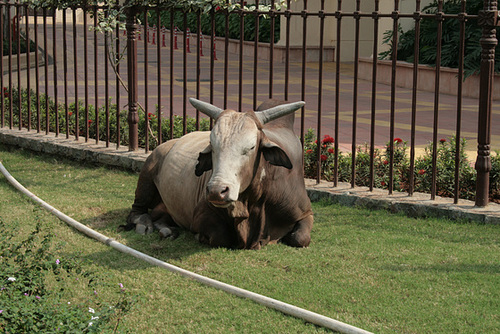 Taking a Break
A cow relaxes in front of an official government building in Mumbai.

---
A couple of hours later, we decided to brave the sardine experience of second class Indian trains. One statistic we saw quoted that Indian trains generally carry around 7,000 passengers when designed for 1,400. I totally believe it. For some sectors, there was no possibility of even lifting my hand from beside my side to scratch my nose. Eight or ten people hung out of each and every door. Getting off requires pre-planning, for those not close to the door. One guy wanted to get his boxes off the train, and he was too far back, so as the train slowed, he began forcing his way through holding a box in front of him as a ram, pushing a dozen or more people out on to the platform, whether they were getting off or not! Thankfully, the train was not moving too fast, but it was moving!
So, we spent two days in Mumbai seeing the sights, and eating some great meals.
---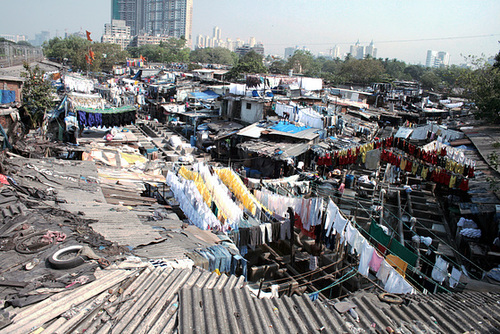 A Little Bit of Washing
Hundreds of people live around the concrete washtubs, and wash clothes collected from all over Mumbai. This is area is known as Dhobi Ghat and is near Mahalaxmi station.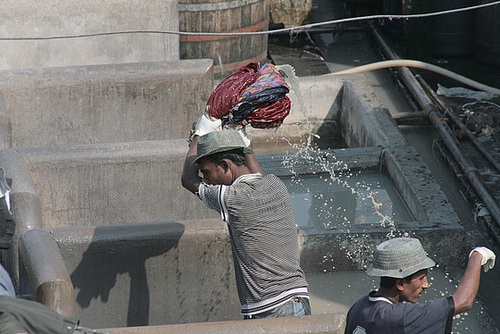 Washing Clothes
In Dhobi Ghat, Mumbai, a man puts the washing through an agitation cycle.



Pani Puri
Like pappadum balls full of rose water and chick peas.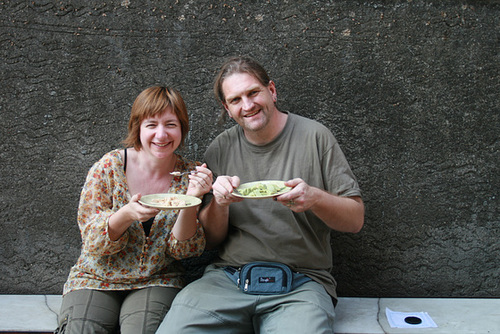 The Best Kulfi Ever
At Chowpatty Beach, Mumbai. I had pistachio, and Jo had butterscotch. Both extremely yum.
---