8 to 9 October, 2009 – Bangkok, Thailand
To avoid a flat afternoon in Bangkok, waiting for our trip to end tomorrow, we decided to jump in to a Thai cooking course. It was fantastic. We went to market first to buy a lot of the required ingredients, and learnt a heap about Asian vegetables and spices. Then, we cleaned and chopped and prepared four main courses and a dessert. We made our own curry paste, too. Green curry. Yummo!
---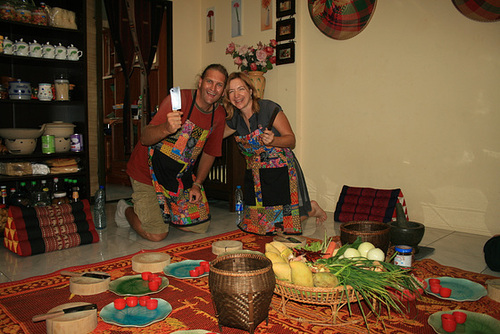 Ready To Go
We started the afternoon with a trip to the market to buy fresh vegetables and spices. Now, ingredients washed, cleavers in hand, we are ready to be let loose on some Thai dishes.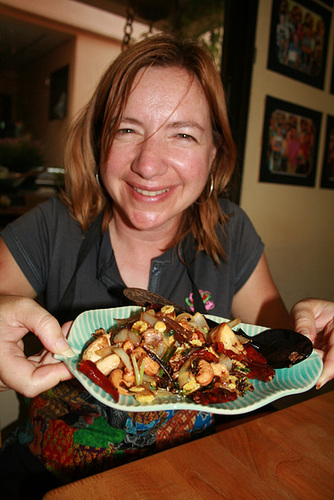 Thai Cashew Chicken
Dish number two – Thai Cashew Chicken. The highlight of this dish was the fabulous aromatic dried chillies.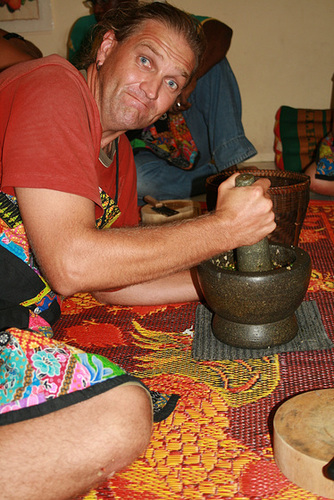 Grinding Chilli Paste
Green chilli paste being made from scratch. This was hard work, especially given the weight of the pestle.
---
Jo got into trouble for eating too slow, while I asked my questions too early (and began chopping before he told us to)!