4 to 6 October, 2009 – Bangkok, Thailand
Plan A was to come to Thailand for a few days, and head out to an island beach. Plan B was to go to Hanoi for a couple of days to visit some friends, and go to a Thai beach for the remaining time. When that seemed like too much running around, Plan C came in to action. Treat ourselves for a couple of really nice nights in Bangkok. We didn't do much, sights wise, but we are losing track of how many times we have actually come through this city, so doing particular things was out of our minds.
We stayed in Chinatown, We walked a few kilometres to absorb a bit of where we are. We ate meals in the streets to really remind ourselves where we were. That was our stop.
---

We Could Get Used To This!
A luxurious splurge in Shanghai Mansion in Chinatown, Bangkok.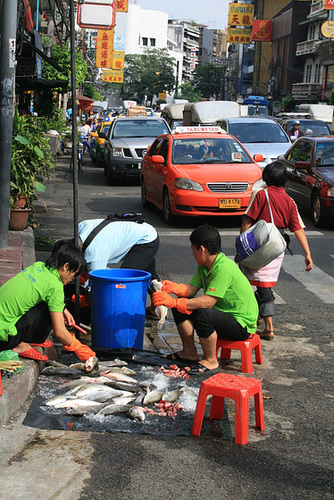 Cleaning Fish
At least they put a plastic sheet down before cleaning fish in the gutters outside the restaurant. Chinatown, Bangkok.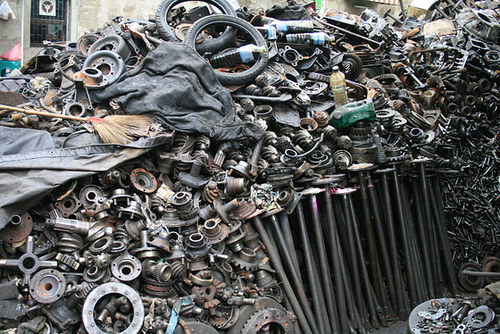 Spare Parts
"I'm looking for a ... for a 1981 Nissan Sunny?" "Yes, I'm sure I have one in here somewhere!"
---
A quick note about the importance of correct pronunciation. King Kaeo was the name of a road we had to get to. If not pronounced correctly, it apparently sounds like Thai food. Our taxi driver found this hilarious, once he worked where we wanted to go was NOT a Thai restaurant.