Catch Up In Hanoi
food, friends, transport – motorbike, Vietnam
6 to 8 October, 2009 – Hanoi
Both Mark and Monica were colleagues of Jo's a few years ago. Mark also became my footy cheering buddy, as he is even more passionate about the Kangaroos than I am. So, when we found a cheap Air Asia flight from Bangkok to Hanoi, where they are now living, we couldn't possibly not go. It was so exciting to see them, especially since Monica is 7 months pregnant! Also, what a great excuse to go back to Hanoi for a couple of days.
Oh, and thanks guys for spoiling us rotten!
---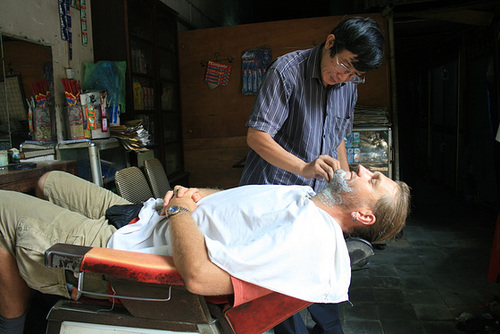 This Is One Of My Favourite Things
I love getting a shave with a cut-throat razor. It must be quite the task for them to do me, too, as they have this soft facial hair that takes months to grow, while us Western men have our stiff whiskers that grow almost as quickly as we remove them.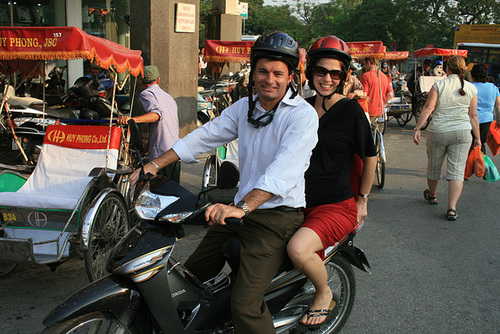 Mark and Monica
On the streets of Hanoi, Mark and Monica on their typical Vietnamese family vehicle. Monica looks so well, really healthy. It was special to drop in on them so close to such an exciting occasion.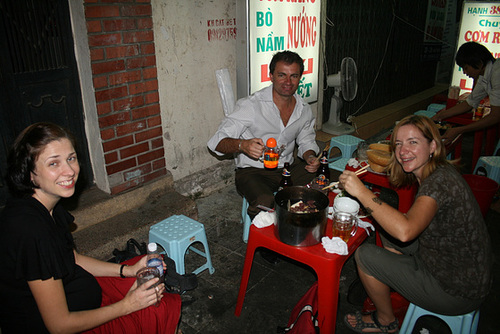 Fantastic Street Barbecue
In Vietnam, street food is only authentic street food if you have to sit on tiny plastic stools with your knees up around your ears. We know this street food was cooked fresh, as we had to cook it ourselves. A large platter of beef and vegetables, a little stove and hot plate, and a few blocks of paraffin. Vietnamese barbecue.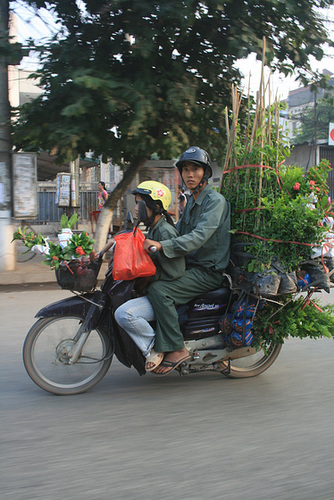 A Typical Load
Actually, it is quite unladen compared to some, but I like the shot. We assume that is the man's wife, and note there is ample space for some children on there with them.
---
I decided to get my shoes cleaned and shined. Two boys gave me some plastic slippers so I could stand while they furiously worked my shoes. They also applied a dab of glue here and there where my worn out footwear showed some signs of age, all the while muttering and mumbling about how dirty they were. "No clean long time", one of them scolded me. "We fix!" However, I had to intervene when they began to cut a piece of tyre to "re-sole" my shoes. And, I had to be very forceful, as they were very insistent!