10 to 19 July, 2009 – Bayamo, Santiago, and Playa Girón, Cuba
There are a lot of dogs in Cuba. Outnumbering all others, though, is the Dachshund. Maybe they are especially loved because they look like cigars with legs?
I did talk in the last blog about rationing, and shortages. This time, I want to talk about buying things from peoples houses. A number of things, well a lot, are bought from front windows and doorsteps. Often unadvertised, and sometimes (we think) illegal. To find these things, you need to ask around, or be asked in. At the simple end, it is things like coffee. In some cases, we have been invited by the seller to come in to their lounge room, pull up a rocking chair, and enjoy our peso coffee. The time we bought beer from a house, it was a little more hush hush, wink wink. We were invited to come in and sit with the family watching television while we consumed our beverages, but we declined as we were waiting for a bus. In any case, we really thought it was not supposed to be sold in this way. The cigars, that was a bit more of a production, but no less bizarre. In to their house, through the living room, and a bed room, out in to the dining room where boxes of cigars were laid out. (Cheaper cigars packaged as expensive, known brands; not a problem as long as we are all well aware what is going on). We wheeled and dealed as per normal. They pretended they had little margin to work with, but managed to come down "just for you", while we feigned some disinterest and a need to think about it, when we were pretty sure we were going to buy. We bought. Everyone smiled and shook hands. One of the sellers gave us a rendition of the "Skippy" theme song (including whistle), as it was his favourite show when growing up. We left via the bedroom again.
We have been Fidelling. First, near Bayamo. Castro ran the revolution from a hideout in the mountains. Although not easily accessed, it can be visited.
---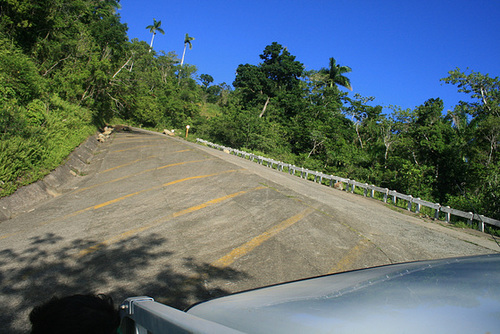 The Steepest Road In Cuba
This is not an angled photo. That really is how steep the road is. It is known as the steepest road in Cuba, and certainly one of the steepest in the world. It has a slope of over 40 degrees. This is in Gran Parque Nacional Sierra Maestra, climbing to Alto del Naranjo.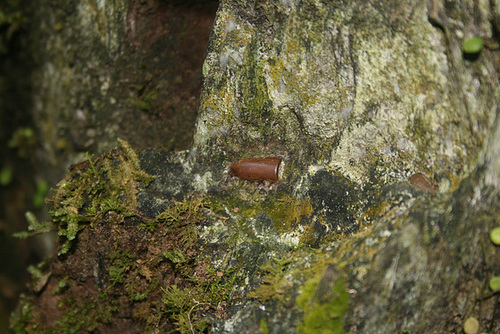 Bullet In A Tree
During the late 50's, when Fidel Castro and his men were based in the Sierra Maestra, fighting, they established a base. Comandancia La Plata. It is said that Fidel personally tested every weapon before letting it be used by his men. A tree near his hut, still alive, was his usual target. It is riddled with bullets.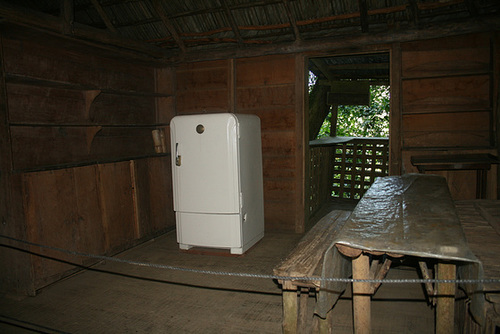 Fidel's Place
The Commander's hut, largely as it was. This was where Fidel lived when the Cuban revolutionaries created a base in the mountains. The refrigerator is the one he had there (and I believe it still works). We don't know the story about how it got a bullet hole in it. This location remained undetected by the army, and Fidel lived and commanded from here until the revolution succeeded.
---
The second trip we made was to his childhood home.
---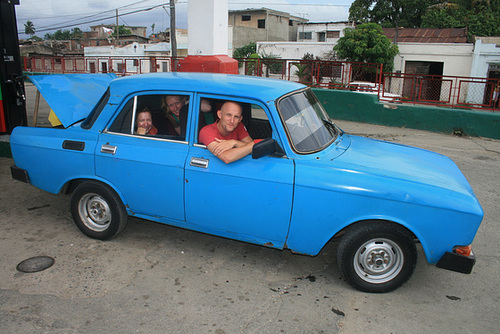 A Day Trip With New Friends
Sorry to anyone who cares, but I forget exactly which brand of Russian car the body is. Our driver for the day was quick to point out that the motor was, however, a Lada. We did a trip to the property where Fidel Castro was born and spent his youth. We did it with some new Dutch friends, Anne and Sepkje.



Fidel As A Toddler
Fidel Castro. Age: 1 year and 10 months. Cute ringlets, Fidel.
---
And finally, some general pics.
---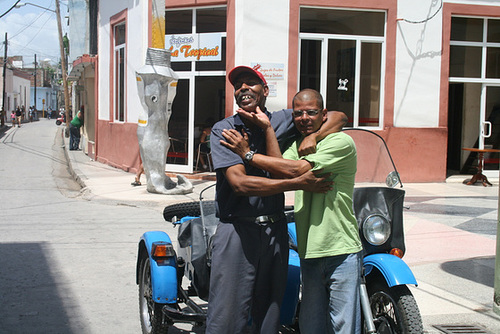 Our New Cuban Friends
Okay, so they had been hitting the rum pretty hard. Then they wanted us to have a shot or two. When I started to take a photo of the motorbike, two jumped up. They were certain they would enhance the photo.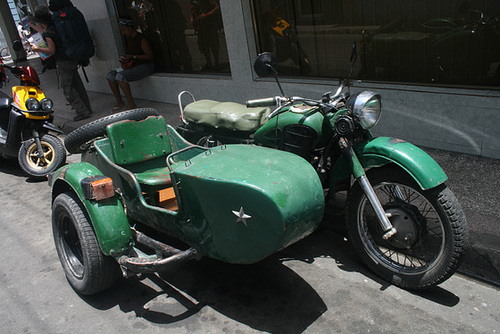 A Revolutionary Ride
Complete with Cuban revolutionary star.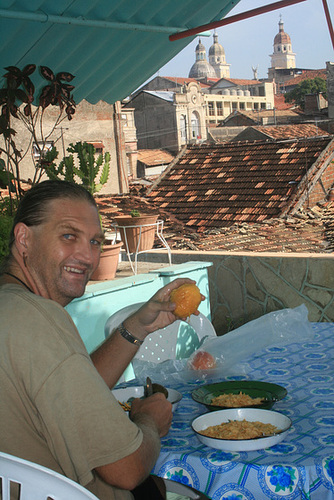 Mangoes For Breakfast
On the rooftop of our Casa Particular, with the cathedral of Santiago poking out in the background.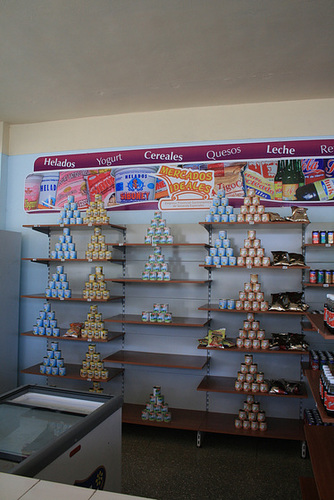 A Cuban Supermarket
These shelves looked well stocked. In reality, they are all stocked with tinned milk. There are a few other products available, but 3 or 4 kinds of tinned milk are stacked on about 16 shelves. In total, excluding the alcohol, there were no more than 10 or 12 products available in this supermarket. And this is an upmarket one, hard currency only, and no ration books needed.
---