4 to 8 Mar, 2009 - Santa Elena and Monteverde, Costa Rica
Finally, the group has reached maximum size. Picking up Shannon and Chester in San José brought us to seven. But that was it for two nights, With time rapidly running out for them, they decided they wanted to try and squeeze a bit of beach time in. We decided it was time to stay put. We have never quite done it like this before, travelling with such a group. And although it would not be a great way to do it, long term, it was a lot of fun for the short stint. Especially because everyone was so great. Adam we have known for quite some time now, (1998?) and he really is counted as one of our very good friends. Lisa we instantly felt comfortable with, and she is fun to be with and amazingly easy to talk to. Brent is a funny guy, and as generous as can be. Shannon and Chester (siblings), we only spent the one full day and a bit with, but felt as close to them as the others.
---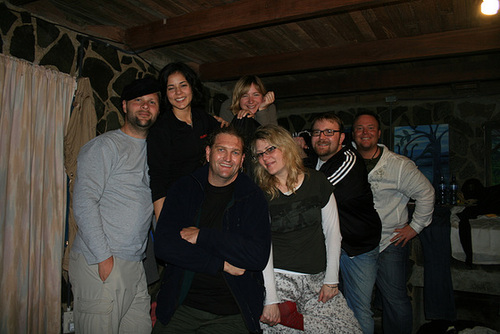 The Notorious Seven
Adam Lee, Lisa Matasovsky, myself, Jo, Shannon Dyrud, Chester Dyrud, and Brent Olson.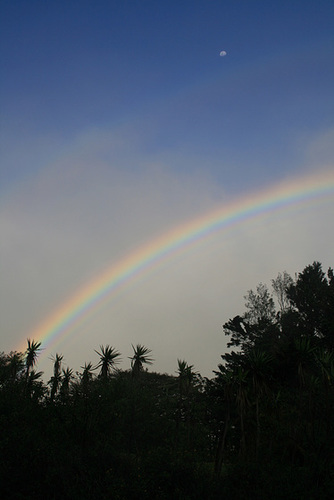 Double Rainbow and Moon
Rainbows are not that rare in Santa Elena, where the wind whips moisture down from the cloud forest, and the afternoon sun creates many rainbows day after day.
---
We have done a few bits and pieces in this area. We toured the cheese factory, originally established by Quakers who fled the US draft in the 1940's. That was far more interesting than it sounds, with an obligatory tasting session.
We were told the rain would not affect the fun of our zip-lining experience. My goodness, we both had such a blast. A dozen or so cables running through the canopy of the rainforest. We wore harnesses attached to a pulley. Pulley gets attached to cable. Away you go! WEEEEEEeeeeeeee!!!!! The cables vary in length, height, and gradient (and therefore, speed). The longest cable was around a kilometre long. Some of the cables ran 200 metres or more above the forest below. And some of the cables had no slack, and serious velocities were reached! Brakes? Thick leather gloves allowed us to grasp the cable. Whipping through the clouds was incredible. Some spans were almost entirely above the trees, while others went through long gullies calved through the foliage. There was also "Tarzan swing", which was a lot harder to leap off than I thought. I screamed on the way down, which changed to joy as I swung past the bottom, and changed back to fear again as I reached the top of the other side, then joy again as I swung back, and so forth, till finally it settled down. Although it was not really raining that hard, the precipitation about made me reluctant to take the camera. So, no photos at this point. A Canadian with a waterproof camera made some for us, and hopefully we will receive them in an email in due course. Watch this space!
We spent the majority of one day exploring the cloud forest of Monteverde. Reserva Biológica Bosque Nuboso Monteverde. The forest was stunning, with trails running to high lookouts and down gullies to picturesque waterfalls. The hummingbird feeders near the entrance were also quite a highlight.
---

A View From The Trail
View down to the Pacific from the Monteverde Cloud Forest.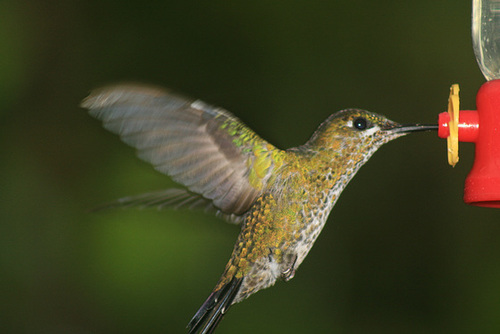 Hummingbird At A Feeder
Getting a sugar hit. If anyone can get me an identity on this one, that would be appreciated.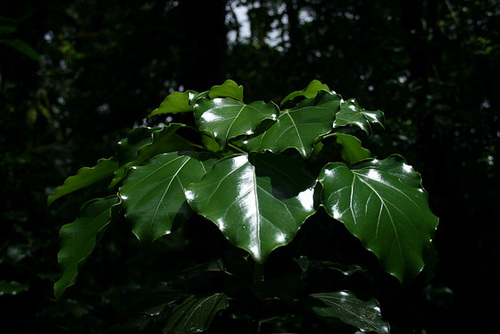 Lovely Texture
The rich texture on these leaves and the deep colour really made a beautiful composition.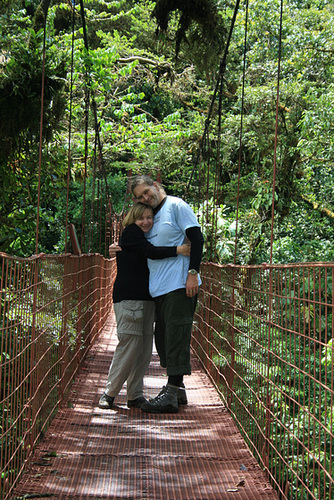 A Cuddle On A Bridge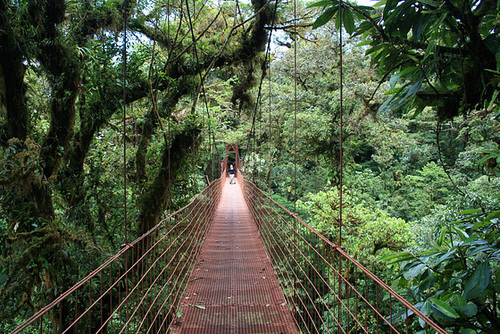 Suspension Bridge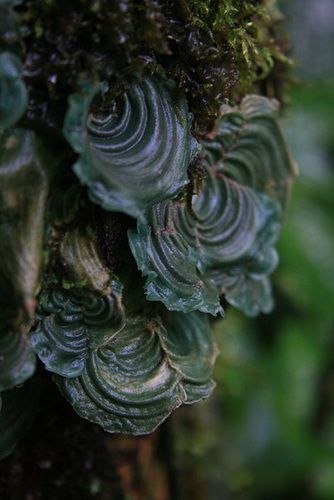 Interesting Fungus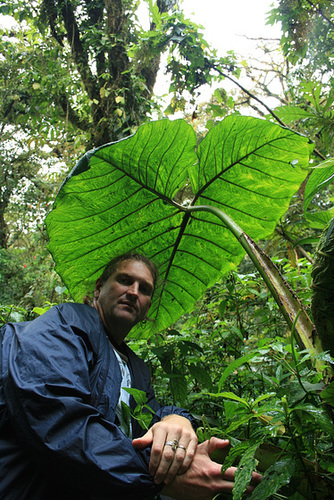 Now, That's What You Call a Leaf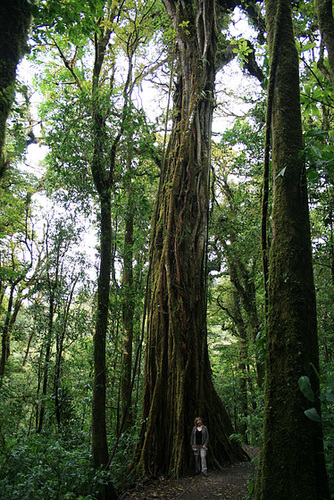 Obviously, Jo and a Tree

A Superb Tree
Well, I'm not sure it it is just one thing growing there, or if it is multiple trees that have combined to form one super-tree!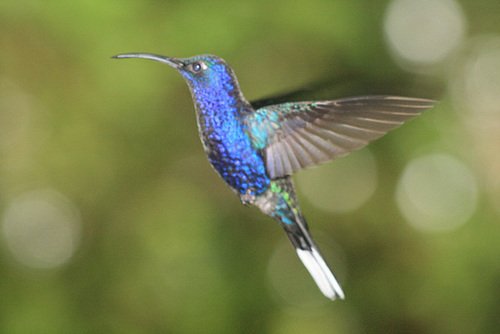 Freeze-frame
A Violet Sabre-wing Hummingbird captured in all its glory. 1/4000th of a second exposure.
---