2 to 4 Mar, 2009 – Tortuguero, Costa Rica
We are now five. We passed through Alajuela and picked up Brent, another friend of Adam's. After a few rough bus rides, a longish stint in a boat, and some tight connections (which must have worked because of divine intervention, because luck would not have been enough), we ended up in the village of Tortuguero. Surrounded by national park, with no roads, and only accessible by air or water, this little village is the jumping off point for visits to the park.
In the morning, it was raining while we had our coffee, but by 5:45 it had eased to a light shower, so we set off. Five in a canoe, plus guide. For the first couple of hours, while viewing wildlife, the rain came and went, and when it was came and not went, it was light. We saw a number of birds, including the Great Green Macaw and many waterbirds. We saw two species of monkeys, Central American Spider Monkeys and Howler Monkeys. We saw a magnificent, and not overly shy, Caiman. The highlight was seeing the Basilisks, though. Gorgeous green lizards, with prehistoric looking blades on their heads. They are also known as Jesus Christ Lizards, as they have the ability to run on water.
---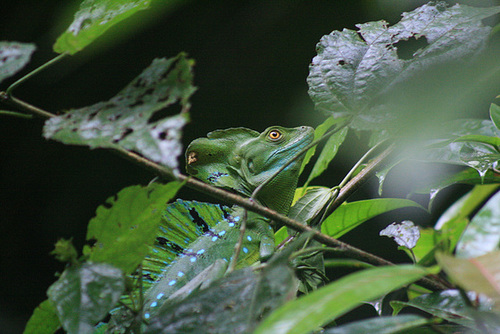 Basilisk
Prehistoric looking basilisk. Also known as the Jesus Christ Lizard because of its ability to run on water.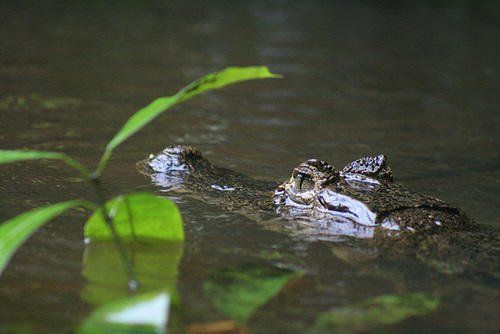 Trying To Remain Inconspicuous
A caiman assesses the world around him.
---
As we paddled back to town, the intensity of the rain just grew and grew. It was so intense, we had difficulty seeing. Rivulets of water ran through gaps in our wet weather gear, down our backs in to our pants, or down our legs in to our shoes. We were so incredibly thankful to get back to town and get hot coffee and dry out!
---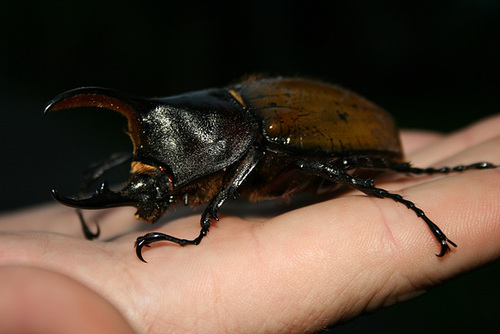 Hercules Beetle
Note the barbs on his legs! My goodness, when I tried to remove him, he did not want to let go. Those feet just dug in harder, like fish hooks.



Me With My New Friend
This friend did NOT want to leave me.
---
In the afternoon, we headed in to the park by foot. It was a chance to see and learn about the plants and the smaller animals. The evening highlight was the red-eyed green tree frogs. Unfortunately, they were not as spectacular as the magazine pictures, due to the fact that they were asleep, and most of the red and blue was hidden. They were little green blobs on green leaves, with tiny orange accents!
---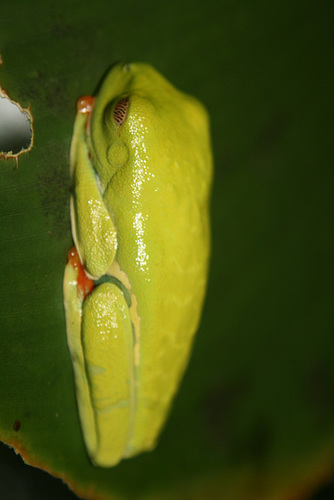 Green Tree Frog
A red-eyed green tree frog tries to get some sleep under a leaf.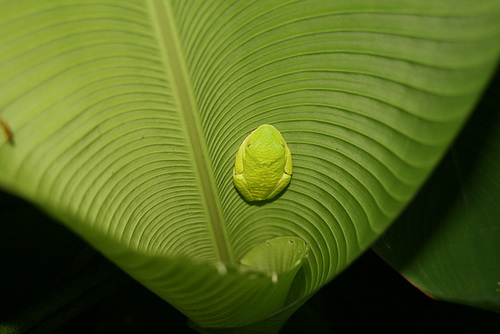 Frog Burrito
A frog catches some shut-eye, hoping he is thinking he is nice and hidden in a leaf wrap.
---
Dinner was a special affair, at Miss Junies. Apparently, Fidel Castro and Che Guevarra have both dined at Miss Junies. Don't know what that means for us, exactly. In any case, Caribbean styled seafood was quite the hit for us all! Great food, and great company. A memorable night for sure.
---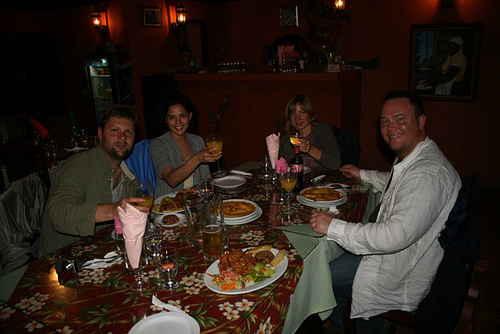 Five At Miss Junies
A delightful Caribbean seafood dinner. Adam, Lisa, Jo, and Brent.
---