5 to 17 June, 2013 – Antalya, Side, Çirali, Üçagiz, Kaleköy, Patara, Bodrum – (Turkey)
I'm going to have a little rant, here. I try not to be critical and judgemental of other people in the same way that I hope they are not with me. However, sometimes I cannot help myself but to shake my head. People taking photos using their iPads. Now, come on, people. I can understand that it may be a handy way to take a snapshot when caught out somewhere without a camera. And if I had seen this once or twice, I would have assumed that maybe this sort of thing had happened. But the number of times we are seeing this phenomenon is becoming a worry. Holding up the giant screens, fighting glare in bright sunlight, struggling to take photos that are aligned properly. People who take photos with iPads, I don't know if you are showing off, but there are some excellent quality cameras about that are perfectly capable of taking the same or better, and they are not at all expensive.
Anyway, back to us, as this is what the blog is about after all. Again, I apologise for the lack of "stories" in this blog, but I promise, I already have a couple of beauties lined up for the final blog postings.
Oh, one that I should quickly mention. We ordered chicken schnitzel, just for a change from local fare. We received a plate of chicken nuggets. A long way short of our expectations.
---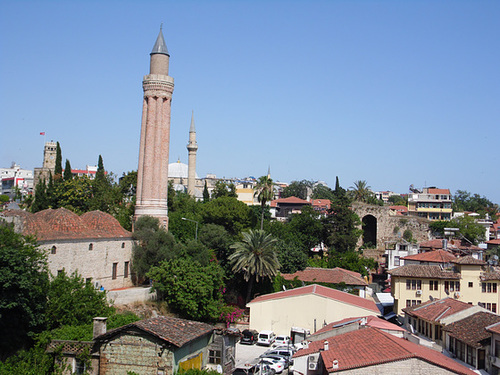 Antalya
A view over the historical district of Antalya, including its symbolic minaret, the Yivli Minare. Antalya was a more than pleasant stop, and the old town area (Kaleiçi) was a delightful area to base ourselves. We did a Turkish bath full works treatment in a 400 year old hamam, at the same time (not together, but in gender separated sections). Wash, sauna, peeling scrub, wash, soap massage, wash, oil massage.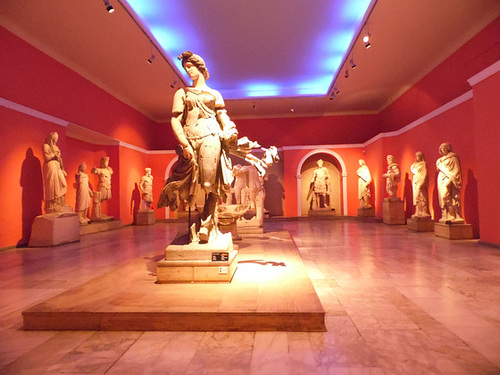 Hall of Gods – Antalya Museum
The statues in the Hall of Gods is magnificently presented and were a highlight of the Antalya museum.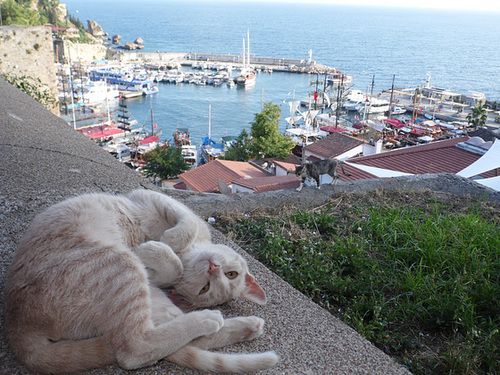 Roman Harbour, Antalya
Antalya has been an important city for many centuries, and the harbour below the historical district is the primary reason why. Kitty in the foreground just enhances the scene.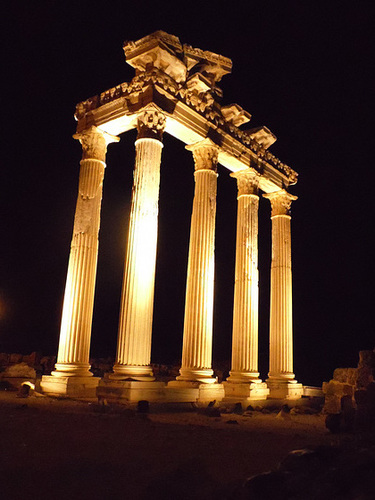 Temple of Athena, Side
Re-erected columns from the Temple of Athena in Side, near Antalya, on the Mediterranean coast of Turkey.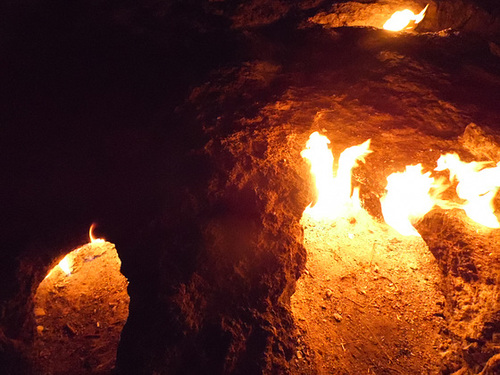 Burning Rocks
Gases escaping from vents in the ground have been burning here for over 2,000 years. They are visible from the sea and have been a landmark for sailors since before Roman times. In Turkish, it is called Yanartas, Burning Rock, but the area also goes by the name Chimaera, a mythical fire-breathing monster. Remains of ancient temples still exist on the mountain. This site is on Mt Olympos, near Çirali.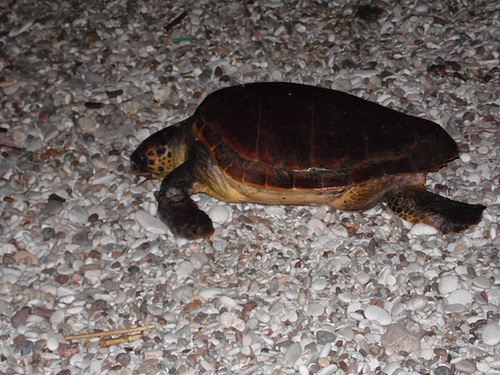 Returning to Sea
We encountered this loggerhead turtle on the beach of Çirali, on her way back to sea after laying her eggs.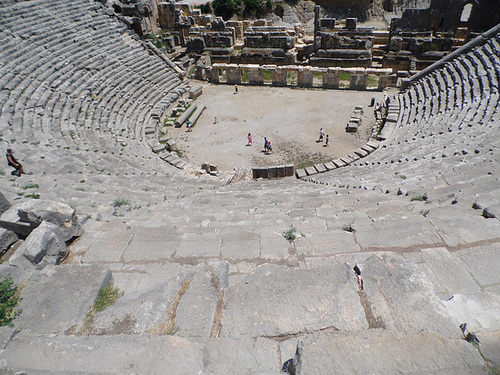 YAIRT
Yet Another Impressive Roman Theatre. You know, despite the obvious similarities between all the ancient theatres that we have seen, somehow we are still able to notice and appreciate that they are different. Really loved this one at Myra. Myra was a Lycian city that apparently got to retain a lot of its autonomy under Roman rule.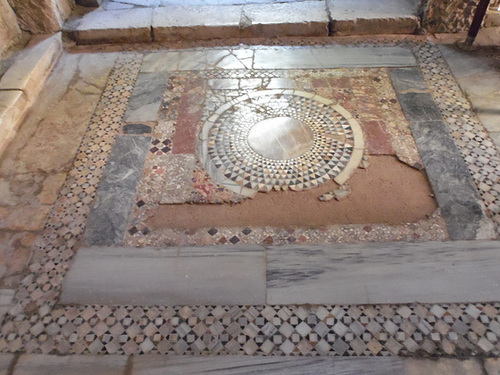 Mosaic Floor
This mosaic floor is in the Church of St Nicholas, Demre.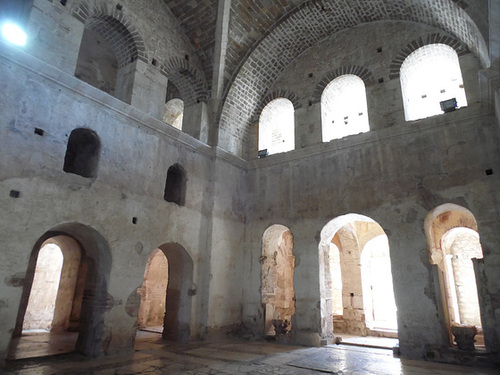 Church of St Nicholas
St Nicholas was the bishop of Myra. He is the patron saint of Russia and Greece, many individual cities, and many groups (such as sailors, travellers, penitent thieves, children, widows, and more). His legacy morphed into the character that we now call Santa Claus. This church was not only the basilica he presided at, it is also where his grave is (or should I say, was – about 1,000 years ago, his remains were upped by some Italians and now lie in a couple of churches in Italy).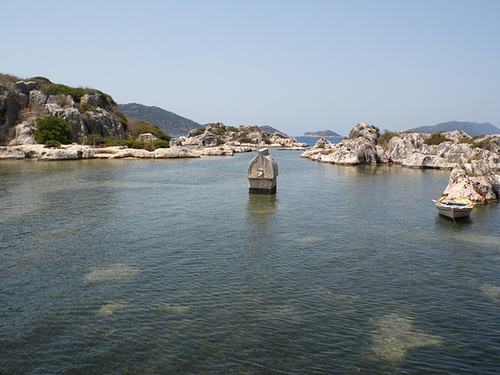 Lycian Tomb
An ancient tomb from the Lycian kingdom, now in a shallow bay due to countless earth movements over the last 2,000 years. Kaleköy, Turkey.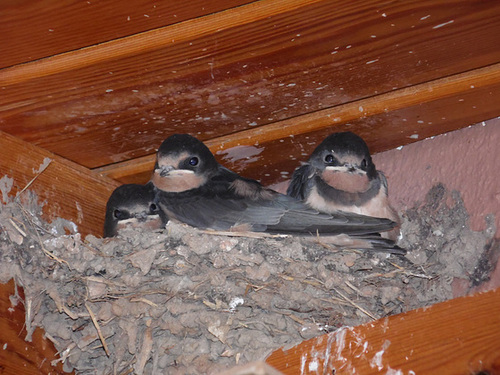 In the Dining Room
Some cuties, almost ready to fly, in a nest in the corner of the dining area of our pansiyon.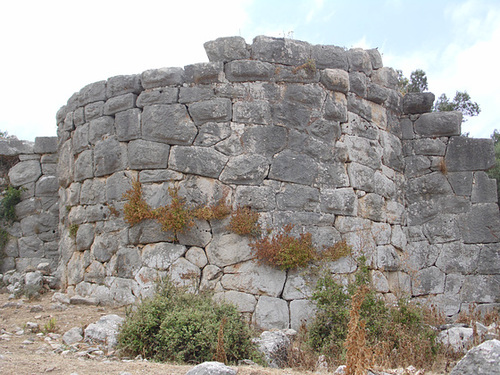 Amazing Polygonal Stone Work
This building at Patara is not at all renovated or restored. This stone work has survived for around two millennia. Such precision.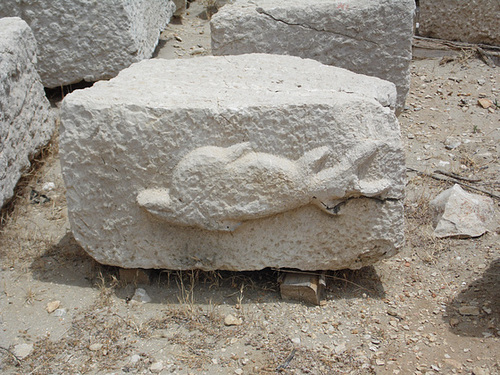 Relief Carving of a Dolphin
At Patara, they have started excavation of a Roman lighthouse. Only a few of the stones have carvings, but we fell in love with this dolphin and its cartoon style. An inscription implies that this was one of two lighthouses built at the ancient port. Since there was not a lot of information about the site, we have to assume that the light was no more than a large fire built atop a column. It was a cylindrical building with a spiral stone staircase inside. A fantastic location to have all to ourselves.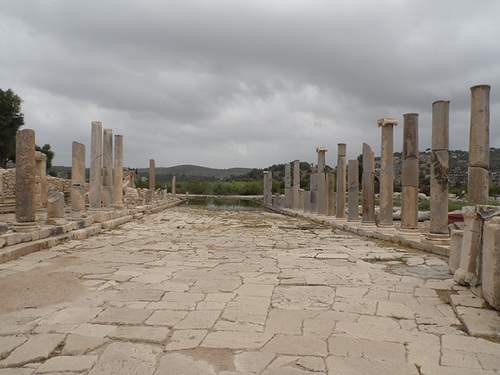 Main Street, Patara
This used to be one of the main streets of the Lycian capital, Patara, leading from the agora to the harbour. The harbour has long since silted up, and is now a swamp, but much of the city's former grandeur is easy to imagine.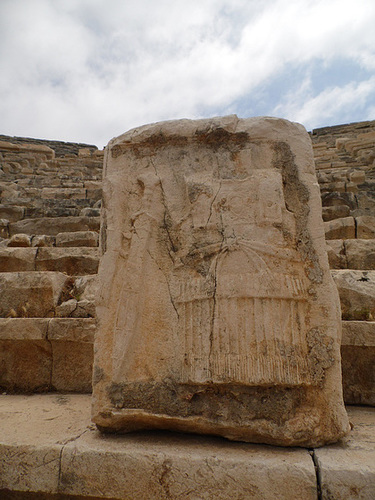 Gladiator Paraphanelia
One of the carved stones found in the Roman theatre of Patara. It shows gladiatorial armour and sword, and on the side (not visible in the photo) is a shield.



Mosaic, Letoön
This cool mosaic at the World Heritage site of Letoön was in the altar area of a temple dedicated to Apollo. Apollo and his sister Artemis were children of Leto, fathered by Zeus. Unfortunately, Leto was not Zeus' wife. Hera was, and she was one goddess you did not want to cross. It gets complicated, but Letoön is apparently where Leto and her twin babies ended up when on the run. Oh, the people of the area apparently denied her access to water, so she turned them all in to frogs. Frogs inhabit all the swamps and pools of the site, and are said to be descendants of those cursed people.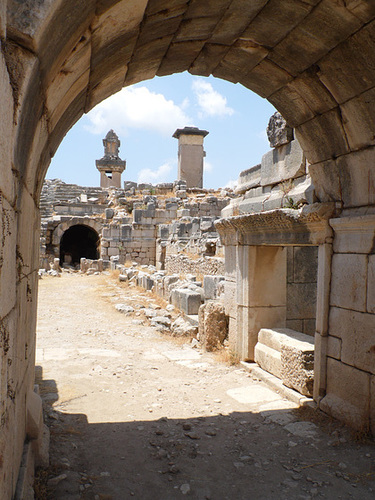 YAIRT
Did you remember what it stands for? Yet Another Impressive Roman Theatre. This one, in Xanthos, has a pair of Lycian sarcophagi on pedestals. OK, the best parts are reproductions, the originals having been carted off to London centuries ago, but they are still pretty cool.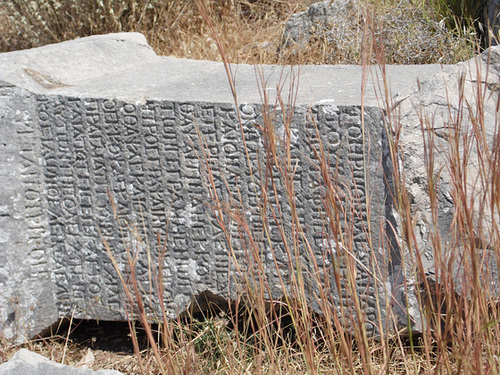 A Scattered Inscribed Stone
We thought it simply amazing that stones with so much written on them would still just lie scattered on the ground. Xanthos.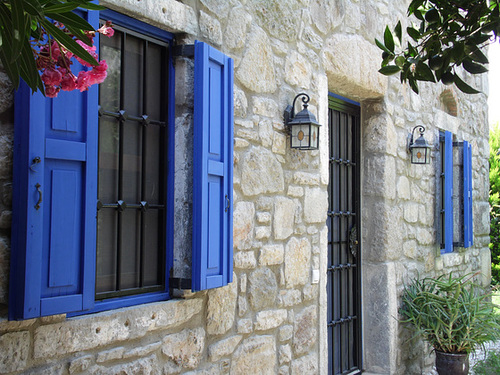 Shuttered Windows
Stone walls and blue shutters.  The photo was begging to be taken.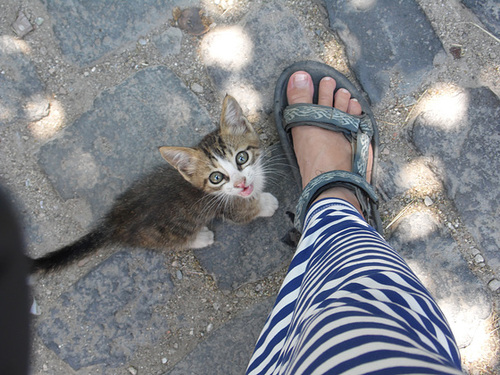 Could You Say No to This Face?
A hungry little trio of kittens stole our hearts in a side street of Bodrum.  We ended up buying a packet of dry food and a tin of tuna for them.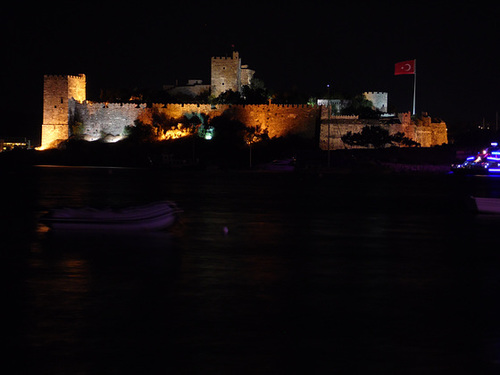 Bodrum Castle
Bodrum castle is now home to a fantastic series of museums, primarily focused on underwater archaeology.

---