25 April to 3 May, 2013 – Vardzia, Akaltsikhe, Kutaisi, Mestia, Batumi – (Georgia)
Two guesthouses in a row have given us alcohol with our breakfast. The first gave us a shot of cha-cha, which as an 80 proof spirit distilled from the leftovers from wine making. Two days later, what we thought was a fruit juice on the table turned out to be red wine. I guess it is just juice that has been left for a while.
So, our last week and a bit in Georgia. We ate well, and we drank very well. There were still some sights in the low country, including cave cities, monasteries, and forts.
---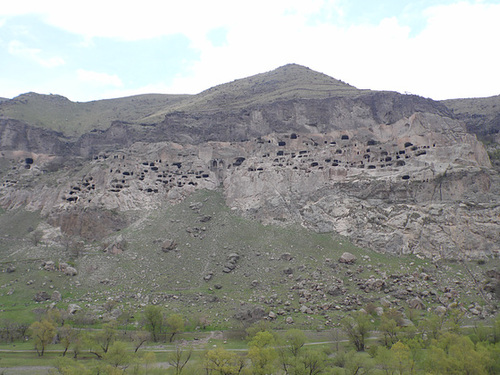 Vardzia
View to the 800 year old cave city of Vardzia. More than just a monastery and centre of learning, it was a city in its own right. While many of the caves were used for living, there were stables and libraries and schools. In the photo, you can see the arches from some of the churches and chapels.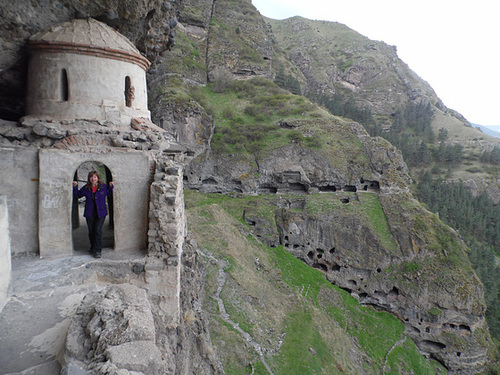 Chapel in the Cliff
High up on the cliffs, in the cave city of Vanis Qvabebi, near Vardzia, this chapel sits on a narrow ledge. Unfortunately, the height is not conveyed by the photo, but if you make out the steps below in the steep sided valley, you can start to comprehend the precarious location of this little building. This cave city predates Vardzia by about 400 years, with the earliest caves (and this chapel) dating to the 9th century.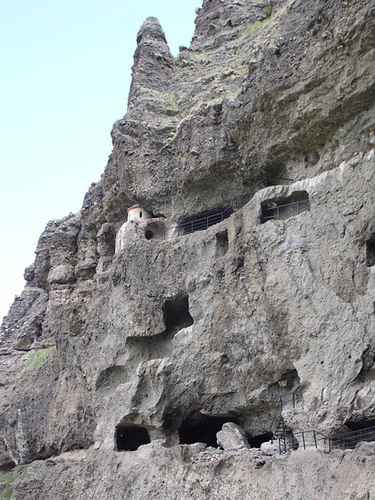 Vanis Qvabebi
View of the aforementioned chapel at Vanis Qvabebi. The only access is via a series of tunnels and ladders that begins in one of the lower caves, and winds up inside the rock.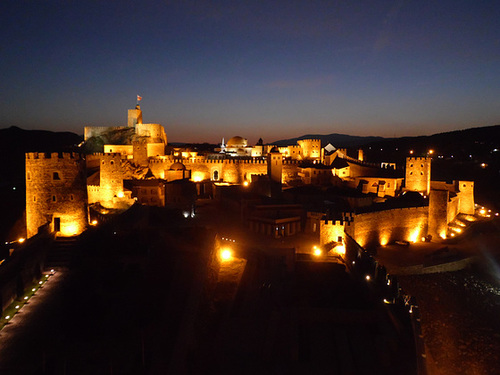 The Castle Above Akhaltsikhe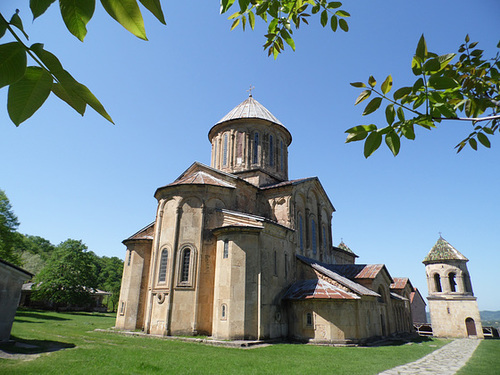 Gelati
Gelati is a monastery near Kutaisi, Georgia.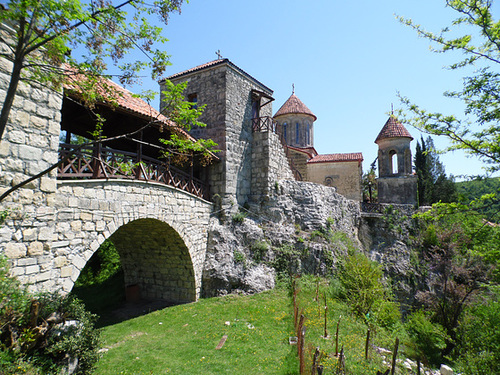 Monastery of Motsameta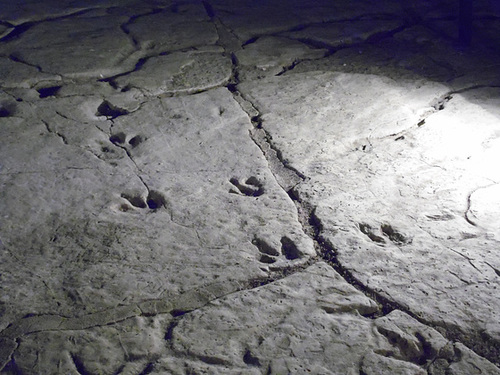 Dinosaur Footprints
Fossilised dinosaur footprints in the caves of Sataplia, Georgia.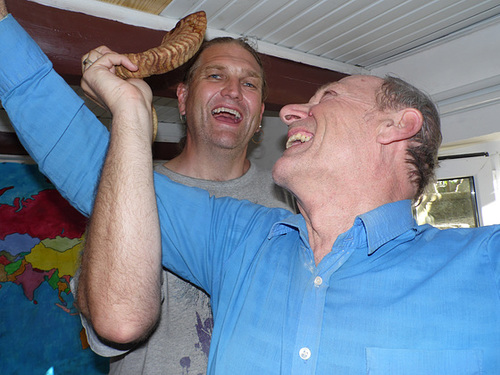 Another Ram's Horn of Wine With Our Host
So, this got me wondering, if I were driving, does a ram's horn hold more or less than one standard drink? Moot point, really, as nobody is in a position to drive after many ram's horns of wine, let alone the cha-cha!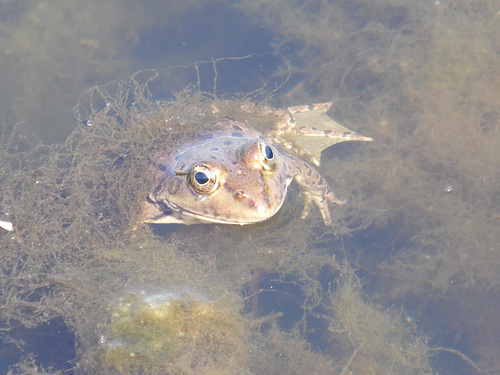 Frog in a Pond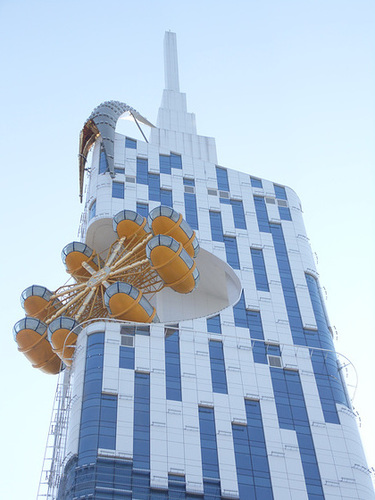 Interesting Building, Batumi
Whose idea was it? Did the architect or the contractee decide that they wanted to put a fun-park wheel three quarters of the way up a building? It looks like the sort of thing a spoilt rich kid demanded. "... and I want a ferris wheel that I can use without leaving the building!" What would be really cool is if each "pod" was a different room, bedrooms or dining or living, but you could only get in or out when they had rotated to the right position!

---
However, the highlight for this little bit, and one of the highlights of this entire region, was getting to isolated Svaneti. Georgians had prepared us for the "step back in time", but combining the cultural differences with the history and architecture, and putting it all in a magnificent setting in the Caucasus mountains, there is little that can be said to describe such a magical place!
---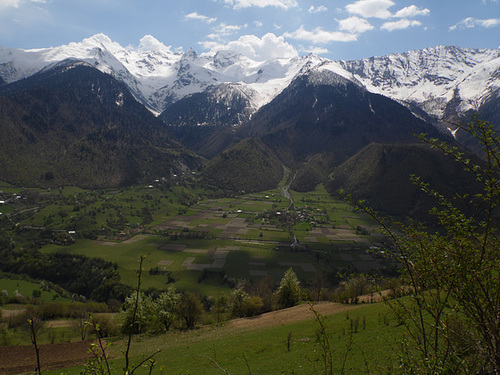 Svaneti
The magnificent view when driving in to the remote region of Svaneti, Georgia.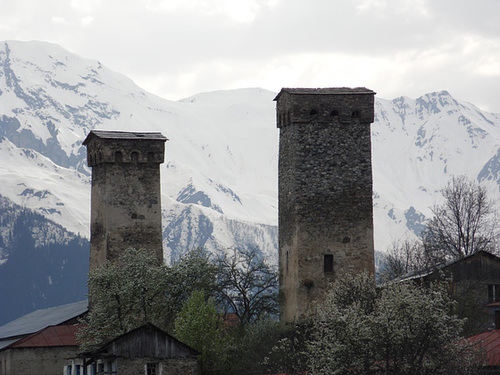 Two Towers of Svaneti
Ancient towers in a village not far from Mestia in Svaneti, Georgia.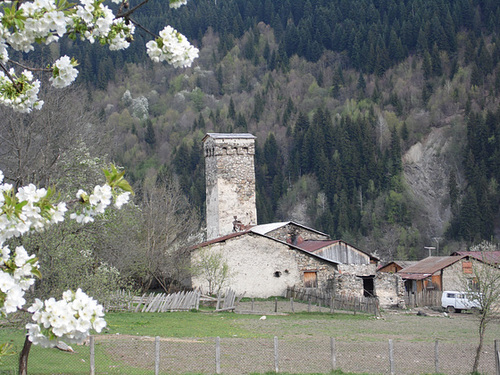 Farm with Tower, Svaneti
These towers are dotted all through the valleys of Svaneti. They were predominantly built between the 9th and 13th centuries. The bed and breakfast we stayed at in Mestia had its own, dating from the 10th century. Dates like these make the majority of "old" houses pale in comparison.



Cluster of Towers
This cluster of towers is in the Svaneti town of Mestia. They were built for defensive purposes, and combined with the remoteness of the region, have served the inhabitants well for a thousand years. The area was well known as a stronghold and frequently sheltered important religious icons and artefacts when other regions were under threat by invading forces.



Towers of Svaneti at Night
The towers may be about a thousand years old, but the atmospheric lighting is a more recent addition. Mestia, Georgia.

---