18 to 25 April, 2013 – Goris, Yeghegnadzor, Yerevan, Gyumri – (Armenia)
On our way back to Yerevan, we spent some time visiting a few of the sights of southern Armenia. As well as the fantastic monasteries and scenery, we had some great hitching experiences and couchsurfing encounters.
Near Goris, we had to hide for 15 minutes in a rocky dip, waiting for a pair of fairly vicious looking and sounding sheepdogs to lose interest in waiting for us. They were on the path we had to take back down a mountain, and had come from some distance away when they spotted us across the fields. In the meantime, we had managed to find a spot screened to them by the rocks, and we just waited there, holding our breath, while they barked and looked around, until eventually they disappeared from sight. Quickly and quietly we returned to the path and went past the spot, keeping quiet, and staying low. They had, thankfully, moved on to a point where they could no longer see the path or us.
An interesting gesture Armenians make is to make a stabbing motion to their necks with an index finger. I am not sure if it means to go drinking, or just indicates vodka, but if a stranger does it while talking to you, they are inviting you for a drink. Luckily we had been told this by some people we met in Goris, or we would not have known what was meant. The next day, their neighbour made the gesture while delivering a Coke bottle full of vodka when we answered the door. And a few days later, when hitching near Noravank monastery, a guy in a car made the gesture when he invited us for a lift.
---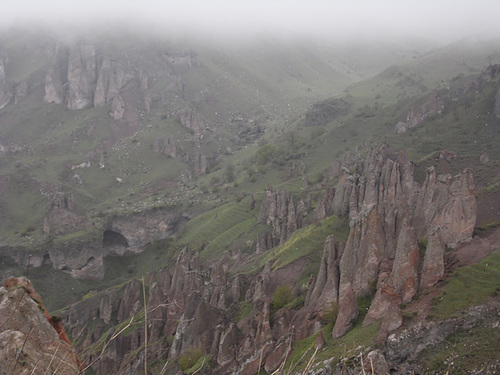 Pinnacle Rock Formations Near Goris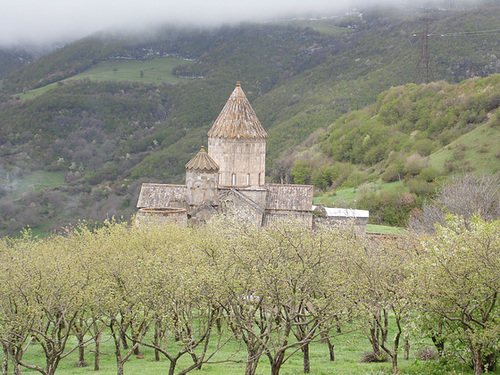 Tatev Monastery

Tatev Monastery
The monastery of Tatev sits so perfectly and picturesquely on the cliff tops. This angle is from the cable car.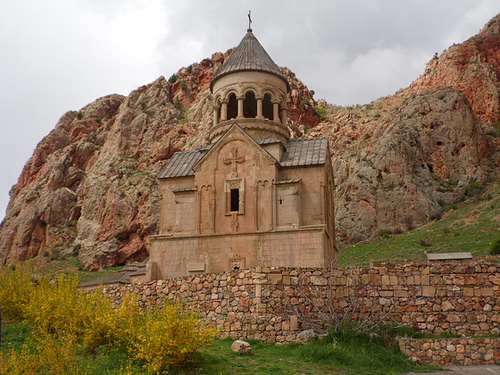 Noravank Monastery
In contrast to Tatev and its cliff top location, Noravank sits in a canyon. The 8 kilometre walk to Noravank is a beautiful and easy approach.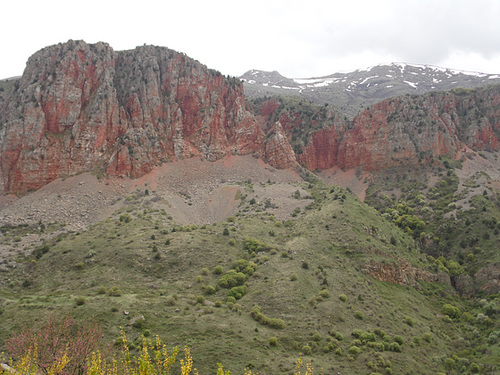 Canyon Cliffs, Noravank
Looking across from Noravank Monastery.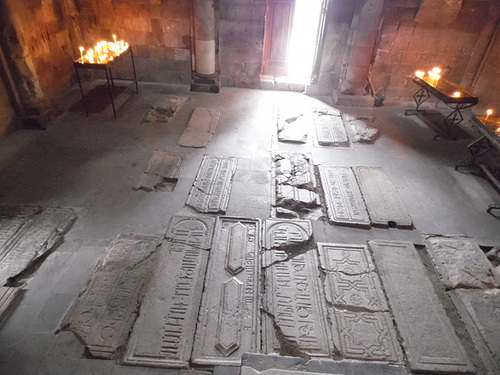 Graves
Graves in the floor of the ante-chamber of Surp Karapet, one of the churches at Noravank monastery.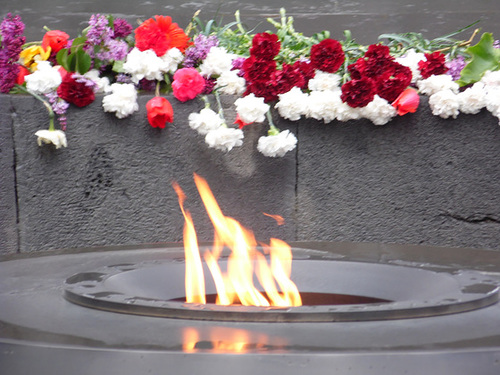 Eternal Flame at the Armenian Genocide Memorial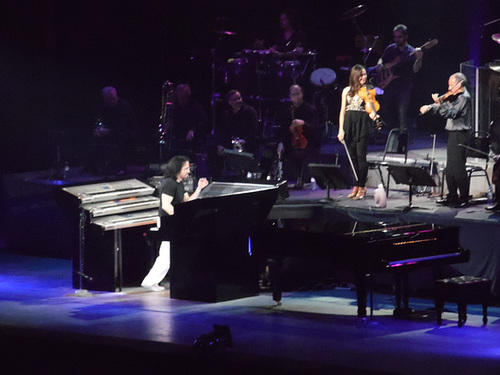 Yanni Concert
We got tickets an hour or so before the show. It was a fantastic concert.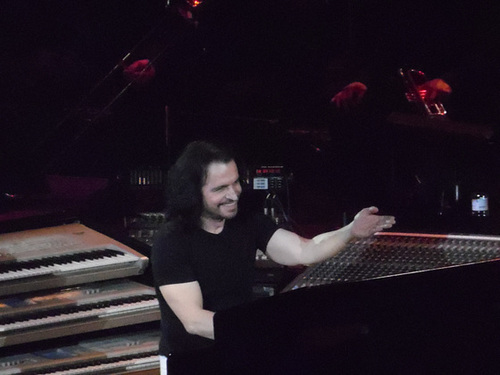 Yanni

Khor Virap Monastery
The monastery of Khor Virap with Mount Ararat behind it.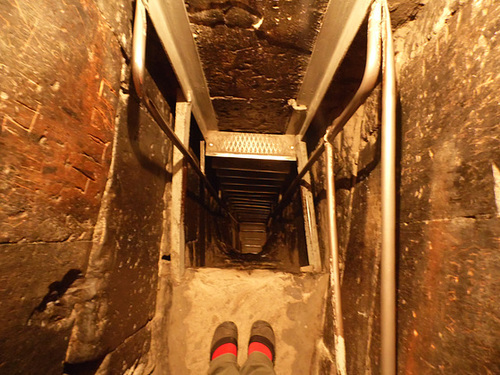 Modern Access To An Ancient Prison
These stairs lead seven metres down to the bottom of a well. Over 1700 years ago, this is where St Gregory the Illuminator was imprisoned for 12 years. He was banished here by the pagan King Trdat III because of his Christian faith. After the king was miraculously healed, he converted, and Armenia became the first Christian nation.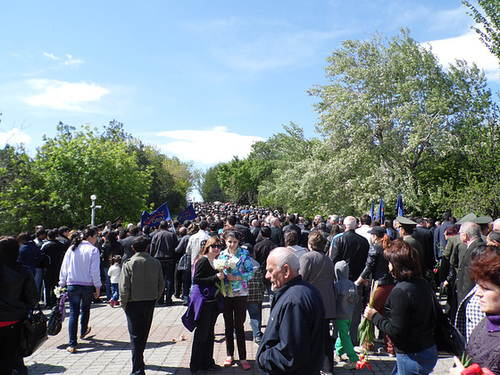 Jo and Lilit Among the Throngs
April 24 is Genocide Memorial Day, when the people of Armenia remember the 1.5 million of their country-folk who were killed in the early 20th century. Hundreds of thousands come to the genocide memorial to lay flowers, pay respects, and remember those who died. Since we were still in Yerevan, we thought it appropriate to join the crowd. It was very nice to be accompanied by a local, Lilit, who we met through couchsurfing.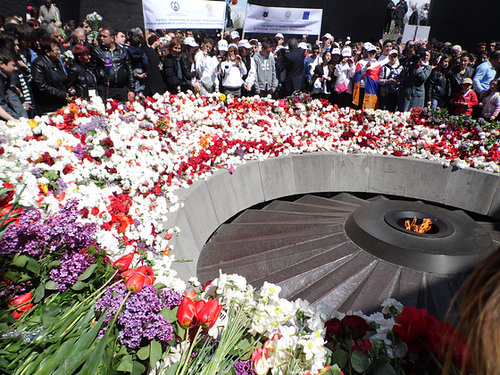 The Flowers Begin to Pile Up
Genocide Memorial Day in Armenia, April 24, and it was still early (around 10:30) and already the flowers were piled incredibly high around the eternal flame of the Genocide Memorial. On the outside were large floral tributes presented by international organisations and representatives of foreign powers, but the real beauty was the overwhelming impact of a few flowers by every visitor. Mid morning, and it was already quite a task to manage the piles. By the end of the day, I am sure there is almost a wall created by the mounds of flowers, which would number towards a million, at a guess.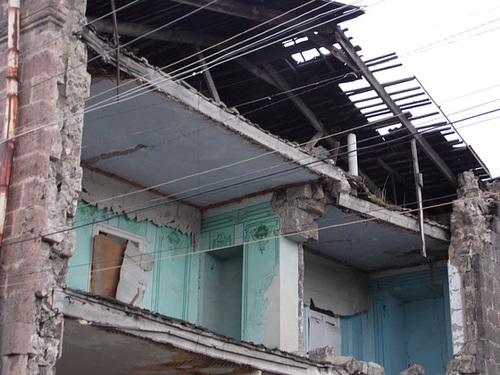 Earthquake Damage
It is now 25 years since a devastating earthquake killed 50,000 people, displaced many times more, and ruined the city of Gyumri and neighbouring towns and villages. The population is growing, but oh so slowly. And still, in some areas of the cities, many buildings lie in disrepair. Some are shells, with walls and ceilings that somehow have managed to hang on all these years, despite their precarious angles. The building pictured was ruined and collapsed at both ends, exposing the dwellings there. You can see the elaborate wall decorations, perhaps from dining or sitting rooms. Yet the centre part of the building is still used and lived in. The doorways from these exposed rooms are boarded up, yet the next rooms are occupied, lights and furniture indicating the spaces which are inhabited. The other end told a similar story.

---