17 to 23 May, 2013 – Konya, Aksaray, Ihlara, Göreme – (Turkey)
Roll up! Roll up! The circus is beginning.
The crush of tourists is the same, regardless of their origin or their reason. It is stifling in the small rooms, and overwhelming outside. Crowds bring a whole new slant to visits. You cringe at the lack of due respect shown; you are horrified by the cheek of deliberate and blatant misconduct; you feel stifled by the restrictions that such highly visited sites require; and there is always the entertainment that can be extracted from people watching, especially with the high number of unusual interactions that occur.
After having the tourist sites of eastern Turkey to ourselves – okay, that is quite the exaggeration. We were sometimes the only tourists, and although there were often others, they have always been in quite low numbers. This is partly geographical, with many tourists not going to the eastern part of the country, particularly near the Syrian border with the continued unrest there, and it is partly seasonal, as we are technically in the tourist shoulder season. We knew things would change as we headed west and as the weeks roll by.
Suddenly, though, we arrived at Konya. Significantly more international tourists than we have encountered this trip. However, the overwhelming numbers there were domestic tourists, with a good helping of Iranians, I believe, for good measure. Konya is the religious heartland for the brotherhood called the Mevlevi, a form of Islam, better known to westerners as the Whirling Dervishes. This aforementioned majority of tourists visit as a kind of pilgrimage, to pay homage at the tomb of Celaleddin Rumi, who was given the title of Mevlâna (Our Guide). The rest visit to get some insight in to that man and his ideas and philosophies. Almost all come to see a sema, where the dervishes whirl. Not a performance, not a dance, but a religious ceremony of intensity and reverence.
And after Konya, we went to Cappadocia, probably the most visited sight in Turkey for foreigners. Even though there are many towns, valleys, and individual sites that together make up Cappadocia, this seems to help very little in the dispersion of those foreigners. In some areas, we felt like we should be playing "Spot the Local".
So, back to the problems. Lack of respect? How about the people who walked out of the dervish ceremony, after 15 minutes, or the larger number who cleared out during the final minutes while the dancers were yet to finish their rituals. Or the foreigners in the mosque wearing shorts, and ladies without their heads covered, oblivious to the fact that they are committing such faux pas. Deliberate and blatant misconduct? People taking three or four photos after being asked by an official to put a camera away. Adults, who should know better, sneaking a touch of something precious and delicate when they think nobody is looking. Stifling restrictions? Having time restrictions placed on us inside monastic churches in Göreme museum was maddening. Really, we understand they need to give everyone a chance, but three minutes to enjoy the frescoes within each church does not make for a relaxed visit. In one church, the official turned the lights off to get people to move on (and this was despite the fact that there was hardly anyone waiting to come in! And as for people watching? The most entertainment comes from hearing people who "know" something talking total crap. Closely followed by loud visitors trying to extract information from locals who try their best, but don't magically understand the question because it is repeated 3 times, louder each time.
Special mention needs to be made of the trio, out the front of the shrine for the Mevlâna, discussing openly and loudly the horrors of female circumcision, with scores of reverent pilgrims milling within earshot. Sorry, no prize for guessing country of origin.
As for feeling like one of many, the winning moment was close to sunrise, as our hot air balloon took to the skies, just one of around 100 that do so every morning. Did you know that was what Nena was singing about back in 1983?
However, of course, there are reasons these places are so popular. And there are great experiences to be found. You can sometimes ignore the people around you and appreciate just how impressive the sights are, sometimes making your jaw drop. When you try, you can find alternatives that the majority bypass, such as a lesser visited valley, perhaps, or a cafe that is in a back street and not the main drag. Getting up early puts you amongst rock formations at 7:00, by yourself, hours before the first bus tour arrives. Mental discipline helps you to keep your cool when you know things could and should be different. So, don't get me wrong, we had a great week in this part of Turkey. Enjoy the pics, because they are of the good things, the stuff worth remembering, and the hopefully the sort of images that may inspire others to visit.
---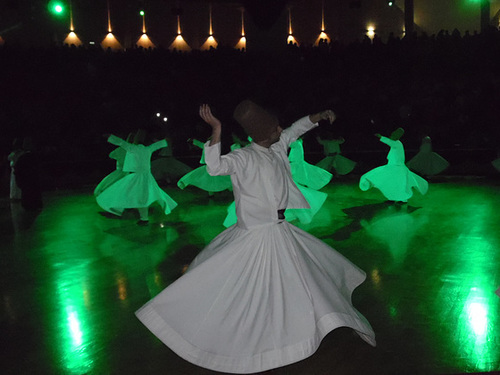 Mevlevi Follower
Mevlevi, a form of Islam, where the spinning is a ritual symbolising union with God. Different postures taken up during the whirling represent different aspects of their journey, such as receiving blessings and communicating them to earth. These are the Whirling Dervishes.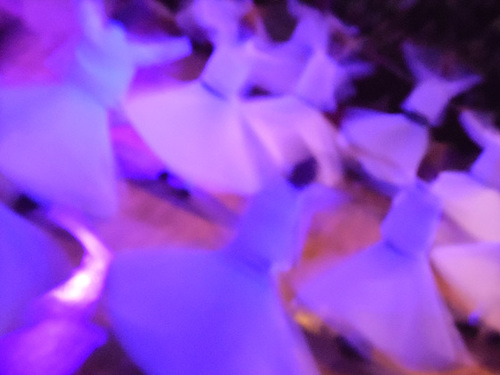 Dervishes Whirl
The spinning is slower than you might at first imagine; after all, they are religious adherents, not choreographed dancers. Still, the skirts spun out and filled the floor as a couple of dozen dervishes, each only aware of their own space and motion, together formed a single constellation of revolving bodies. Given the number of spins they make, I was surprised they did not collapse in dizzy heaps.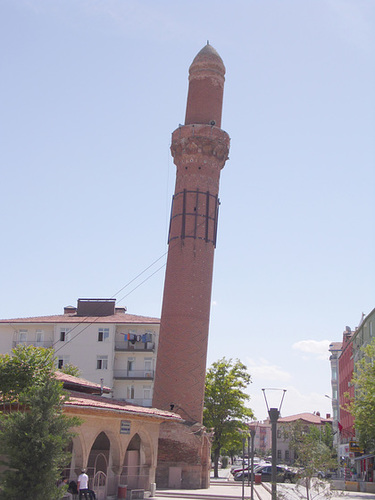 The Turkish Tower of Pisa
The crooked minaret of Aksaray, built in 1236, now leaning at 27 degrees.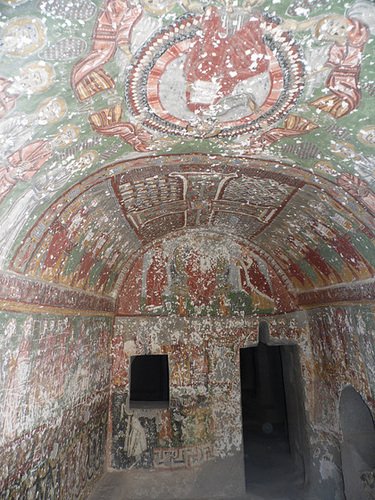 Kokar Kilise
Frescoes in Kokar Kilise, or Fragrant Church, in the Ihlara Valley, Cappadocia.




Ihlara Valley Panorama
Some caves are visible in the rock wall in the right part of the picture.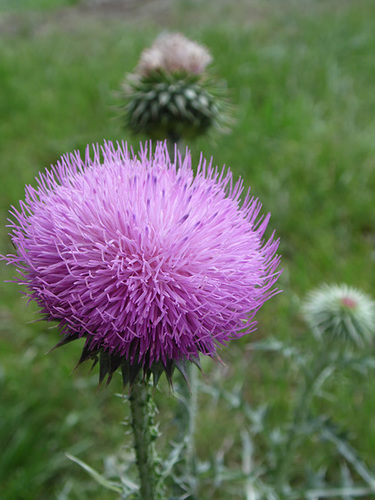 Spring Is Here
Wildflowers abound.



River and Caves
In the lower part of the Ihlara Valley, towards Selime. The majority of tourists do not walk through this part of the valley, but there are still caves to be seen, and the scenery is stunning.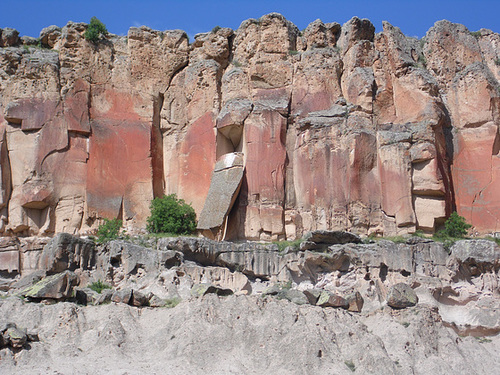 Waiting to Fall
A huge wedge of rock has slipped, and sits precariously on a ledge.



View
Terrace view from our hotel in Göreme, Cappadocia. "Fairy chimneys" poke out from between the buildings, many used as shops, hotels, or houses.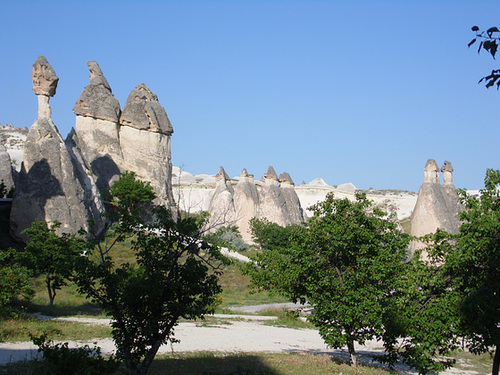 Fairy Chimneys
Some of the great rock formations in Pasabagi, Cappadocia, not far from Göreme.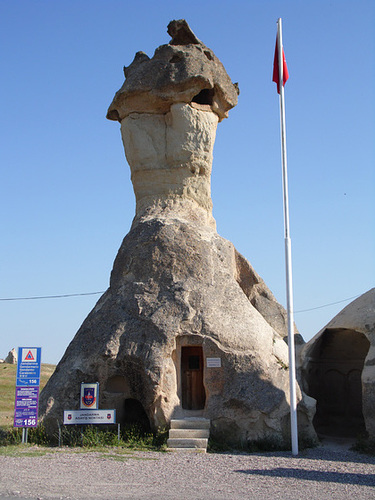 Police Station
A police station in a fairy chimney rock formtion, Cappadocia.



Cappadocia Rock Formations
Between Paşabaği and Zelve, Cappadocia.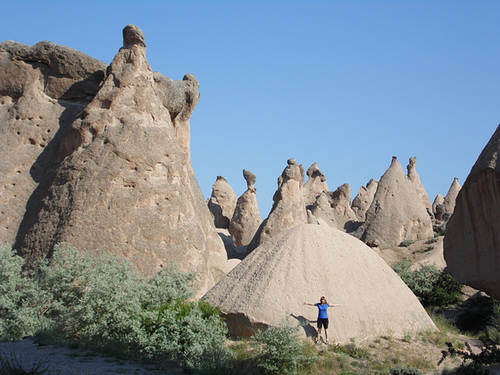 Jo in Cappadocia
Devrent Valley.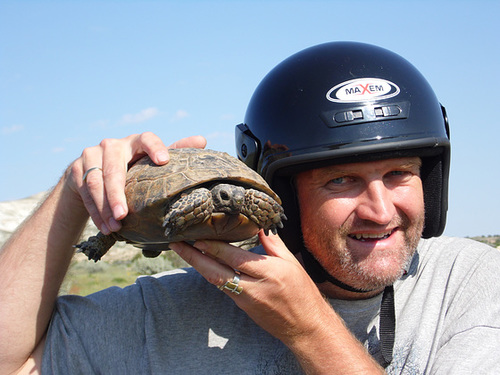 Both Wearing Our Helmets
We were on our (rented) motorbike when we came across this great tortoise crossing the road.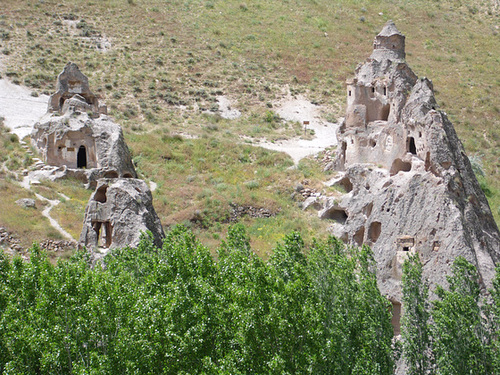 Across the Valley
In Soğanli, looking over to the Hidden Church and the Domed Church, both carved out of rock formations typical of Cappadocia.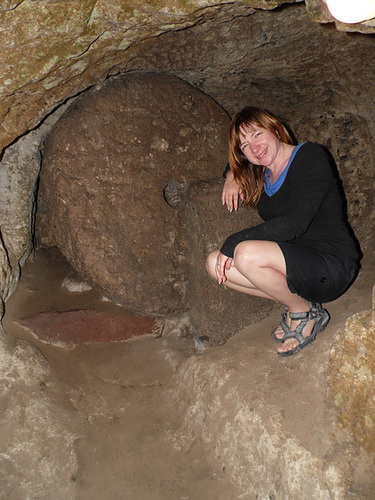 A Rolling Door
Like something out of a movie, the underground cities of Cappadocia had heavy stone doors that could be rolled across the tunnels at various strategic locations.  This one was in Derinkuyu.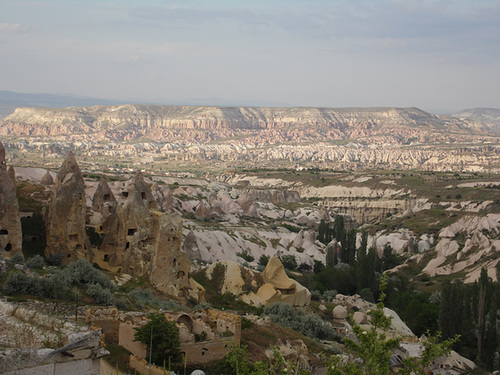 Late Afternoon
Looking out from Uçisar over to Göreme and the Rose Valley, Cappadocia.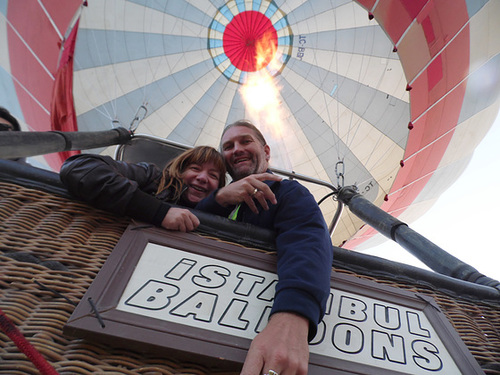 Taking Off
Sunrise balloon flight, just lifting off.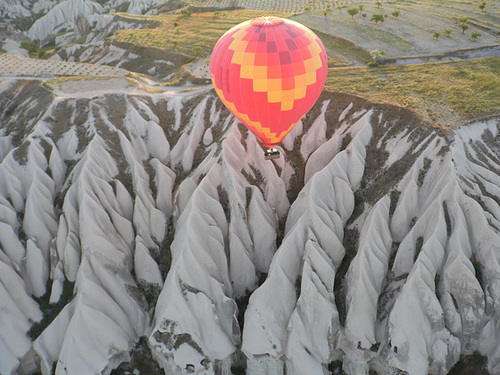 Looking Down To Cappadocia
Another balloon below us glides past the rock formations.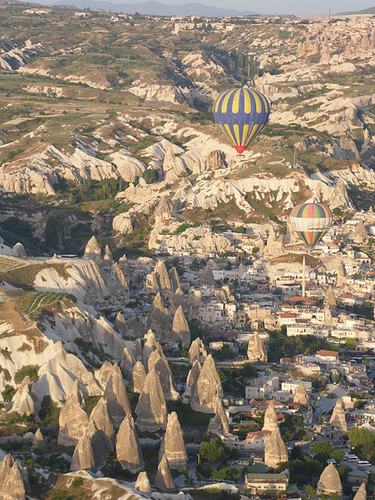 Balloon View Over Göreme
The town of Göreme, complete with fairy chimneys.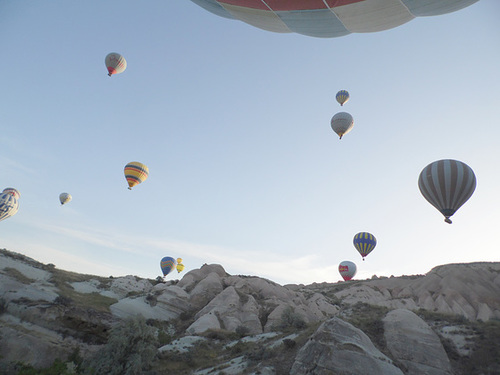 Looking Out and Up
As we get a close-up of some of the rock formations, we look out and up at some of the other balloons. Somewhere around 100 balloons were up and about at that time. As I said, Nena may not have known it at the time, but they were apparently singing about Cappadocia.

---