9 to 15 April, 2013 – Alaverdi, Yerevan – (Armenia)
Borders between Azerbaijan and Armenia are not open, meaning we had to travel via Georgia to continue our trip. A few hours in Tbilisi and then continuing with a grumpy taxi driver who did not appear to be happy with anyone or anything.
As soon as we crossed the border, the taxi driver wanted to refuel. Of course, this is not uncommon, where drivers will put in fuel in the cheaper country. However, here they use a lot of methane for vehicles. Due to the volatility of the gas, you are not allowed to stay in the vehicle while it refuels, and they provide little waiting rooms while the process happens. Additionally, each car is separated from the others by solid concrete walls. You actually get a bit nervous during the whole process, and worst of all, the car stinks for quite a while afterwards!
Although the locations listed above imply this week was about Alaverdi and Yerevan, it was actually a lot more about the sights near those places. In the Debed Gorge, there are many ancient churches and monasteries, of which we visited a handful. Principally Haghpat, Sanahin, Ordzun, and Akhtala. Likewise, although we had some great dining and drinking in Yerevan, we focussed on day trips to Echmiadzin, Zvartnos, Geghard, and Garni.
---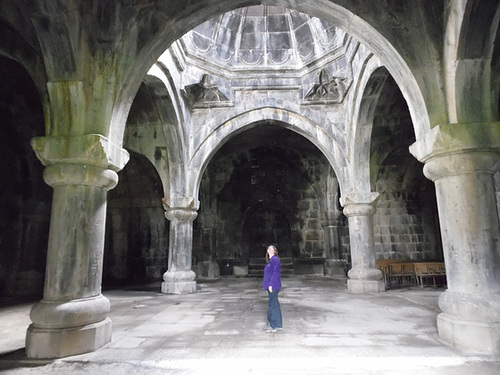 Hamazasp, Haghpat
The acoustics in this wonderful space were amazing. Although the oldest parts of the monastery date from the 10th century, Hamazasp was built around 1257.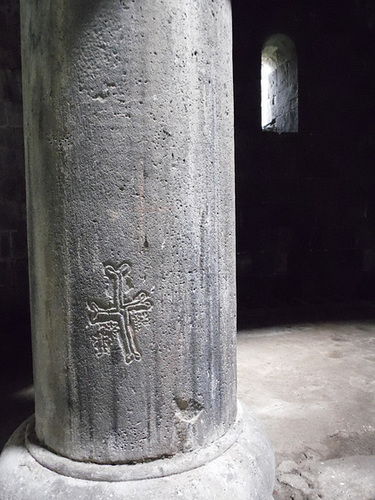 Carved Cross
A cross carved centuries ago in one of the magnificent pillars of Hamazasp at Haghpat Monastery.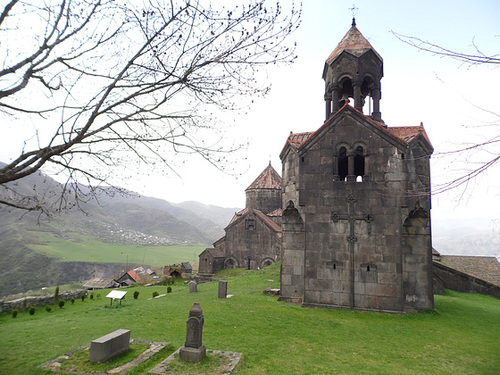 Haghpat
Haghpat Monastery, with the bell tower in the foreground, and a sense of its beautiful location in the background.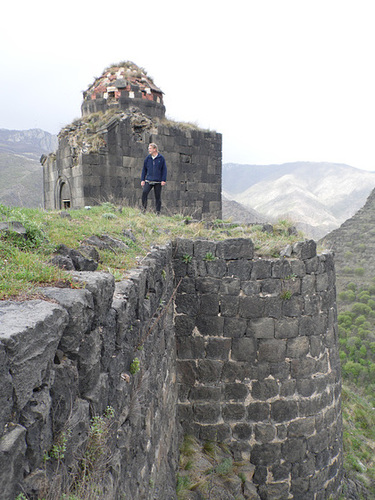 Our Little Find
We decided to walk between Haghpat and Sanahin, and thought we would find the way quite easily. We did make it, but are not too sure if we went the most direct way possible. We only got directions once, and they were quite vague, and we don't feel like we followed them, but in hindsight, there did not appear to be a better alternative. Anyway, so maybe we were lost, and maybe we weren't, but on the way we encountered this fantastic little church amongst ruins. It sat on a rocky outcrop just below the plateau that Sanahin sits on. There were cliffs below, cliffs opposite, and cliffs along the sides of the plateau. The little sanctuary was tidy and had a few candle stubs, and was therefore visited by worshippers on occasion. However, we still felt like it was our little discovery because of the remote setting, difficult approach, and the ruins around it.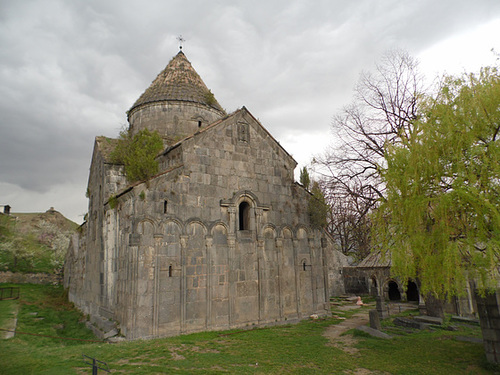 Sanahin Monastery
We got here much later in the day than we had planned. The fading light, though, seemed to add to the atmosphere of such a place.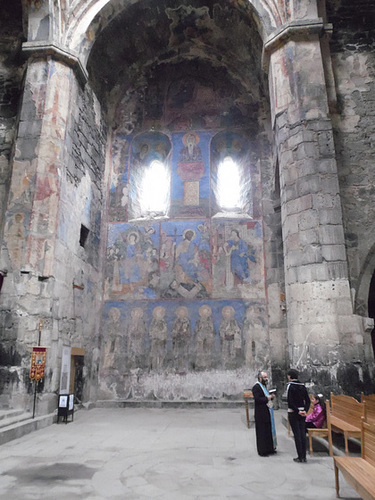 Inside the Church of Akhtala
Some of the beautiful, unrestored frescoes at Akhtala. These frescoes are 800 years old, and are in high concentration in this church. Later, the priest found us waiting by the roadside. Waiting for a bus he said was not coming any more. So he drove us down the next few kilometres to the main highway so we could pick up passing transport there.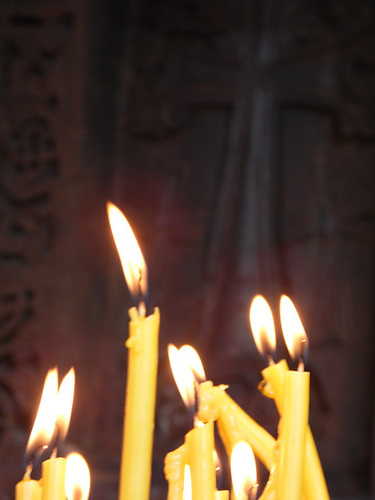 Candles
Inside the 17th century church called Zoravar in Yerevan.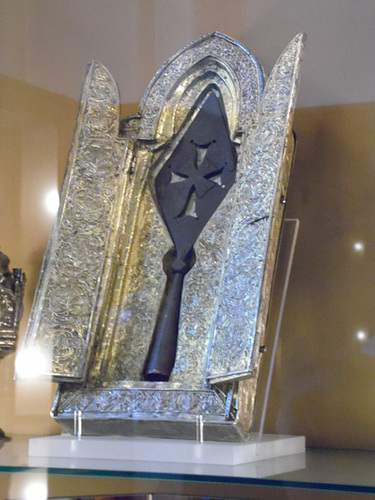 The Spear That Pierced Christ's Side
It is claimed that this is the head of the spear that was used by a soldier to pierce the side of Jesus Christ while he was on the cross to check if he was dead. It is easy to be sceptical about whether it is the genuine article, just as easy as it is to blindly believe it is what they say. Personally, I see no reason to doubt it, considering the item has been kept by the Armenian church for over 1700 years, and therefore it was collected relatively soon after the event. That said, for us it is not important whether it is genuine or not, it still acts as a reminder of the event. As long as the object itself is not venerated and it is treated more as a historic item than a particularly holy one, then I see it as an illustration of the type of spear that would have been used. And perhaps, just perhaps, it really is the one.



Ruins With Mount Ararat
Mount Ararat emerges from the clouds behind the 7th century ruins of Surp Grigor Lusavorich at Zvartnots, near Yerevan.



13th Century Carving
Khatchkers were grave markers for many centuries in this part of the world. From simple crosses to ornate scenes and fabulous patterns, occasionally with writing but not commonly so. This detail on a khatchker at Geghard Monastery particularly stood out.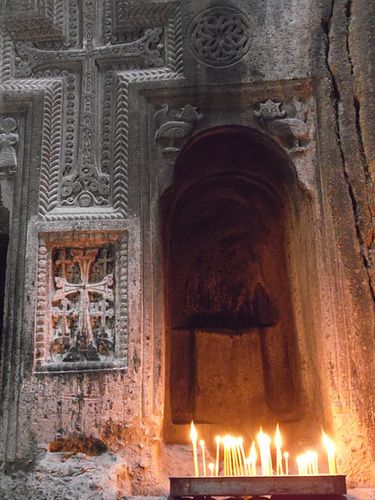 Geghard Monastery
---
Amazingly, I thought the differences between the Armenian and Georgian churches would be too subtle for us to notice, as casual visitors. However, despite the definite similarities, they do feel different. Not in any way that I can clearly describe. Certainly nothing that makes one feel more holy or sacred than another. Just different. When there are services under way, things are more distinct. In Georgia, there was the three part harmony chanting of men, and the focus of the service was on the priests, with very little movement inside. In Armenia, a choir sang and a soloist sang, and people moved around a lot, lighting candles. The priests seemed to minister to small groups of worshippers at a time, rather than being a focus of all those assembled. Usually, of course, the places we visited had no such activities in progress. Some are ruins, or are not operational. And even those churches and monasteries which are active, we visit them at all hours. But still, taking the time to sit and absorb, the sacredness of them is easy to encounter and a pleasure to experience.
Of course, we are experiencing more of Armenia than just these holy places. That walk mentioned above, between Haghpat and Sanahin, was interrupted by another display of hospitality. A guy and his friends were picnicking and barbecuing for his 24th birthday. We were waved in, fed, given some drinks, and entertained as they sang Armenian songs. It took us quite some time to extract ourselves from the crowd, and this was the reason we arrived so late at the Sanahin monastery.
---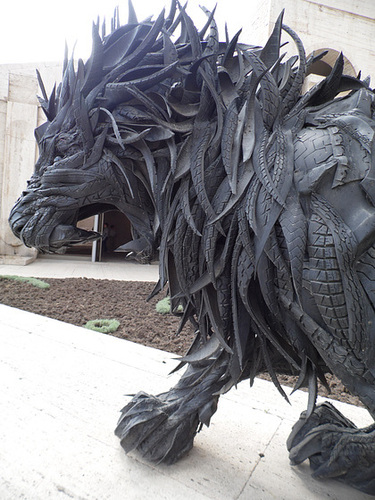 A Sculpture Made From Old Tyres
This lion sculpture is made from all sorts of old rubber tyres. Tractor, car, and bicycle tyres could all be identified. Part of the Cafesjian collection displayed outside the Cascade Gallery at Yerevan.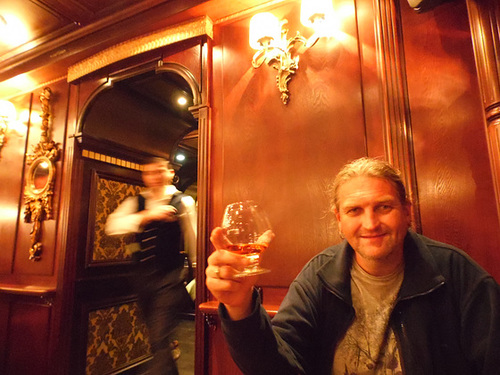 Drinking Armenian Cognac
Armenia is justly proud of its brandies and cognacs.



Yerevan Tulips
Spring is coming. Yerevan is full of flowers, but particularly tulips. So many garden beds with tulips in every imaginable colour.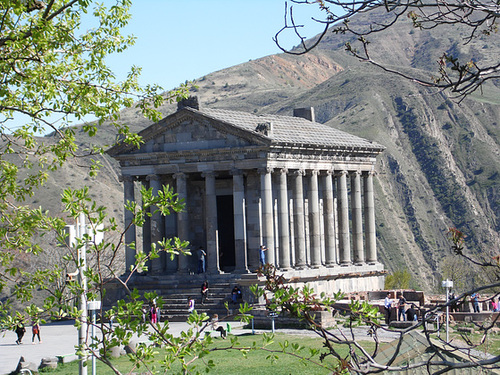 Garni Temple
Rebuilt temple from the 1st century.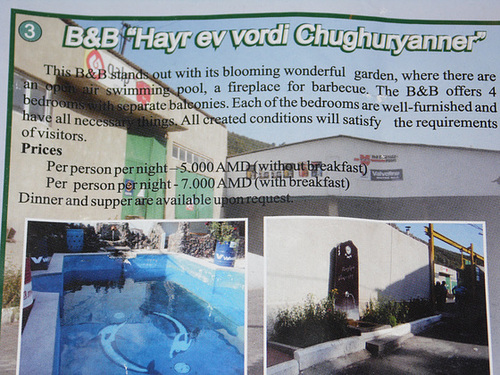 … and the Pool is Freaking Awesome!
---
At restaurants and cafes around the world, we have generally found that the language barrier is lowest when we want to pay. Just making a little writing gesture in the air is enough for all waiters to realise that you want to take care of the account. Until now. At one establishment in Yerevan, I made the gesture, and the waiter came over with a pen and some paper. He was terribly embarrassed upon realising what we were really after, and the bill was soon brought over – by another waiter.