23 January to 4 February, 2013 – Nairobi, Masai Mara, Naivasha, Nakuru, Kisumu - (Kenya)
After Nairobi, we travelled to Masai Mara, Lake Naivasha, Hell's Gate, and Lake Nakuru. As the blog title says, it is all about the wildlife. The photos speak for themselves, especially the camping at Lake Naivasha.
---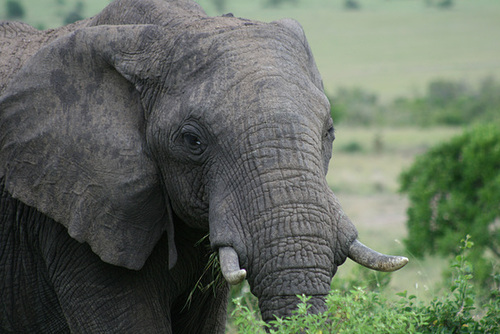 Bull Elephant
A grazing elephant at Maasai Mara National Reserve.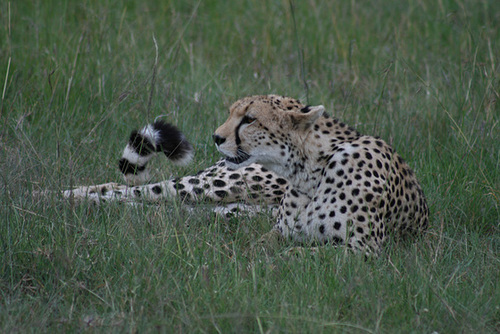 The Cheetah Whose Dinner Got Away
We watched it stalk a pair of gazelles, and finally run hard after one.  But, it choose the wrong one.  It went for the male gazelle, who was bigger, and appeared more alert and swifter than his mate.  A bit further away, a pair of gazelles panted heavily as well.  It is so easy to watch it and think of it as a show, but this is survival on the savannah, and a missed gazelle means another night hungry.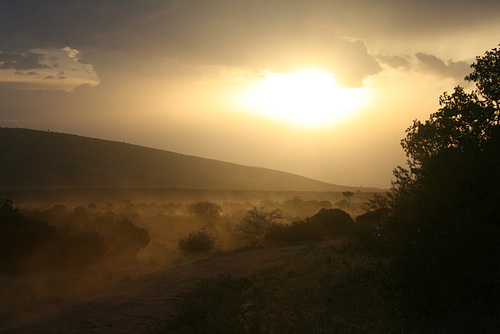 Sunset Over An African Savannah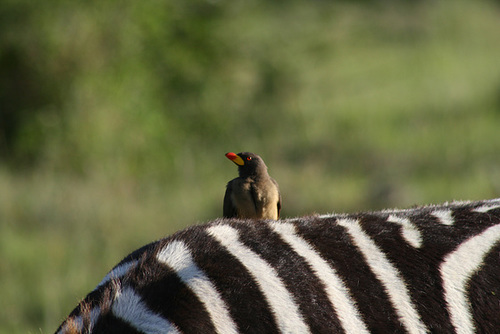 Hitch-hiker
A bird gets a lift, and in return, eats parasites from the zebras coat.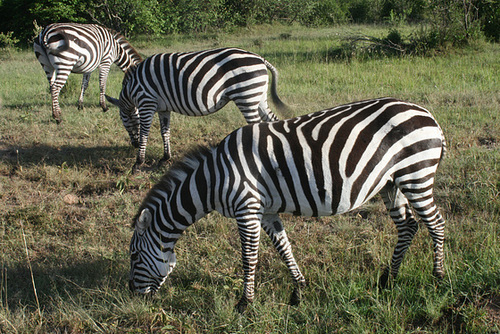 Zebras
Zebras have safety in numbers. If stalked by a predator, they gather together, and the stripes make it hard for a said hunter to pick one individual out of the group.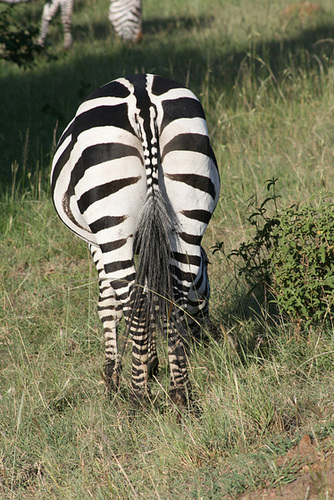 A Stripey Behind
Sometimes you don't need to see the whole animal to identify it.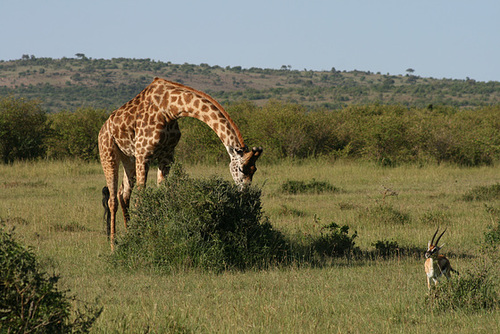 Giraffe and Gazelle
Maasai Giraffe and Thompson's Gazelle :)  (I think...)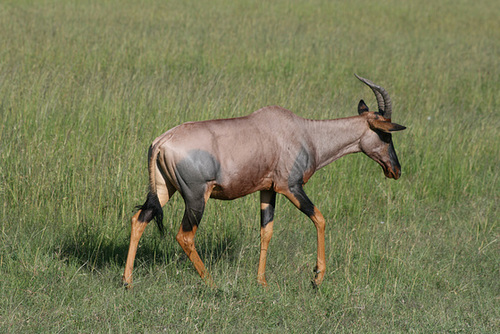 A Topi
I have never heard of a topi before.  I rally think they are beautiful, though, and I think from they are my favourite from the antelope / gazelle / deer type animals.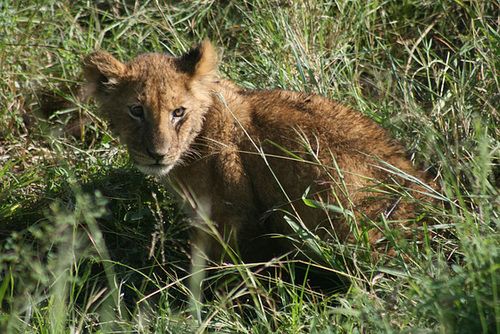 Lion Cub
Playing in the grass, not far from the pride.  I would take one home, but not sure if our pussy cats would appreciate a growing lion as a playmate or not.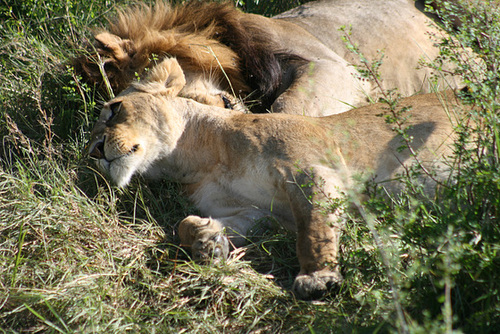 Lions
A pair of lions lounge in the late morning.



So Awkward
A giraffe is at its most vulnerable when it has to drink.  The legs have to spread wide, meaning it is not ready to run, and the head goes a long way down, meaning it is not able to keep an eye out for danger.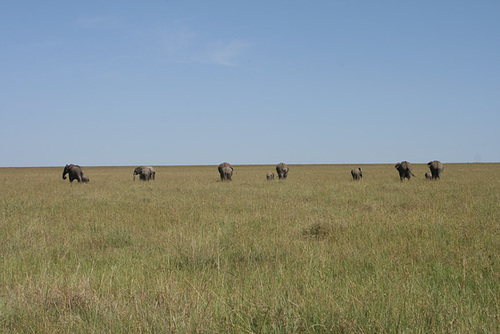 Elephants
Various adults and babies, wandering at their own paces across the open plane.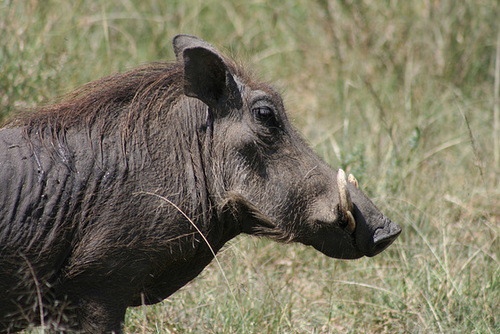 Another Warthog
Showing us his most excellent profile.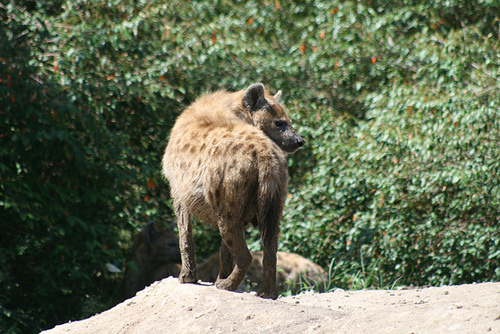 A Spotted Hyena
The rest of his pack are just visible, lazing in the bushes.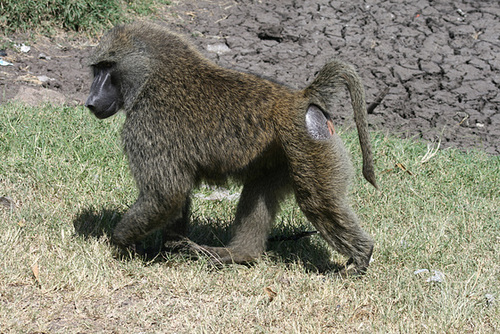 Olive Baboon
It is hard to describe such a creature as cute.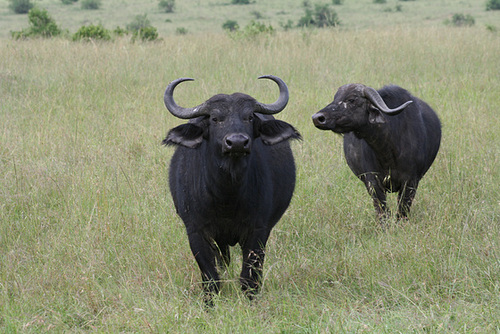 Some Buffalo Keep a Watchful Eye On Us
I wouldn't want to take on an angry one of these.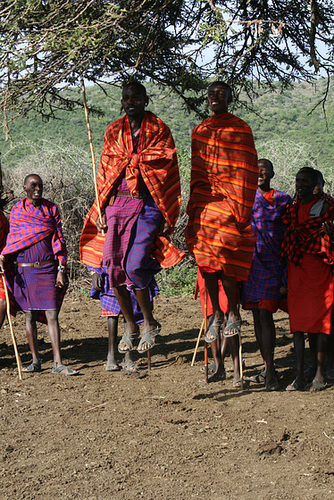 Maasai Warrior Leaping
This is the leaping that is so typically associated with the Maasai people.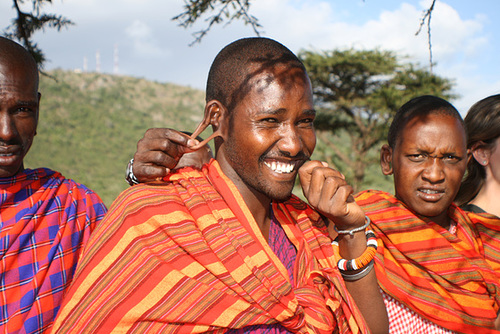 Showing Us His Piercing
I asked to take this guy's photo, because of the elongated earlobes.  His friend thought it hilarious and decided to highlight the situation.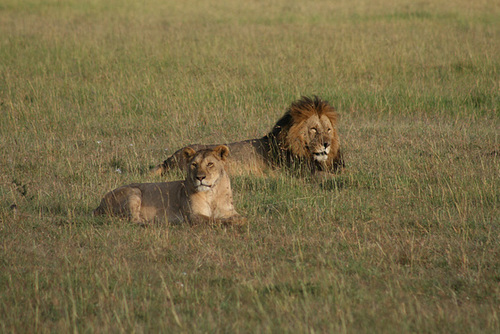 Lions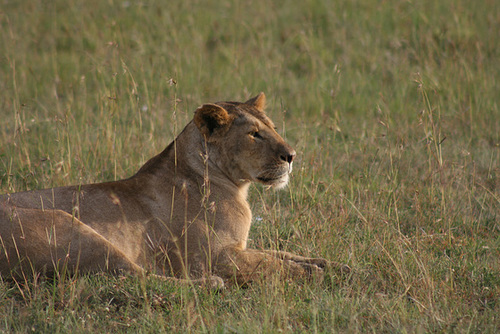 Lioness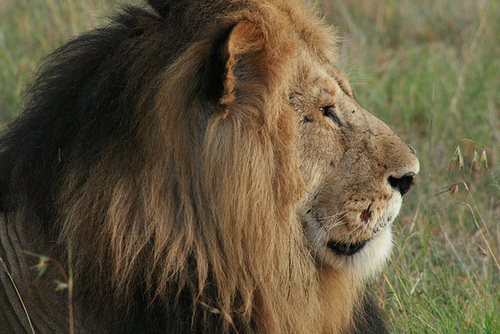 Lion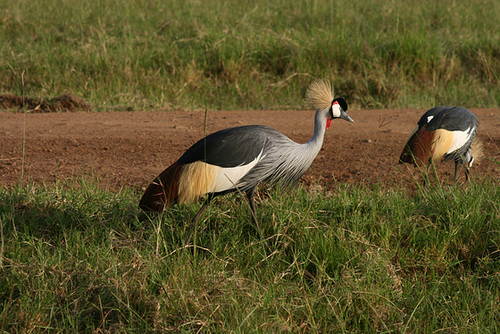 Grey Crowned Cranes
Gorgeous birds. This is actually the national bird of Uganda.



Leopard
We didn't have long with this magnificent cat.  Soon after snapping this pic, it disappeared in to the long grass.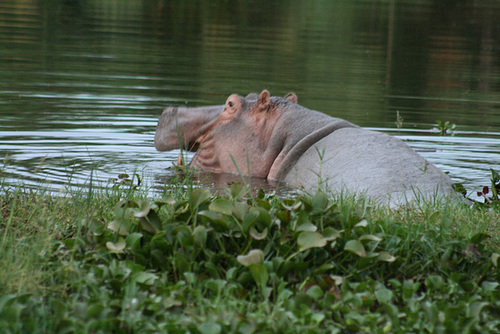 A Hippo at the Camp Ground
Camping by Lake Naivasha, the only real hazard is the presence of hippopotamuses. Generally, they stay in the water until sunset, with only their eyes and ears showing. In the early evening, though, this one started getting hungry a little earlier than his (or her) friends, and started feeding on the vegetation by the shore. Once the sun was down, the hippos all get out of the water and graze on the camp ground lawn. It really is a heart in mouth experience to be only a few metres from a wild hippopotamus. Sure, there was a "fence", but not one that would keep an angry hippo at bay. Luckily, they are "generally" docile creatures, and leaving them alone and keeping some distance is the best policy. Probably the more important role of the fence is to keep us people from getting too close to them, not the other way around.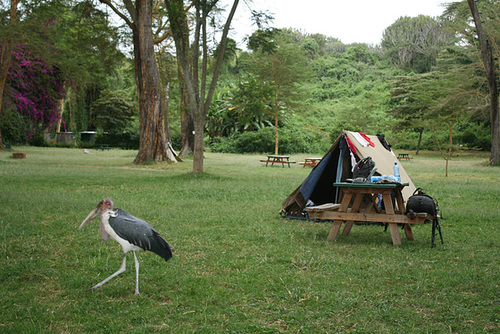 Camping at Lake Naivasha
Storks were not our only visitors. There were the geese and the monkeys and the colobuses and the ibises and … Oh, and the hippos, of course.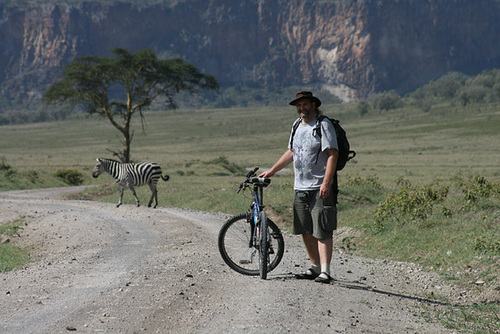 Zebra Crossing – Ha Ha!
Cycling through Hell's Gate National Park, you share the road with zebras, gazelles, impalas, warthogs, and giraffes. It is a fantastic experience.



Checking Us Out
A Rock Hyrax in Hell's Gate National Park.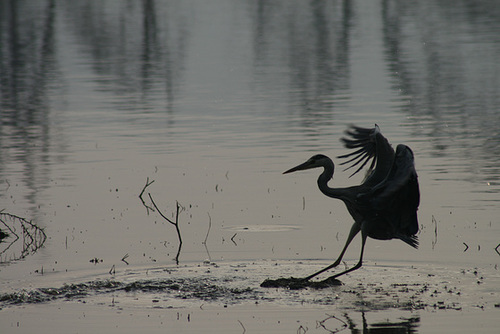 Dawn, and an Egret Lands
Lake Nakuru National Park.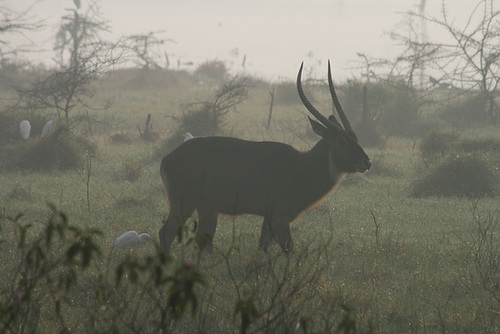 A Waterbuck in the Morning Mist
A male waterbuck grazes early near the shore of Lake Nakuru.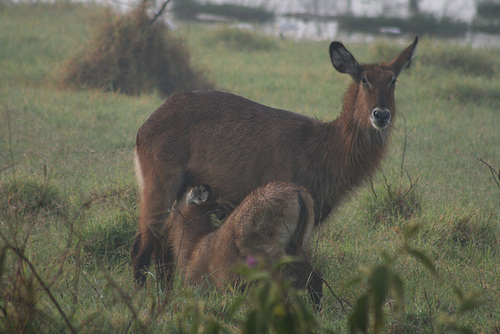 Waterbucks
Mum keeps an eye on us to make sure we don't get too close while her young one feeds.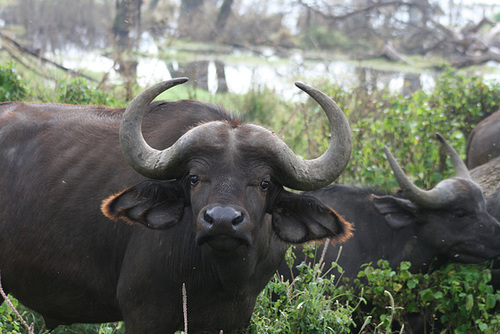 Buffalo
At Lake Nakuru National Park.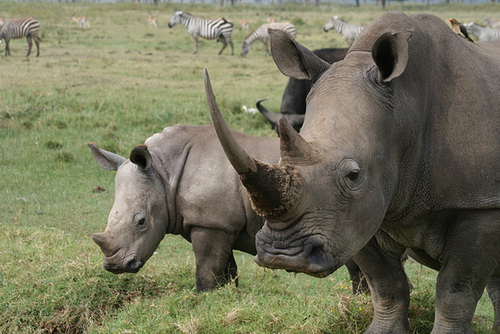 White Rhino and Offspring
OK, so I don't know if this is mum or dad. I think both were there, though. The three of them appeared, grazing, quite some distance from the road. We were amazed that over the next twenty minutes, they gradually came closer and closer until they were almost upon us. It was then that they seemed to first be aware of our presence, and they backed off a bit.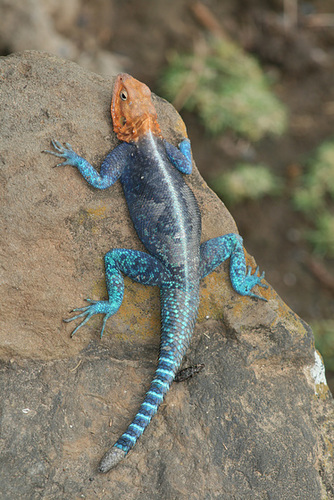 Here I Am!
No attempt to camouflage by this lizard.



Jackal
Near the shore of Lake Nakuru.



Piggy-Back Ride for a Baboon Baby
Olive Baboons.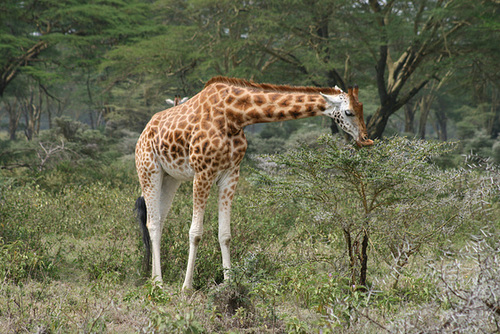 Sucking Down Those Leaves
A Rothschilds Giraffe enjoys a tasty shrub.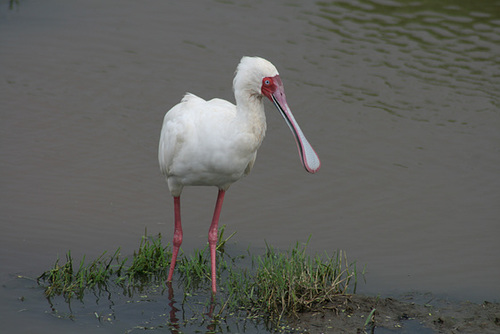 Spoonbill
A bill, not only with a great shape, but great colouring too.

---