16 to 20 December, 2011 – Asunción (Paraguay), Ciudad del Este (Paraguay), Foz do Iguaçu (Brasil), and Puerto Iguassu (Argentina)
Kristy, from our church, is currently living in Asunción, Paraguay. She was waiting for us at the airport, and it was like we had only seen each other a week ago, not seven months. We met the nuns she is staying with, and headed for a dinner being put on by the nun's church. A great start to our Paraguayan interlude.
---

Lots a Meat for Jo and Kristy
Kristy came to the airport to pick us up. Back to her house, and then out for a meaty dinner.

BTW, this meat was for more people than just the three of us....
---
The next day, Kristy's wonderful Nigerian friend, Emanuel, took us out for one heck of a slap up lunch. He ate nothing but meat, while we added a small amount of vegetables and salads to our predominantly meat intake.
The rest of the day and evening, we spent wandering the streets of Asunción, finishing with drinks in a downtown bar.
---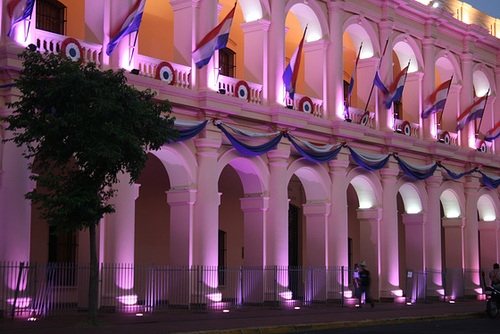 Arches in Downtown Asunción
The building is now one of Asunción's museums.
---
We bussed our way across Paraguay, to Ciudad del Este. Sunday afternoon. Very little local transport, but after a while, a bus came to take us in to Brazil. Before we knew it, we were over the border. We didn't stop. No exit stamps from Paraguay, no entry stamps to Brazil. Would this turn in to a problem? Probably not. People wander across the border all the time. No imigration, no customs, just masses of people coming and going. This must happen all the time. We'll sort it out later, in any case.
We ended up at a picturesque hostel in Brazil. From here, we made an early start to the falls. First the Brazilian side, then the Argentinian side. We went with a boat under the falls, and appreciated many different angles. The day turned out not to be as rushed as we thought it might, trying to see both sides in one day. The hour time difference between the two countries helped.
---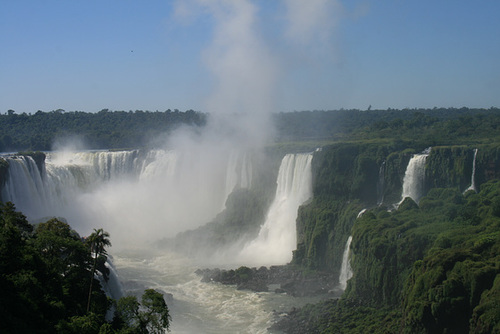 Looking into the Devil's Throat, with a Cloud Forming
El Garganta del Diablo, the Devil's Throat. The most intense and thunderous parts of Iguassu Falls, with a cloud forming above. View from the Brazilian side of the falls.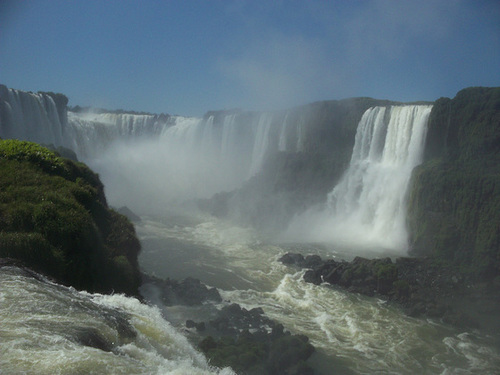 Another View of the Devil's Throat
Maybe, just maybe, this photo gives some idea of the power and magnificence of Iguassu's main falls.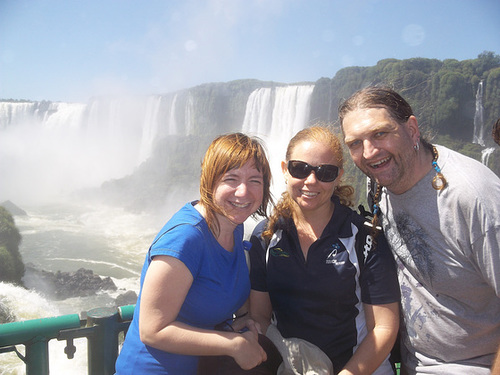 Jo, Kristy, and I
A happy photo in front of Iguassu.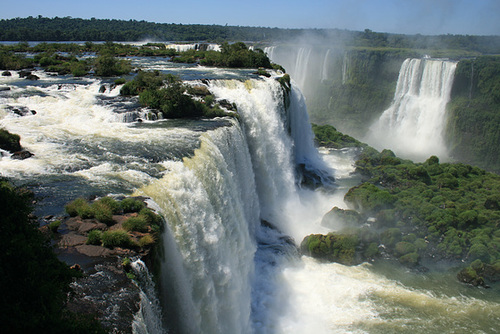 At the Rim, Brazilian Side of Iguassu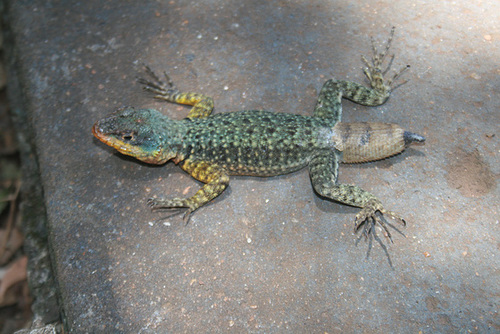 Lizard Pretending to Fly
No idea what this lizard was thinking about as he held his feet out in a strange way. He also seems to be in the process of growing a new tail - maybe the survivor of a close encounter with a predator.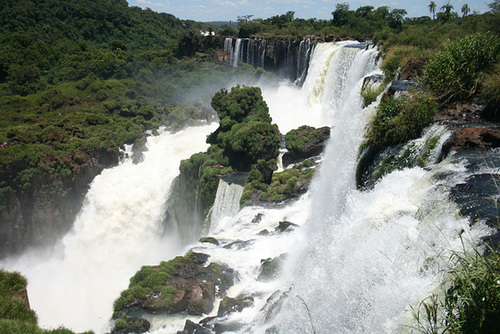 Some Minor Falls of Iguassu
From the Argentinian side, some of the minor falls.


A Short Video Going Under the Falls
A boat into the heart of one of Iguassu's falls.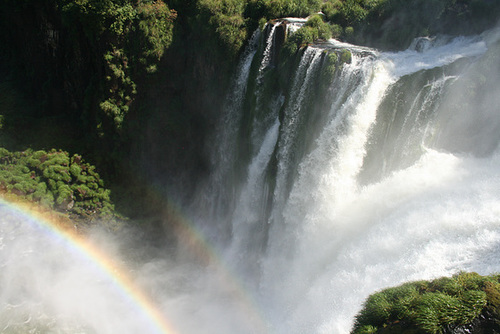 Rainbow at Iguassu
We saw so many rainbows, single and double. All that sun and spray.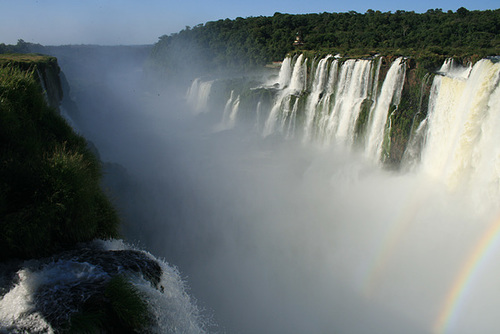 Looking Out of the Devil's Throat
Standing at the rim, Argentinian side of Iguassu Falls. Looking out of El Garganta del Diablo.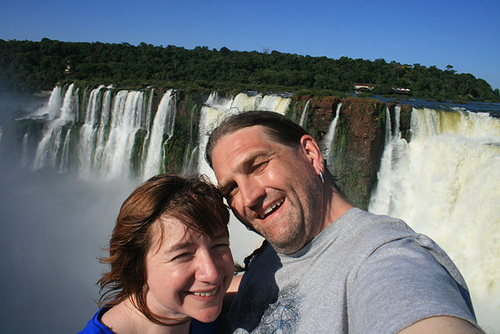 Us and Water
About to be kicked out of the park, we had time for a final snap for the day. Iguassu thundering behind.
---
And after all of this, we headed back to Paraguay, to catch our flight from Ciudad de Este. Oops. Now, apparently, it matters that we did not stamp out when we left. "The bus did not stop", we explained to the officer. "No, it does not stop" he replied in an accusing voice, implying that a) we should have known, and b) known what to do about it. "Yes, it did not stop - oh and you have another problem - you only have a single entry visa for Paraguay - and this is a second entry". Well, that is our problem, admittedly, but if the Argentinians hadn't stamped us in and out, nobody would have known we were out of the country for three days. "You have to pay a fine" he explained, showing us the schedule of fines. But then, the options - "either now, or at the airport when you leave - either way, you will have to pay". It took us no time to decide that we would take our chances at the airport with another officer - we certainly could not be worse off.
So, at the airport, while queued, praying, trying to work out if there was better strategy in going through earlier or later, we realised we had no option but to trust God that it would all go smoothly. The officer looked at our passports for around 30 seconds, stamped our pages, and we were through - the three of us. Almost like he was blinded to the Argentinian stamps that highlighted our exit...