20 to 28 December, 2011 – Rio de Janeiro (Brasil)
Did you here about the uproar, the commotion in São Paolo airport, caused by an Australian fellow? Surely, it was so dramatic, it must have made the news! It seems that he had a tomato in his bag. Oh, he did declare it. Left overs from a picnic. Fearful of losing the lot on arrival, he ate the salami and cheese, but the lesser valued tomato was not worth consuming. However, not wanting to waste it, the said tomato made it on the declaration rather than the bin. "No, no, no!" exclaimed the custom's officer. Dramatically, he carried it, outstretched, as if it was biohazard waste. "You cannot bring in a tomato!" This was exclaimed so loudly that almost everyone in the customs hall turned to see what was going on. "No tomatoes allowed!", he re-iterated. Surely this international scandal was on the Australian news?
As to our Rio accommodation, it's not a story worth sharing, but the end result is. We had booked an apartment in Rio to share with Lisa and Andrew, as well as Kristy who ended up being on the same flight out of Paraguay. Due to a number of circumstances, and after a bit of negotiation, we upgraded to the penthouse. There was a lot more than the beautiful view. Spa, balcony, barbecue, rooftop terrace, and a sauna, which none of us had any intention of using, given Rio's climate. The main view included nearby Pao de Acucar, with its distinctive shape and cable cars to the top, and all the way to the other side of the huge bay, with mountains in the distance. We could watch the cruise ships sail out of Rio, and the planes making their final turn and approach to land at Rio's second airport. From the rooftop, the view was even wider, including the yacht club and beach, and even the statue of Christ the Redeemer looking down, (although you did need to stand and look the other direction to include that in the vista). The way it all happened, there was little doubt about us feeling very blessed.
Lisa and Andrew have been living in nearby (well, sort of) Belo Horizonte. They have been doing mission work, and volunteer to work in areas of children at risk. Brazil has a significant problem with child exploitation and this is a challenging and intense calling for them. Them joining us in Rio was a way to have a small break from it all, as well as a chance for us all to spend Christmas with people from home.
Rio weather is supposed to be quite variable at this time, with a fair amount of rainfall. So, when we awoke to clear skies, we decided that our first day should include ascending Mount Sugarloaf, or more correctly, Pao de Acucar. After all, we see it every time we look out from our penthouse ;)
---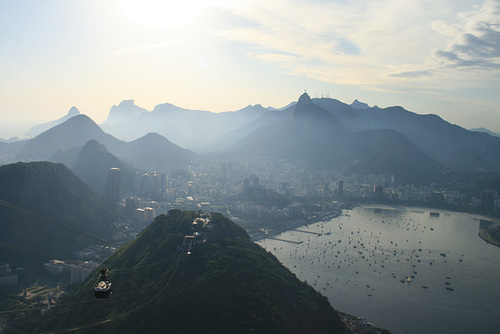 View Over Rio from Pao de Acucar
After two cable cars - sunset approaching.


Big Jesus Watching Over Rio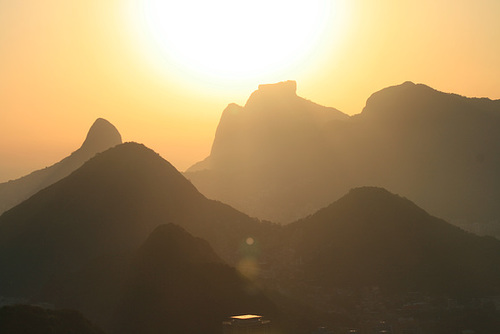 Sunset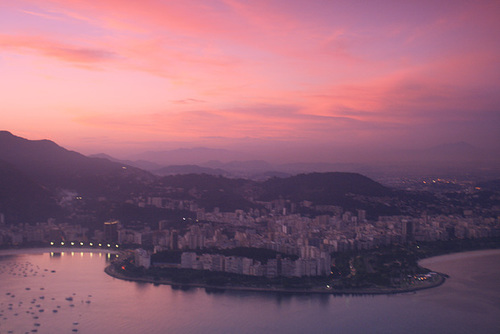 Sunset Over Rio
Using sunglasses as a makeshift filter during sunset, from Pao de Acucar.
---
The next day, we hit centro. A wander through the main squares and streets of "downtown" Rio.
---

Catedral Metropolitana
Stained glass in Rio's Catedral Metropolitana.



St Francis
Silhouette in Catedral Metropolitana.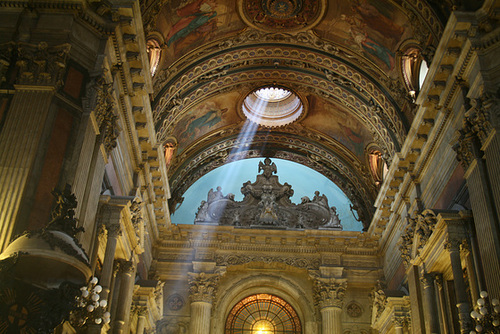 Sunlight Through the Dome
Igreja de Nossa Senhora de Candelaria, Rio de Janeiro.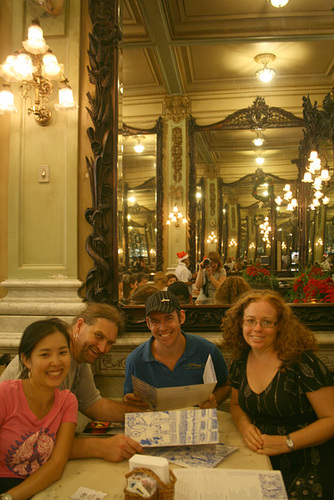 Art Nouveau Afternoon Tea
Confeitaria Colombo, Rio.
---
On our third day straight of beautiful weather, we went up to visit Christ the Redeemer, Cristo Redentor, or Big Jesus as we started calling him. "How can I get to Christ the Redeemer?" someone asked on an internet page. One reply, "Do you mean the STATUE of Christ the Redeemer, or Christ the Redeemer. I can tell you either, but one answer may make you uncomfortable."
---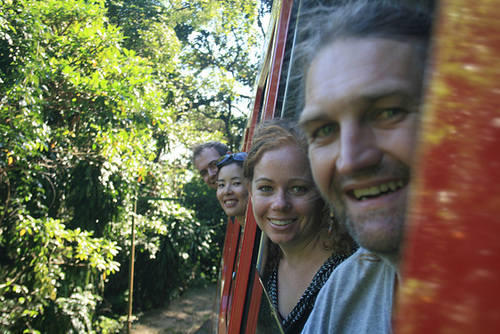 Riding the Cog Railway
Ascending to Christ the Redeemer, Rio de Janeiro.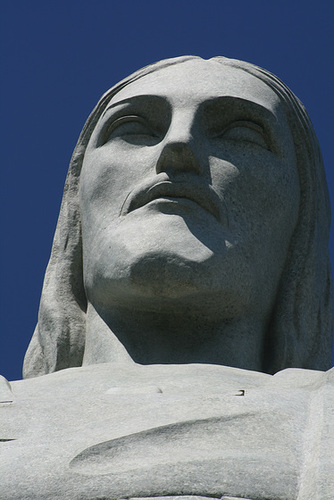 Jesus Close-up
Christ the Redeemer, watching over all of Rio.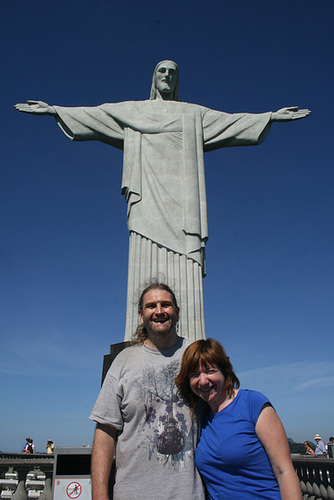 Cristo Redentor, and Us
It was a long wait to get a photo with so few others in it.
---
Things got nasty on the way back to town. Preparing to get off a crowded bus, we all had to squeeze through. After begrudgingly letting the other 4 past, one older guy decided he was going to make some sort of point. He refused to squeeze in that last bit to allow me past - in fact, I think he was pushing out. He pointed at some others to make room, but they were all doing their best to make a path through. I requested that he make space so I could pass, but he started yelling something in Portuguese, but included the word Brazil a few times. I finally just ploughed past him, to ensure I didn't miss the stop. Later, we made up our own interpretations. "When you come to Brazil, learn to use the bus." "Busses in Brazil should not allow foreigners on board." "When you sit on a bus in Brazil, you have to stay on till the end of the line." Certainly one of the few times ever we have encountered someone who will actively try and be nasty or rude.
---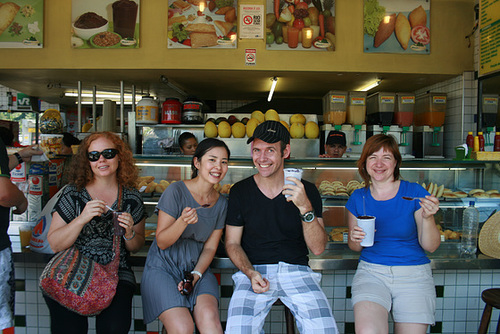 Lisa and Andrew Introduced Us to Frozen Acai
It's sort-of like a slurpee, and it's a great way to cool off after pounding the streets in high 30's. Almost every snack bar sells it.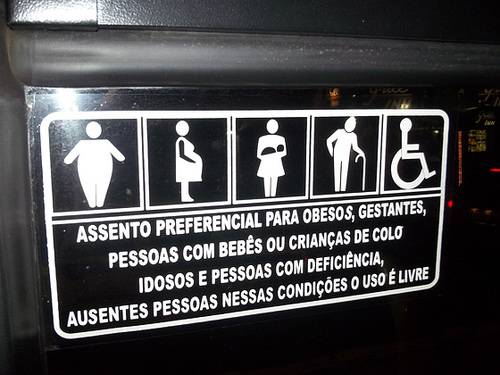 Preferential Seating for "Obesos"....
"Sorry, you can't sit here, you're just fat, not obese!"
---
An encounter with crime on our trip to the beach. The girls decided to swim at a different part of the beach, leaving Andrew and I to keep an eye on our things. Kristy kept an eye on her towel, which she had folded on the sand. With good reason, as it turned out. They had not been in the water long when a man walked up to the towel, looked around, and he proceeded to purloin said towel. He then went to a beach chair, draped it over, and then lay on it. By now, Kristy was charging up the beach. She confronted him with an accusation about the towel being hers. He mumbled an apology, and sheepishly handed it over. The nerve!
---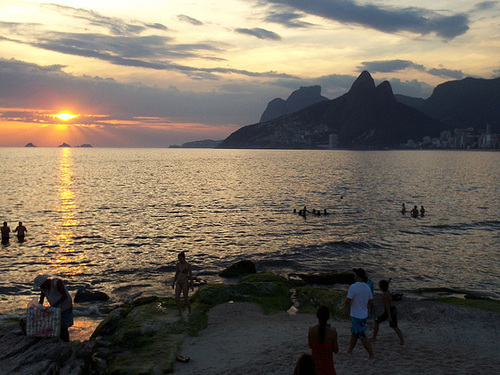 Rio Sunset
We watched sunset from Ponto do Arpoador.



Lisa and Andrew
At Devil's Beach, Praia do Diabo.



Santa Takes the Metro
Christmas Eve, after spending a day on the beach, we encountered Santa taking the Metro. We still think that donning such an outfit is just so he can go up to random women and give them a hug.
---
Did you know that Rio is famous for its giant floating Christmas tree? The "lighting of the tree" ceremony even makes the Australian news (as opposed to tomato carrying visitors).
---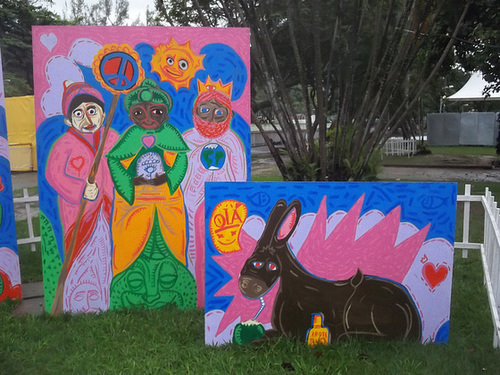 Cute Brazilian Nativity
Donkey drinking from a coconut, with sunscreen, and an "ola". Even the gifts of the wise men have been interpreted slightly.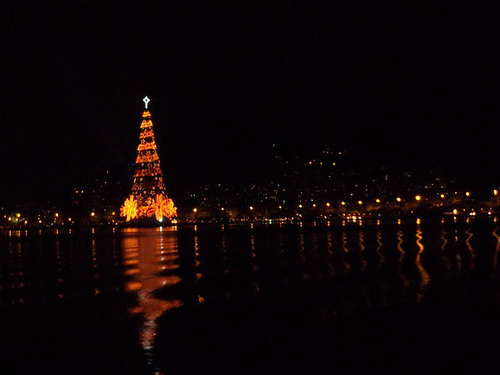 Giant Floating Christmas Tree
Lago Rodrigo de Freitas, Rio de Janeiro.
---
Christmas day was beautiful. It was so special to share an overseas Christmas with friends from home. Sometimes, Christmas on the road can feel a bit flat. But not this year! We didn't even leave the apartment!
---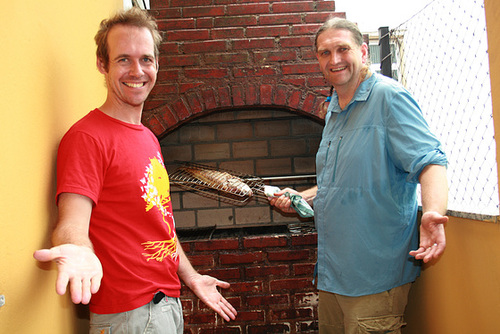 Two Men, a Barbecue, and a Fish
Sounds like a great name for a new sitcom, hey. For Christmas lunch, we fired up the barbecue. Hot coals, and sea salt. The fish was beautiful.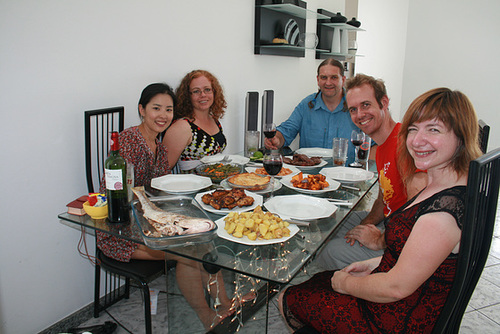 A Magnificent Christmas Feast
Barbecued fish, chicken, steak, and prawns, potatoes, pumpkin, beans, carrots, snowpeas, and a great dish Kristy whipped up with tomato and onion and breadcrumbs. I still may have missed something? Merry Christmas.



Working Off Our Christmas Meal
A workout in the spa after lunch, with coffee and cake.
---