6 to 10 September, 2009 – Pécs and Budapest, Hungary
This is our first time in the south of Hungary. And Pécs (pronounced more like Paych) was a fantastic place to represent this region. The town was beautiful and interesting, in itself, and we did manage a day trip to yet more thermal mineral springs in nearby Harkány. (Unfortunately, their boasted about extremely high mineral content was a claim that proved true, as evidenced by our discoloured jewelry!)
---

4th Century Tomb
Pécs has a huge number of graves and tombs under one section of the town. These date from Roman times, and some have been excavated. This tomb with sarcophagus was excavated last century, but dates from the 4th Century. The paintings on the walls are original. Adam and Eve, and Daniel in the Lion's den are the best preserved Biblical scenes on the walls.



Love Locks
We eventually found out what these were about. There are two corners in Pécs with thousands upon thousands of locks, all connected. Apparently, couples come here and leave a lock, to seal their love.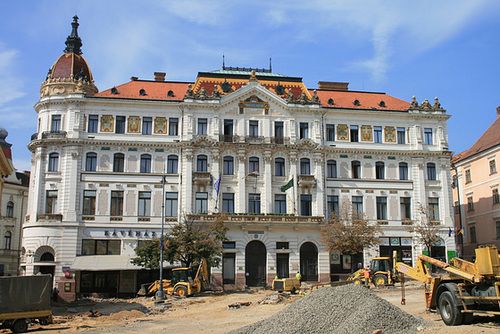 Pécs
Despite the mess and chaos in the streets, the beauty of Pécs architecture is very hard to deny. The coloured tiles on the roof are quite the local feature.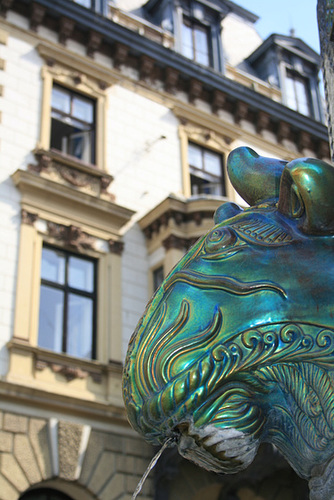 Porcelain Fountain in Pécs
The local porcelain is held in pretty high regard. It catches the light in beautiful ways, morphing through multitudes of shades of blue, green, and purple, depending on what the sun is doing.
---
A highlight, however, was the unexpected hospitality shown by Pécs resident, Judít Csaplár, who turned a "meet for coffee" in to a wonderful afternoon trip around the southern sights near Villány.
---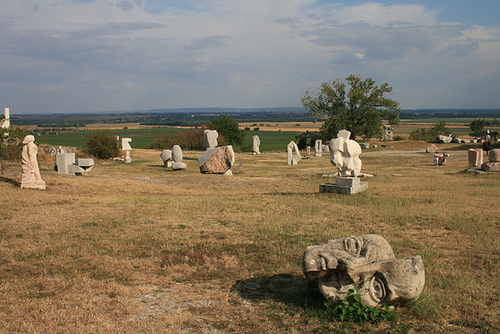 Sculptures
Near Pécs, well, actually closer to Villány, there is a hill. Sculptors come from all over central (and eastern) Europe to create works here. It is a hill side site, with a small quarry, and maybe approaching 100 sculptures lying around.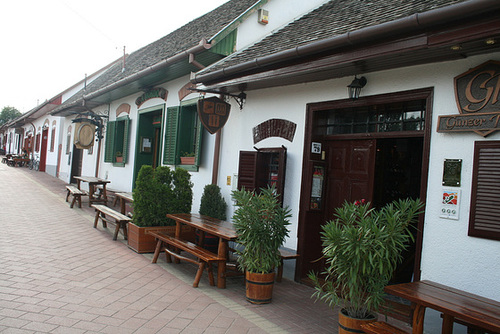 More Wine Cellars ;)
These are the wine cellars of Villány, near Pécs. We were so glad to find that our cellar crawling in Hungary was not yet over.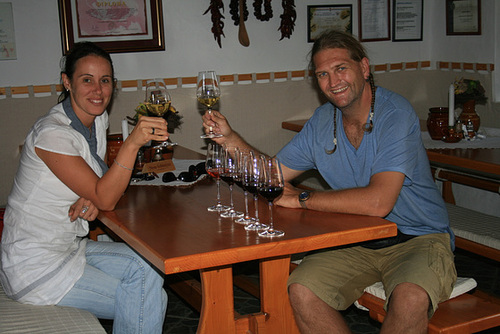 Tasting The Local Drop
Thanks so very much, Judít. We met Judít via a website, couchsurfers, and it started with having a coffee. That afternoon, she drove us out in to the surrounding area. The sculpture park (which we had no idea about, and in fact, nobody we asked knew about) was a beautiful and amazing stop (see other pic). And then to Villány for wine tastings. And yes, Judít, I think we agree (well I (Richard) do), despite the area being best known for its reds, the white here was amazing. The cellar was Günzer Tamás. It is quite the feat to convince me to choose a white wine over a red! And the mushrooms from her mushroom farm – they were fantastic on steak with a blue cheese sauce! Oh, and she bought us some delicious regional pastries that went down a treat. Judít, since you couldn't make it for dinner that night, the offer still stands! We expect you one day in our home in Melbourne. :D Let's see if you prefer Australian whites or reds!
---
Our final day in Hungary is set to be a looong one. Up relatively early to catch the train to Budapest, and flying out tonight some time close to midnight. Definitely excited about going to Cyprus. Not looking forward to the hanging around that is inevitable on days like these. What's more, they invariably end up being strange days with weird things happening, something like a full moon...