11 to 18 September, 2009 – Deryneia, Pyla, Lemesos, Troödos, Polis, Pafos, and Larnaca, Cyprus
I have said it in our photos commentary, and I will repeat it here. We are going to try and avoid saying anything that may appear to be political. There are no implications if we word something badly. If you don't know, the island of Cyprus is currently divided. The northern third or so currently Turkish. Whether this is a legitimate situation or not is something we currently hold no strong opinion about.
We arrived in Larnaca, Cyprus, early on the morning of the 11th. Around 4. We decided it was not an appropriate time to go checking in to a hotel, so headed straight out to some sights. In fact, two sights that showed a different side to the same situation.
Deryneia is a place where the north south division is felt very strongly. The photo captions describe it a little.
---

"The Border"
We are going to try and avoid getting political. In fact, we can't, because truth be known, we don't really hold an opinion as to what is "right". The northern third of Cyprus call themselves an independent country, "The Turkish Republic of Northern Cyprus". The rest of Cyprus stands by the statement that the area is part of the "Republic of Cyprus" and calls the northern part the area currently held by Turkish forces. If we inadvertently anywhere make some sort of statement that implies we support the legitimacy of one over the other, then we apologise now. This photo is taken near a town called Deryneia, where the tensions are still perhaps a little higher than elsewhere.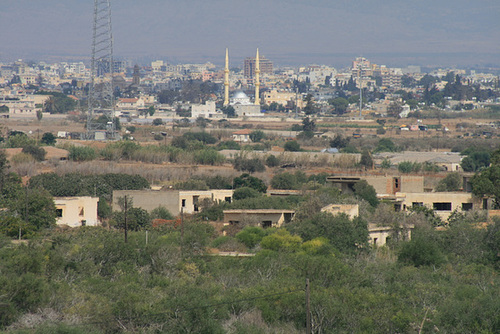 View from Deryneia
Spread out from our photo location through to the city on the other side are abandoned houses that now sit in "No Man's Land". These were abandoned when the Turkish troops were advancing in the north. Now, they are in the United Nations Buffer Zone, a strip patrolled by white helicopters and men in blue berets. This particular spot was the scene of particularly events. An unarmed man from the Republic was kicked and beaten to death in the late 90's. And a week later, a man protesting about the event was shot climbing a Turkish flagpole. Both events were witnessed by many, and captured in many photos and videos.
---
In contrast, Pyla is a town in the middle of the United Nations Buffer Zone. The town is a mixture of Greek and Turkish people. The main square has businesses from both ethnicities, and a small UN post overlooks the whole thing. Sorry, no great photos, as photographing the UN post is a bit no-no.
Our first nights were in Lemesos, aka Limassol. While not a particularly significant sight in its own right, it was a good place to base ourselves and explore some of the surrounds.
---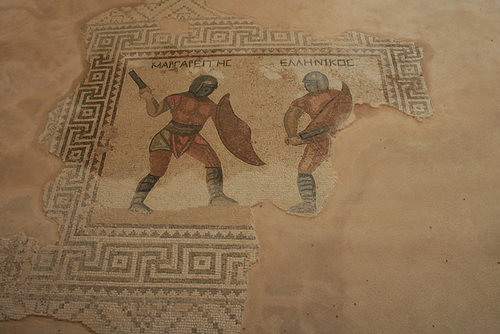 Beautiful Floor Mosaic
A section of floor from a house that was destroyed many centuries ago in an earthquake. It is now known as the "Gladiator's House", for obvious reasons.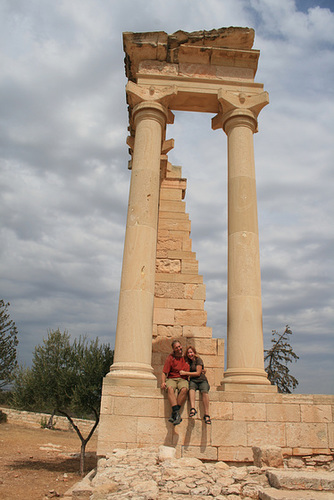 A Rare Photo With Both Of Us
Why are we laughing? Because I had to start the timer and run to get in the shot, and nearly didn't make it! The pillars are the remains of the Temple of Apollo.
---
Time for an introduction to the Cyprus cats. Cats everywhere. There does, in fact, feel like there are more cats here than in Greece (and anyone who has been to Greece knows they have a lot there). Cats peer down from windows and out of doorways. They dart across roads and up alleys. They climb rocks and ancient ruins and live contented lives in monasteries. They rummage through the rubbish, and graze under the tables at restaurants where they fatten themselves on the scraps from mezes. Kittens apprehensively eye you from around corners, and braver cats come up to you at random and rub your leg. You find felines on the beaches and in the parklands. Everywhere!
So, we felt we had to visit the cat monastery. Cats were introduced here, centuries ago, to help keep the snake problem under control. Now, they just wander around like they own the place.
---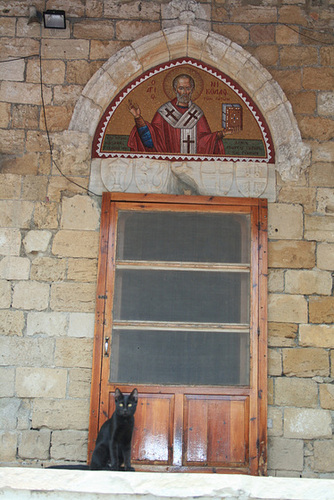 The Cat Monastery
The Holy Monastery of St Nicholas of the Cats. What did I say about Cyprus and cats? Cute, hey.
---
Also near Lemesos is one of the "S.B.A."s. There are a couple of British zones in the Republic of Cyprus – Akrotiri and Dekalia are both reasonable chunks. These are known as Sovereign Base Areas. Technically, when in these areas, you are on British territory, although the transition from them to Cypriot territory is not even noticeable. Although we drove through Dekalia, we didn't find any particular reason to stop. However, in Akrotiri, we stumbled across:
---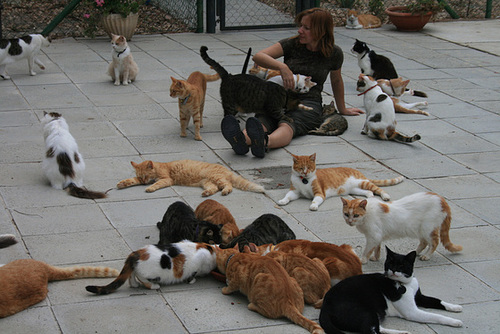 Cyprus – A Land For Cat Lovers
Sit down for a few seconds in the cat sanctuary, and felines are quickly arguing over who gets to occupy your lap. This sanctuary is near the town of Akrotiri, in one of the British Sovereign Base Areas.
---
From Lemesos, we headed up in to the mountains. Reasonable mountains, too. Mt Olympus, the highest in Cyprus, has skiing most years which is weird to think of when you consider that you are on a Mediterranean Island. We camped at Troödos, high up, and felt the difference. The temperature was something like 8 or 9 at night, and perhaps 14 or so in the day, compared with 30's down at the coast. It became our base for hiking in national reserves, as well as a couple of drives through mountain villages. Also, the mountains were where the Orthodox Christians went to create their monasteries when the country was effectively ruled by the Catholics. Many of these Byzantine monasteries are now Unesco listed because of their fantastic construction or their well preserved murals and mosaics. Even the newer churches and monasteries up in the hills were worth a stop. No photos allowed of the old murals – so sorry if you are holding your breath for them.
---

A Cyprus Pine
Short pine trees near the top of Mt Olympus, near Troödos.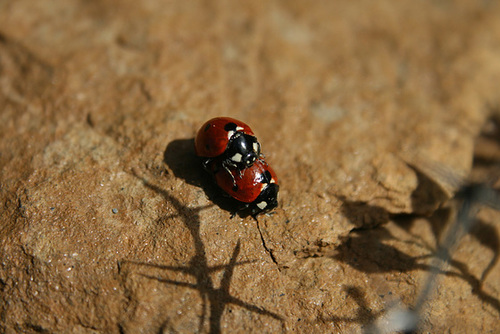 Lady-Bird Beetles
These Lady-Bird Beetles have markings which look almost like pig faces! The trail we walked around the summit of Mt Olympus had thousands of them.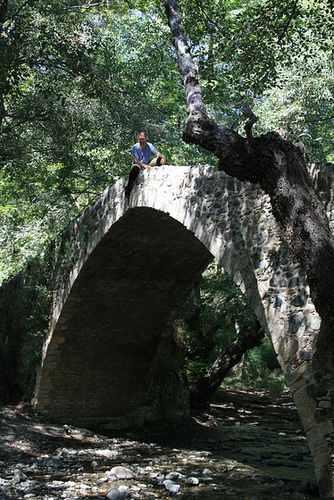 A Venetian Bridge in Cyprus
Cyprus was once ruled by the Venetians. The interior is (was?) rich with copper. The Venetians used camels to transport this rich resource to the coast. They built a series of bridges, which remain, although the trails themselves have long since disappeared. They are beautifully proportioned medieval structures.



A Priest From a Cyprus Monastery
A priest and a monastic dog peer down from a balcony.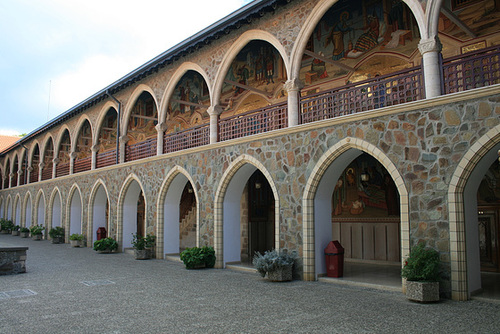 Kykkos Monastery
A richly decorated cloister. The passages have murals and frescoes and mosaics with Biblical stories as well as the tales of many saints.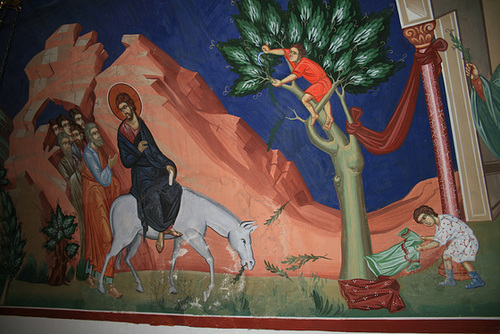 "Zaccheus Was A Very Small Man"
"He climbed to the top of a Sycamore tree, For the Lord he wanted to see!" A mural from one of the passages of the highly decorated monastery at Kykkos.
---
After our chilly time in the mountains, we embraced the coast with much gusto, particularly the fantastic camp site right on the beach. Bizarrely (and almost surreally), the camp ground at Polis is set amongst Eucalypts. Wake up, stick your head out of the tent, and for an instant, you forget you are in the Mediterranean. It was home for three nights. Walks in the hills, drives along the coast, and dips in the sea.
---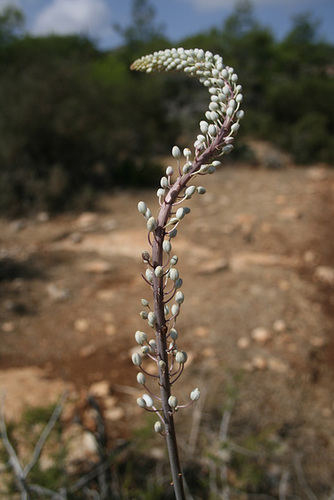 A Flower
I am not a botanist. It is a flower. It is in Cyprus. It is pretty.



A Stunning View
Looking down from the Aphrodite Trail on to the Akamas Peninsula in western Cyprus.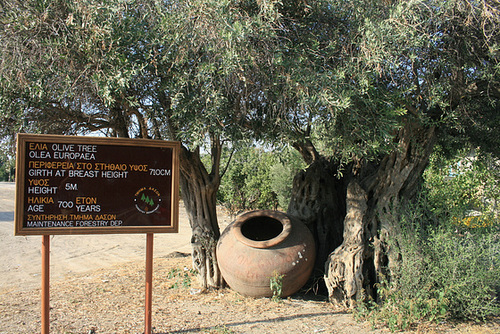 A Very Old Olive Tree
Did you know that olive trees live this long? A 700 year old tree in the heart of Polis, western Cyprus. There are some groups who fight to keep these old trees listed as national monuments to protect them. They are truly beautiful trees.
---
We finally took the plunge and had a meze, a "meat" meze, a "full-on, meat" meze", a "full-on, you've got to be joking, there is no way I could eat another thing, meat" meze. I lost count, but I believe we received somewhere in the order of 16 dishes. Starting with dips, breads, and salads, we progressed through many courses of meats and stuffed vegetables, including grilled delicacies and stews. My goodness, when we thought we were full, the waiter brought out more food, in proportions that justified calling them main courses in their own right! Then, when we were really full, he brought out another plate or two. And when we were really, really full, he brought out a plate and told us that was the last. You get the idea. We ate no dinner that night, only a small breakfast the next morning, and snacked for both lunch and dinner the following day. And we still felt full!
After Polis, we headed down the west to Pafos, for more significant archealogical ruins. We were in the footsteps of Paul (formerly Saul), who also did the sights of Pafos nearly two millennia ago. (See Acts 13, particularly Acts 13:6.)
---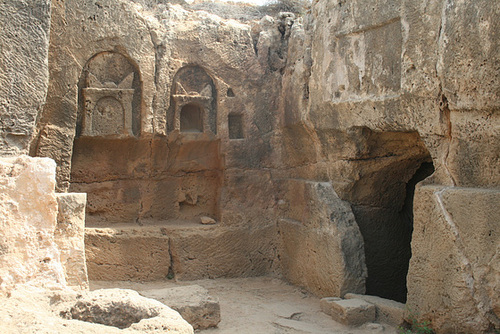 Tomb Carvings
Called the Tombs of the Kings, there is an area near Pafos where hundreds of graves were created over a 600 year period. They are called the Tombs of the Kings because some were obviously resting places for important or wealthy citizens.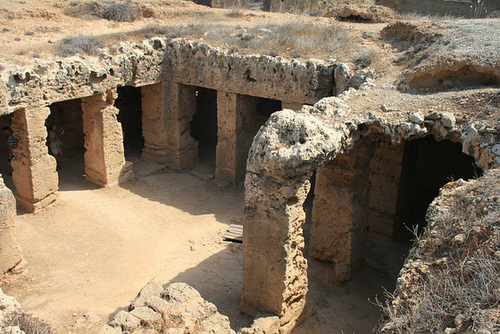 Another Tomb
Some tombs near Pafos recreated buildings for the living, with columned courtyards.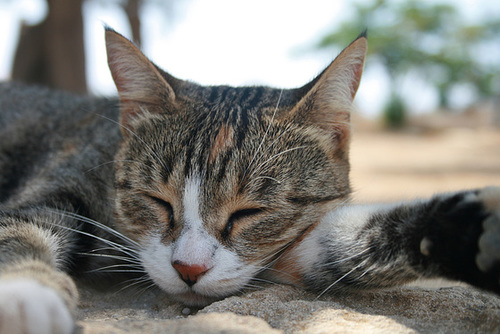 Who Could Resist Such A Cute Face
Pussy cat lounging in the ruins of the Pafos Archaeological Site.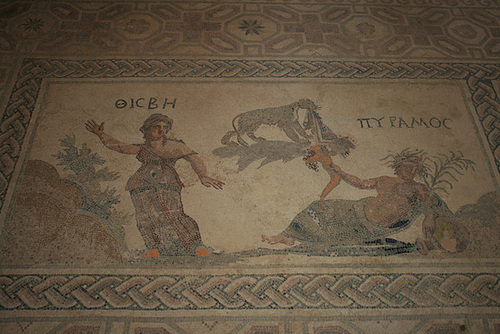 Beautiful Floor Mosaic
From the House of Dionysus, Pafos. This mosaic is from the story of Pyramus and Thisbe, a Greek tragedy, where Pyramus discovers a tiger with Thisbe's veil and assumes that his love has been devoured, so kills himself. Thisbe is actually in hiding from the tiger, and when she comes out to find her lover dead, uses his sword to kill herself also. They ain't called "tragedies" for nothing!



Theseus and the Minotaur
Another beautiful mosaic with another Greek tale, of Theseus and the Minotaur.
---
Our last day with our hire car saw us returning to Larnaka. As we were there at a much more respectable hour, we got to see the city active, and sights were open.
---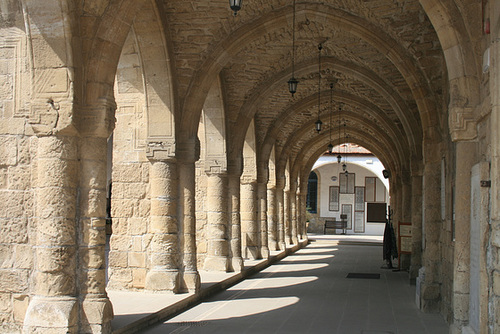 Church of Agios Lazaros
Church of Agios Lazaros, Larnaka. For those who are not familiar with your Bibles, Lazarus was a friend of Jesus. When he died, his sisters said to Jesus that he would have been able to cure Lazarus from his illness and stop his death. Jesus called Lazarus to rise from his grave, which he did. Now, for everyone, Lazarus went on to live a long and fruitful life, and when he died (the second time, at a riper age), his body was laid at this site in Cyprus. The remains were taken to France sometime in the Middle Ages by Crusaders, but the tomb where he was first laid is still visited in the crypt here.
---