2 to 9 July, 2017 - Seoul, Daegu, Haein-sa, Andong, Hahoe, Gyeongju - (South Korea)
It's always good to start with food photos, especially when you are visiting a place where dining is an anticipated highlight. What's more, it is an excellent sign when the first meal you come across happens, without searching, to be something that you were curious about and wanting to ensure you ate at least once on the trip.
---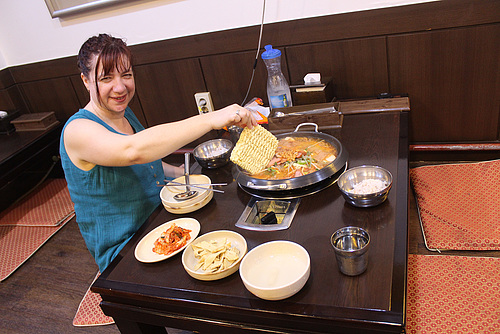 First Meal
Budae Jjigae. One translation called this "Army Stew". Typical vegetables and Kimchi, but with processed meats (spam and hotdogs) and baked beans.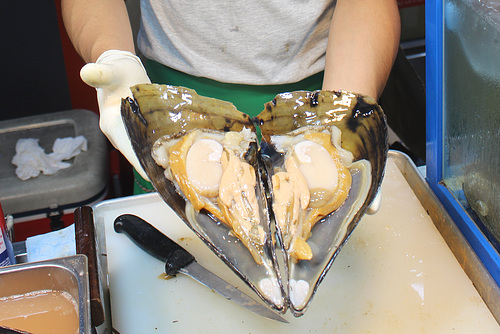 Scallops!!
Biggest scallops I've ever seen. We had them at a street market in Seoul. Opened and cooked fresh in front of us. Scallops in butter and cheese... Mmmm....

---
The most significant sights of Seoul are those relating to the Joseon Dynasty. Palaces. Walls. Gates. We considered it important to space visits to these out, to ensure we don't overdose and get jaded. Also important, start with the most significant.
---

Guard at Gyeongbokgung
There was a changing of the guard ceremony, and the most impressive thing was watching how they did not flinch or react when everyone just stood next to them for photos afterwards!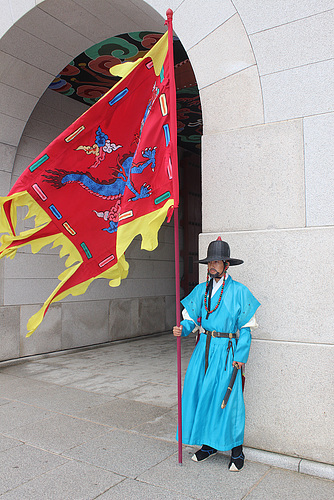 Guard with Flag
The flag sat listless for quite a while, over his face. But, I assume they are not supposed to move, no matter what. Eventually, a little breeze came through and lifted the fabric off his head.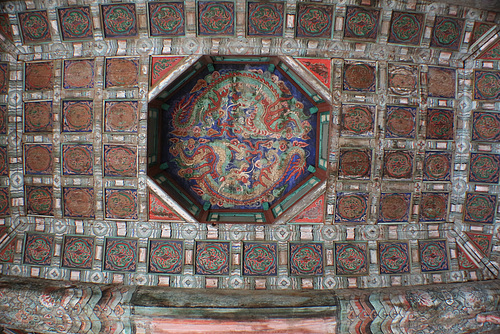 Ceiling in Gyeongbokgung Palace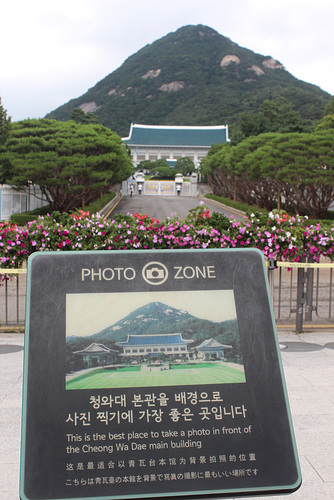 Don't Take Your Photos at the Wrong Spot!
Lucky there are signs to ensure everyone gets the perfect angle.

---
The following days were filled with amblings and random visits. Another palace, temples, and random areas to enjoy.
---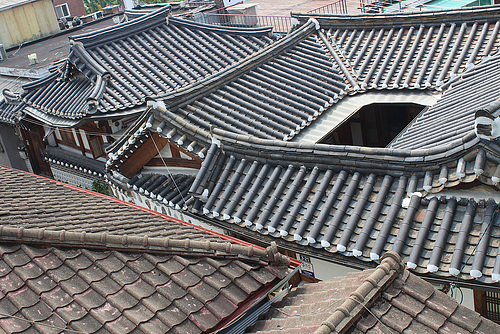 Hanok rooftops, Bukchon
The Bukchon area of Seoul is full of period "Hanok" houses, generally tiled and decorated as in this photo.



Raccoons at Chandeokgung
These little guys watched on as we wandered about the palace of Chandeokgung.

---
We have been enjoying the Korean fanfares. The train is approaching, so we get a fanfare. The door is opening, with a little fanfare. Approaching a station - of course, a fanfare. Not just on public transport, though. At the hotel, when you use the electronic key, a matching electronic fanfare emanates from the lock. Announcements seem to be accompanied by fanfares, rather than a plain "bing bong". It just makes coming and going such an event.
We took the KTX high speed train (270 km/h) to get to Daegu, where we were picked up by Nick. We all got lost in the alleys of downtown looking for our dodgy hotel, before we went out to meet his family and have dinner. Given they are just settling in to a new apartment, we really do appreciate him taking the time to spend with us.
---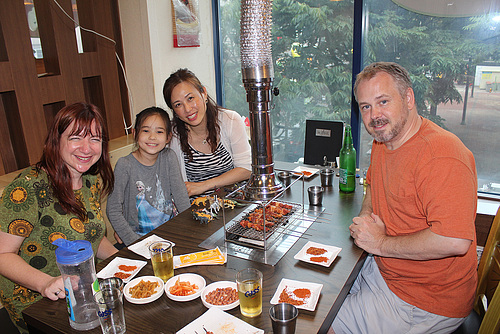 Dinner with Friends
With Nick, Nina, and Elsa. We met Nick, almost twenty years ago, when we were in northern Vietnam. We think we met at Ha Long Bay, and he was travelling with Adam. It has only taken nineteen years for us to get in to gear and visit ;)

---
We travelled out and about and around through the centre of the country, visiting some cultural highlights.
---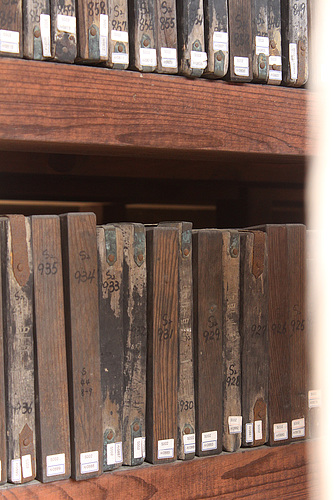 750 Years Old - the Tripitaka Koreana
There are over 80,000 carved wooden blocks. Each is effectively one page. They were carved around 1250, after a previous set was destroyed by Mongolian invaders. The treated birch blocks are housed in an ingenious ventilation structure which minimises variations in humidity, allowing visitors to gain glimpses of the incredible collection.



Wall and Gate in Hahoe Village
Hahoe Vilage, near Andong, is like a living museum. It is not a recreation of an old Korean town, for tourists. Rather, it is a village which is still occupied by descendants of those that built the magnificent houses there. Ranging in age over many centuries, it was wonderful to walk around, with photogenic houses, gates, and doors around every corner.



We Get By!
Even without speaking any Korean, and the extremely limited English coming back. When you sit down for dinner, they know you're there to eat. When you point at something on another table, they know that's something you would like. Make a drink gesture, and a beer arrives. Despite the language barrier, we will not go hungry in South Korea.

Sliced beef, octopus, scallops, and ALL the trimmings! Korean dining at its best.

---
Eventually, we made it to Gyeongju for a few days.
---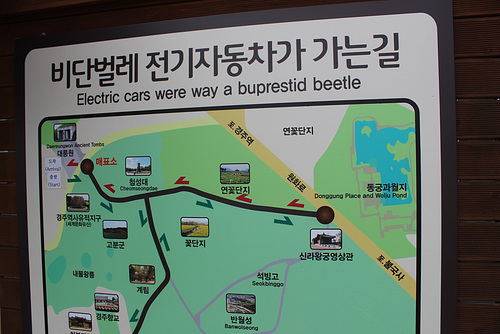 Hmm, Not Sure About This Translation
Another quirky sign spotted while out and about. When we see things like this, Jo and I just look at each and ask "Why wouldn't you just find a native speaker to proof read it before you made it permanent?"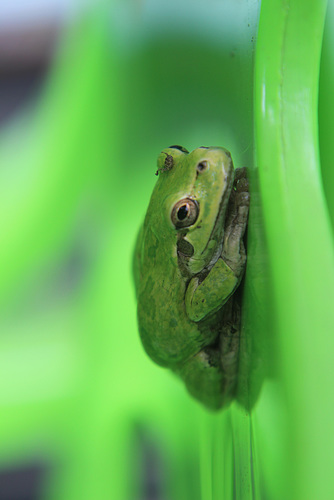 A Frog we Found
Jo went to separate some stacked plastic chairs so we could sit, and there he was. Hiding between two chairs. Nervously, he just peered out at us, trying not to move. We let him be, and found another chair to sit on.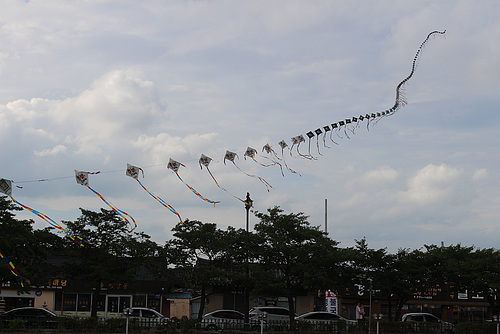 Kites, around 100
As we were walking around, I noticed a string of kites. About 50, at a quick estimate. A while later, I commented that it appeared to be more, maybe 70. Walking through the park, we found four men, letting them out, 1 at a time. By now, around 100. We enquired how many there were, and were told they had about 200 in total. As it was, it would have come down over a few blocks. Best to leave these sorts of things to the experts.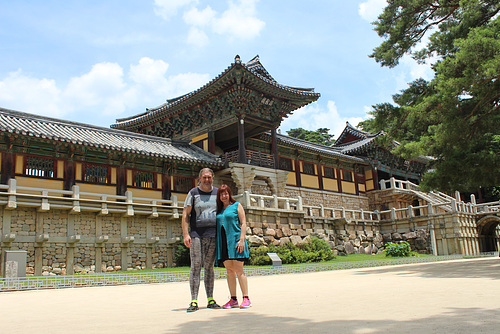 Bulguk-sa
A magnificent Buddhist temple near Gyeongju.



Bulguk-sa, Gyeongju, South Korea
Click on photo to change focus and perspective.


Bulguk-sa, Gyeongju, South Korea
Click on photo to change focus and perspective.



Stone Bridge, Bulguk-sa
A bridge on the approach to the temple.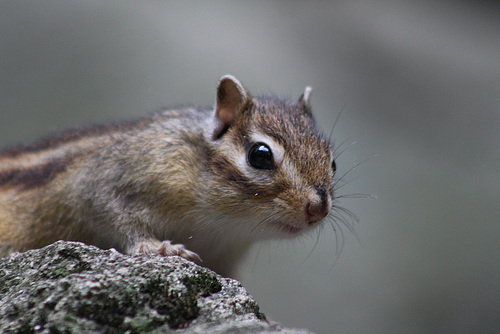 Chipmunk
A cheeky and playful fellow peers over a rock at us, playing hide and seek as we tried to get his photo. In between scurries, he would sit motionless for a few seconds to take everything in, and that was our chance to snap.

---
So, we have stayed in a couple of regular hotels, and in a couple of love hotels. The value for money of a love hotel is significantly better. Much bigger rooms and more facilities - we even got a spa bath in one - but generally a computer in the room, and cable tv with multitudes of channels. But, you do have to put up with some pretty atrocious decor. Also, a minority appear to be a little on the sleazy side. However, it should be stated that the majority advertise and openly accept regular travellers, even having rooms on normal hotel booking websites. It is also worth noting we are in a country where some extended families all live together, and these hotels often provide respite and escape for married couples with too many people living in their homes. So, you trudge in with your backpacks, and step in to a room of kitsch. Pink frills around the mirrors; baubelled chandeliers; tables with curling wands and hairdryers and beauty kits; double showers and spa baths; coloured sultry mood lighting which is useless for seeing anything; love hearts and kitten decorations. All good, though, and worth tolerating for a slice of cheap luxury.