19 to 24 December, 2015 - Mhlambanyatsi, Golden Gate Highlands National Park, Hlotse, Pietermaritzburg - (South Africa, Swaziland, Lesotho)
We had planned stopping in Swaziland before we knew exactly where we would head after Kruger. So, we had found this magnificent place in the forest south-west of Mbabane. Treated like royalty, it was a little splurge that will be remembered.
---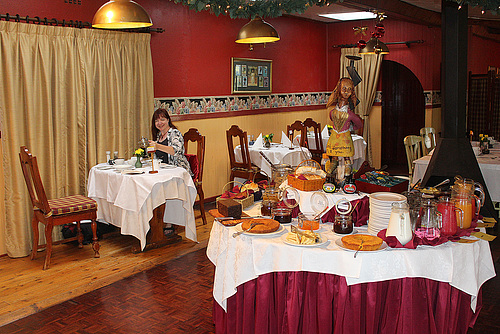 Breakfast in Swaziland
We really like saying Swaziland. It has a nice ring to it. This is our breakfast buffet, at the Forester Arms Hotel, South West of Mbane, the capital. An amazing place to stay, and an amazing breakfast, despite the dozens of bees that also thought the breakfast was delightful.

---
On our way south, on a massive day of driving, we observed a distant storm brewing. We convinced ourselves we would be skirting the worst of it. We watched lightning forking almost continually in the black clouds, and were thankful that we weren't in it. We were wrong. Soon after driving through Harrismith, visibility dropped to 3 or 4 metres. Fearful of having a vehicle rear-end us in the poor conditions, I actually felt safer driving than stopping. The driving rain became sleet, the sleet became hail. The lightning lit up flooded fields and pastures with cows standing in 50 centimetres of water. And just as suddenly, we were driving with clear skies. Slushed ice kept the going slow for a while, but fifteen minutes later, we were on dry roads, the blue was above, and the black storm was a distant blob on the horizon.
Back to nature. Many South Africans have commented that Golden Gate Higlands is their favourite national park. Without any dangerous animals, it is a wonderful park for hiking. We had a cabin with a balcony with a braai. It overlooked a wide plain, with a small waterhole, and we sat in the evenings with a glass of wine or a plate of barbecued ribs, watching the various antelopes and zebras.
---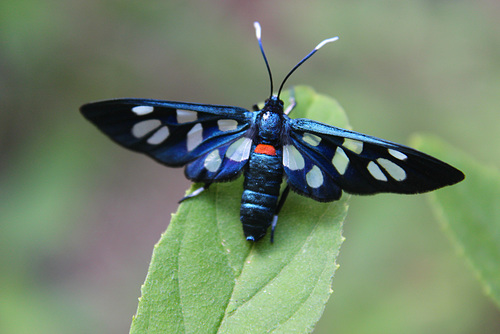 Butterfly or Moth?
The temptation is to say butterfly, because of the colours, but I wonder if this is not a type of moth, given the way the wings sit when it is at rest?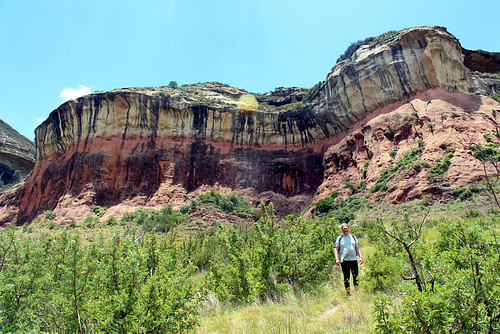 Golden Gate
Walking in the Golden Gate Highlands National Park.



We Were On Top of That!
We walk and clambered and climbed, from the car park, and eventually found ourselves inching to the edge of a marvellous outlook that dropped away suddenly on three sides! Only when we eventually camed down, the other side, did we work out that we had been standing on top of buttress of rock. We were very proud. Golden Gate Highlands National Park.

---
A short drive from the park had us over another border in mountainous Lesotho. Unfortunately, with time running out, our stay was way too brief.
---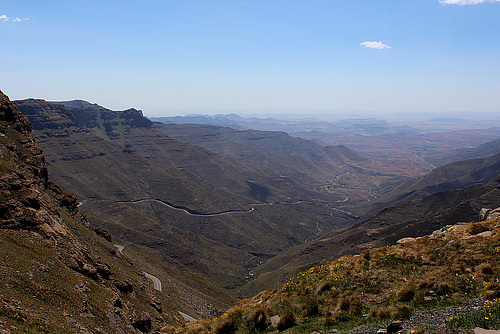 Over 3000 Metres
Deep in the mountainous heart of Lesotho, taken from the Mafika-Lisiu Pass, 3000 metres.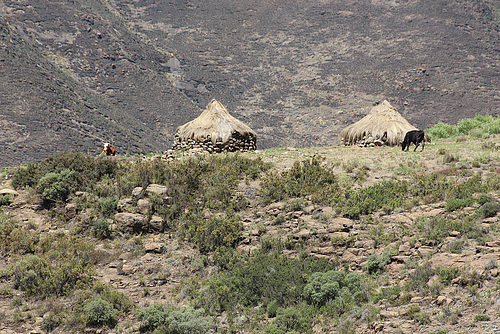 Rural Dwellings in Lesotho
On the way down from Mafika-Lisiu Pass.

---