31 December, 2014 to 4 January, 2015 - Addis Ababa, Harar - (Ethiopia)
We celebrated New Year's Eve in Addis. Largely a non-event, due to Ethiopia using it's own calendar. Ethiopia's New Year is in September on the Gregorian Calendar.
While in Addis, it was great to catch up with Kristal, a friend from Melbourne. She is in Ethiopia with a couple of her friends doing volunteer work in the south. Nice to have enjira with friends.
Our main reason for stopping in Addis was to sort out an onward visa for Somaliland. It actually came together a lot easier than expected, giving us a chance to do a couple of things we missed first time through. It was not all cheery, though.
---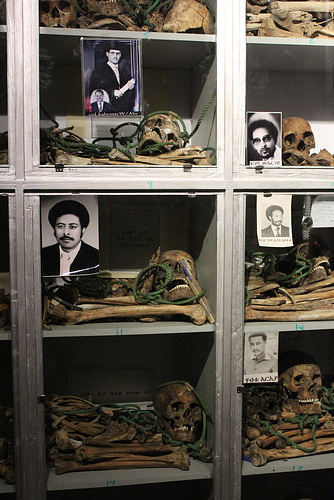 Red Terror Martyrs Memorial Museum, Addis Ababa
Some of the identified remains of victims killed by the Derg during the Red Terror of the 1970's and 1980's. Also on display were piles of bones from unidentified victims. Somewhere between 100,000 and 500,000 people were killed or went missing during Mengistu's time as ruler. Yet another place where you can stand and ponder how incomprehensible it is what some people are capable of doing. And again, as we have seen at similar memorials in a number of places around the world remembering victims of various horrible regimes, people write in hope "Never Again!"

---
The ten hour bus ride to Harar was not the worst we've had. Relatively comfortable, and one of the first to not exceed the forecast travel time.
While we enjoyed many aspects of Harar, I don't mind confessing it did not live up to my high expectations. The old town, markets, and laneways lacked the anticipated romance. Overall, the vibe was not as pleasant as elsewhere in Ethiopia. The scenes were not as picturesque as described. So we stayed a day shorter than originally planned.
Don't get me wrong. It was worth coming to see, particularly for the hyenas. I was just over-enthused on what it would offer.
---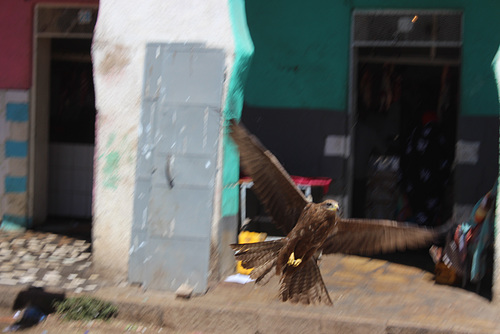 A Swooping Kite in Gidir Magala, Harar
Gidir Magala is a market in the old town of Harar. There are a number of butchers in the market, mainly selling goat and camel meat. Kites sit around the market and swoop down whenever there are scraps and offcuts thrown in to the street. Sometimes they swoop at people who are carrying meat!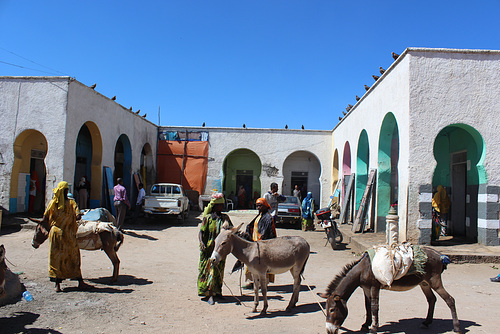 At a Well, Gidir Magala, Harar
Kites look down from the walls, waiting for scraps of meat from the butchers. In the foreground, some women take their donkeys for water.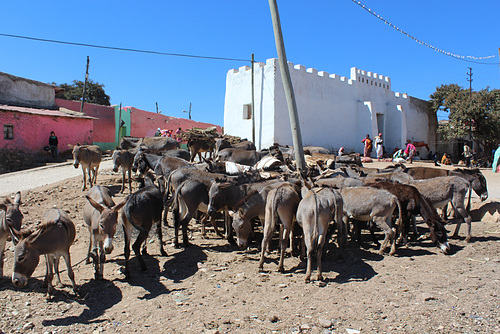 Donkey Parking
Outside Erer Gate, Harar. About 5 or 6 donkeys were tied to the pole, and the others were then tied to one of those. I'm not sure how anybody identifies their own donkey when they come back out!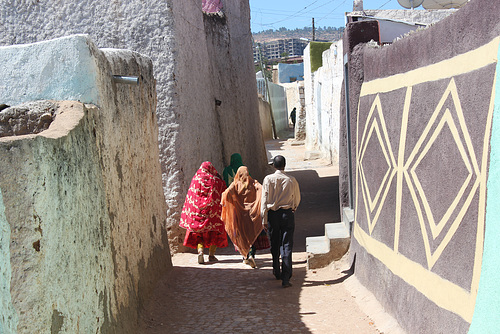 In the Lanes of Old Harar (Jegol)
A typical scene in one of the warren-like laneways within the walls of Harar's Old Town.

---
And those hyenas. What an amazing sight. Apparently, after "feeding", they wander the streets and lanes of the old town. I do believe, though, you have to be out very late to risk encountering one. Locals assured us that they pose no danger.
---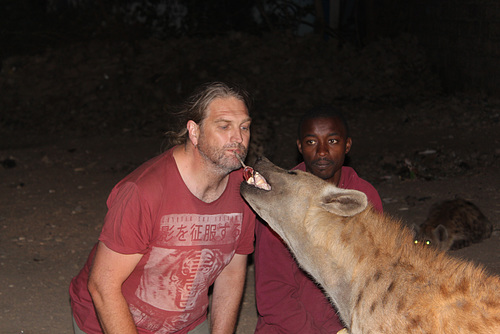 Hyena Feeding, Harar
A hyena takes a strip of meat off a stick that I hold in my mouth. As night comes, the Hyena Men of Harar call the hyenas in from outside the city. At first, they skulk and dart in the shadows, snatching a few scraps of meat. But eventually, they come up to the man and begin to eat from his hand. I was asked if I wanted to give it a go, and seeing how healthy they looked, and how gentle they were with the man feeding them, I did not hesitate. First a scrap of meat on a stick hand held, and then he gestured for me to hold the stick in my mouth. It was a truly beautiful moment and I never thought I would see such a gentle and careful nature in an animal with such a horrible reputation. She gently grabbed the meat and lifted it off the stick.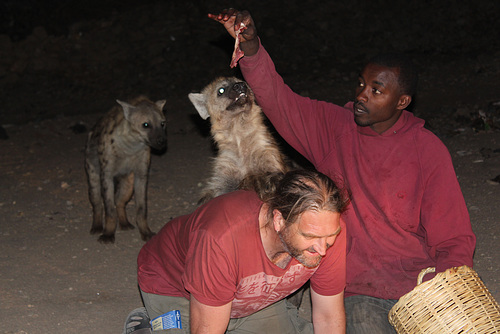 A Hyena Climbs on my Back
There were no claws. I felt the big padded paws as the young hyena climbed on my back to take a piece of meat offered by the Hyena Man. Harar.

---