10 to 17 January, 2015 - Djibouti, Moucha Island, Lac Abbe, Lac Assal - (Djibouti)
Our final week is here. Feeling a bit worn out, as the travel is hard going in this part of the world. We just realised we miscalculated our return date by a day, so will have no days to do nothing between returning to Melbourne and returning to work. Just as well we had not too much planned for Djibouti. Eight days. Three at the Sheraton. Two at Moucha Island for some beach time, and a two day trip to Lac Abbé and Lac Assal.
The two day trip began well enough. Our over-enthusiastic driver got the 4WD stuck in deep soft sand and he had to pay someone to pull us out. He insisted he took us in to the deep dunes to give us the "better experience", implying therefore it was our fault. "My boss says, why do you go and drive inside there? I said it was for you! To give you the experience you want." Which was total bull, as if he had asked us I would have said we were just as comfortable on the track with all the other vehicles. Finally, upon our return, there were hints about paying more, the tip not being enough, and the not uncommon arguments about money that really detract from the enjoyment these sorts of excursions should bring.
---
Beach Time, Moucha Island, Djibouti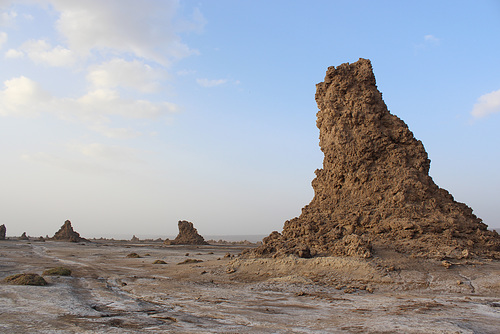 Rock Formation, Lac Abbé
Lac Abbé, in southern Djibouti, right on the border with Ethiopia.



Late Afternoon
Donkeys wander from the shores of Lac Abbé, amongst the stark rock formations, heading back to the night time safety of their villages. There are predators here at night - we heard them while at the nearby camp overnight.



Sunrise at Lac Abbé
Morning light adds a beautiful glow to the formations.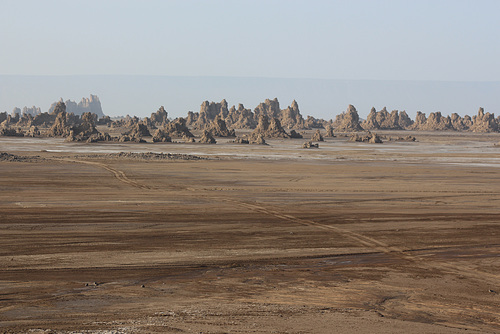 Lac Abbé
The lake itself is behind the formations. We did not come for the lake. The formations are "chimneys" formed by mineral rich boiling waters and steam. Walking around in the area can be dangerous, with super heated outlets hidden just beneath the crusty surface, and hot rivulets of water snaking here and there.



Lowest Place in Africa
165 metres below sea level, on the shores of Lac Assal, Djibouti.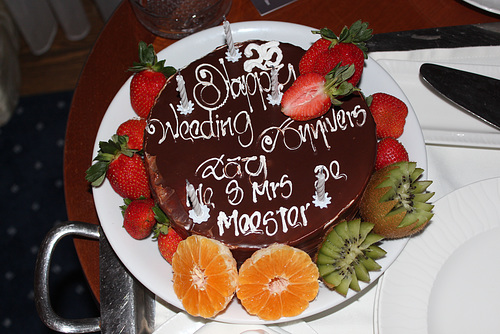 Weeding Anniversary
For our last couple of nights in Africa, and to celebrate our 25th anniversary, we booked ourselves in at the Sheraton Djibouti. After dinner, back at our room, there was a knock. Two staff members came in with this beautiful cake, singing "Happy Wedding to You, 25 Years, Happy Wedding Anniversary to You...". It was a little unfortunate about the minor spelling mistake, but the wonderful thoughtfulness and sweet execution outweighs this by a lot. Major kudos for Sheraton Djibouti.

---