30 December, 2017 to 8 January, 2018 - Male, Maafushi, Hulhumale - (Maldives)
Often we like to finish a trip with our "beach time". This time, though, we began with some time on the Maldives. Once a destination largely reserved for the cashed up tourists, it is now getting more and more affordable options and is opening to the more budget conscious traveller. We do admit to, generally, being in that category.
Don't get me wrong, the number of private jets parked at Male airport are a testament that the cashed up still do come! Taking local ferries, we passed islands with strings of cabins reaching out in to the ocean. But there are options. Not cheap, but reasonable.
Direct flight from Melbourne to Colombo, had a weird night in a not very salubrious accommodation near the airport, and then made the short flight to Male, capital of the Maldives. We didn't quite see the New Year in, but we had a nice seafood dinner and followed it up with a little in-house celebration to mark the start of 2018.
---

Maldivian Islands
Some of the thousands of islands that make up the Maldives. Most of them form giant rings - over 2 dozen atolls.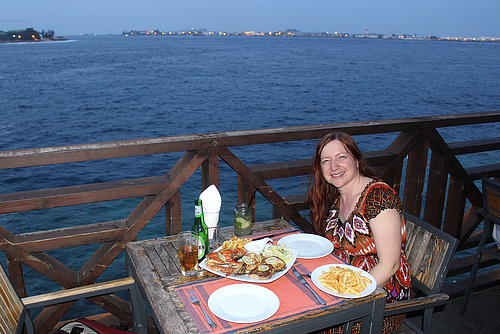 First Dinner, Male
New Years Eve at the Seahouse. Complete with "mojito mocktail" - incredibly, it tasted authentic.

---
Our first "proper" stop was at the island of Maafushi. We did the right thing by ourselves - we didn't do vey much. Beach time every day, plenty of reading, some good food, and one day snorkelling.
---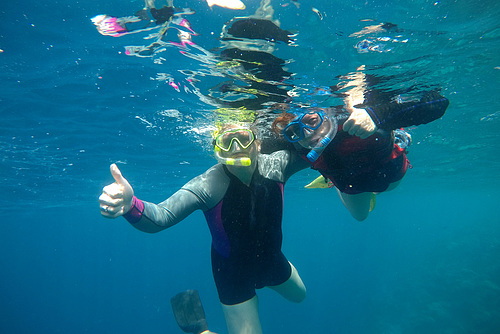 Thumbs up - All good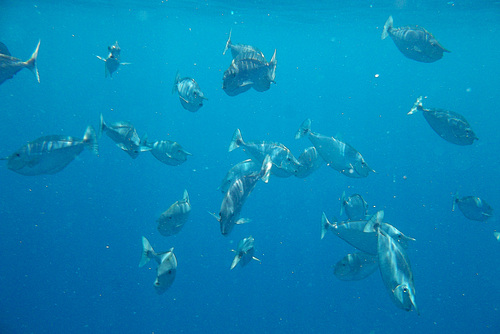 School of "horned fish"
Like unicorns of the sea.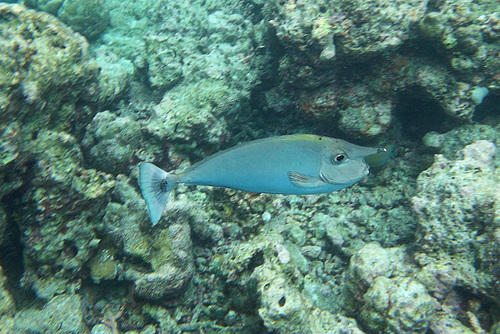 Is He Going Cross-Eyed?
He seems to be staring intently on the horn on his forehead...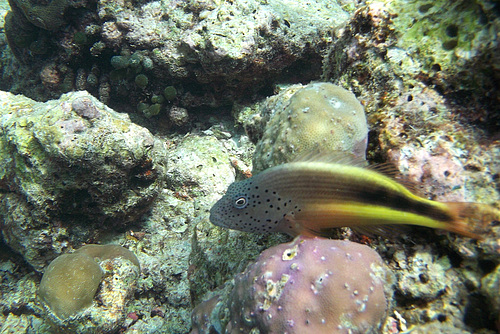 I'm Just Waiting for a Mate!
Sitting quietly and nonchalantly on a rock on the sea-bed.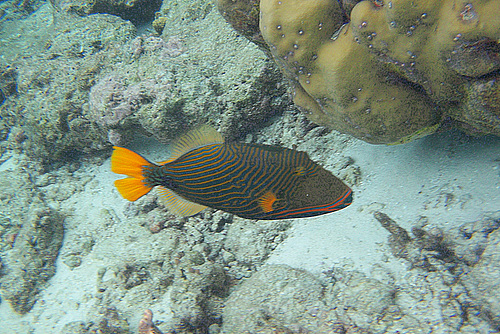 I Loved Following These
I followed them around the rocks, hovered over them while they fed, and just spent quite some time trying to get a nice pic.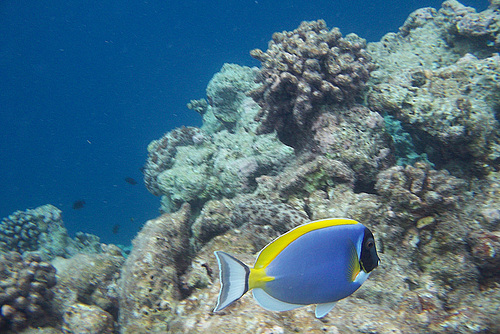 Pretty Blue and Yellow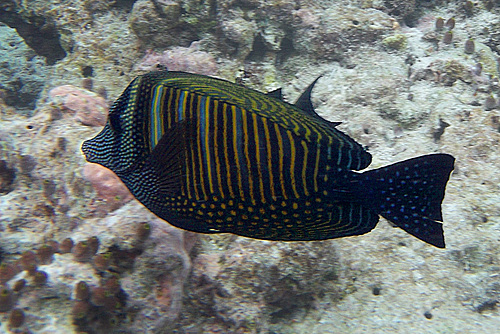 Great Markings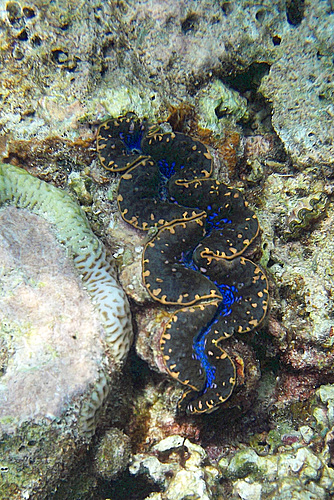 S'in a Giant Clam
Rock - Rock ...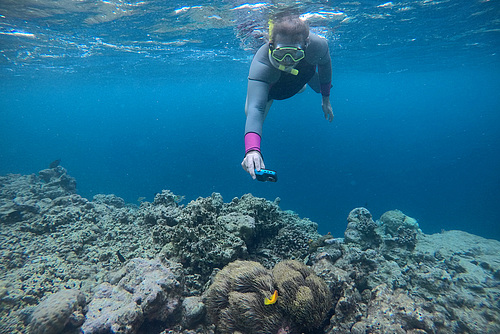 Photographing Clown Fish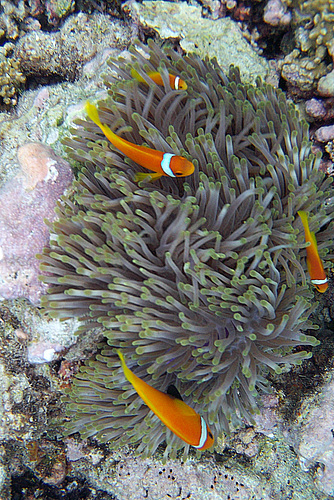 Clown Fish Weaving and Winding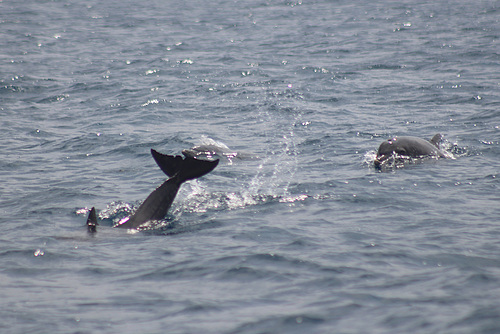 Dolphins
I Saw the Leap - Too Late with the Photo :(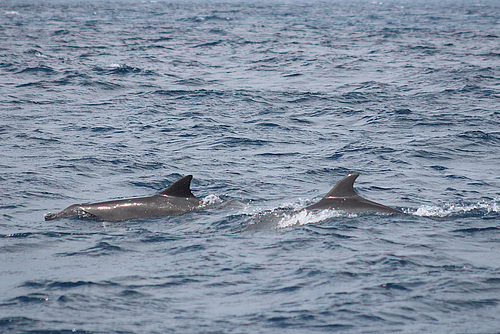 They Accompanied Us for Some of Our Journey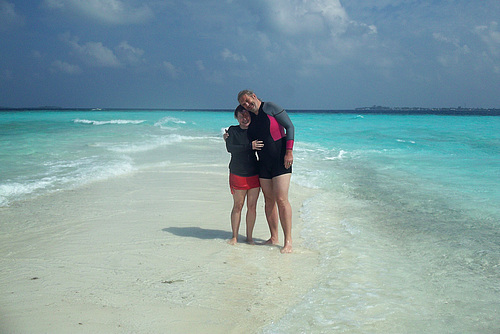 Happy Us
Taking time for a pic on a sandbar during a wonderful day out snorkelling.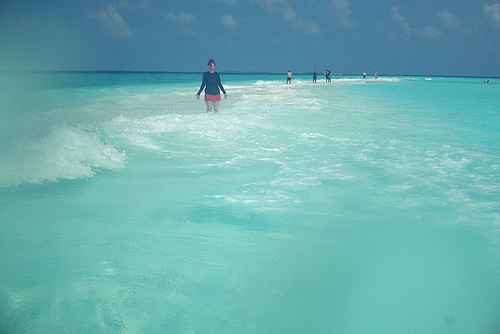 A Sandbar - Almost in the Middle of Nowhere
The waves just crashed and swished up both sides of the "island". Quite surreal that the whole thing doesn't just wash away.

---
The sandbar was super weird - a long way from the next island, it is fully submerged at high tide (knee deep) but exposes itself when the waters drop. The most surprising thing is that it doesn't wash away. Must be the exact and ideal place for the formation of this perpetual pile of sand.
We spent two nights on Hualmale, near Male and the airport, before heading on to the next destination - Sri Lanka.
Culturally, the Maldives was way more interesting than you may at first believe. Staying away from the resorts you discover there is an unexpected depth to the place. It is NOT just tourists sipping cocktails by the pool in resorts. Side note - resorts are about the only place you will find alcohol in a country which is, in essence, alcohol-free. We compensated by drinking a variety of mocktails. A note on beachwear, too - while both Maafushi and Hualmale both provided "bikini beaches" where foreigners can don attire they are more used to, the local beaches expect a high degree of modesty - Jo swam with a rashie top and a sarong around her.
Overall, it really is as beautiful as the brochures make out.